$pc = ($post_show_date) ? "" : "noDate"; ?>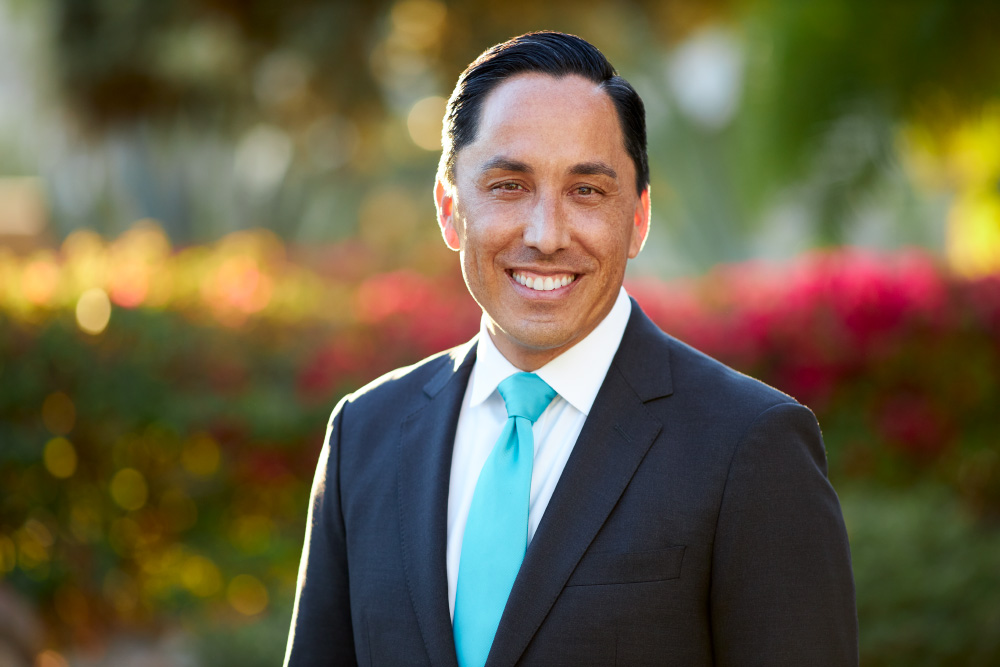 I didn't select these photos. There was around 500 of them. Todd Gloria selected these images with the input of his trusted friends and San Diego-based team. I thought it would be cool to show Todd's selects here instead of mine. Often the head shots the client chooses are quite different than what I would pick for them. Here we actually aligned pretty closely on the choices. Maybe we can attribute that to the frequency with which public figures are photographed- they're used to seeing pictures of themselves and may have a more objective viewpoint.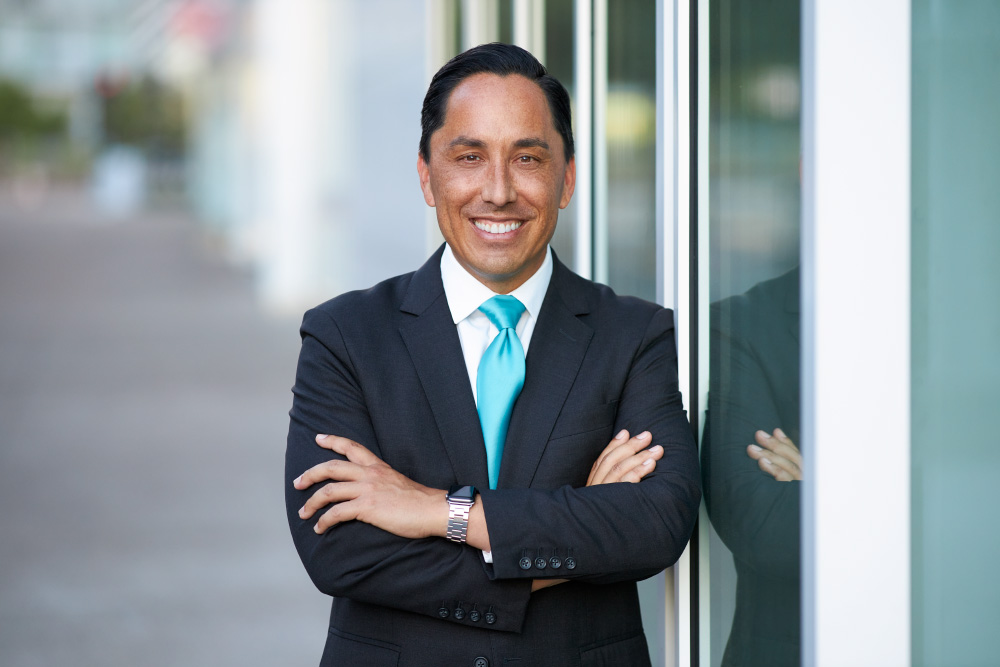 I photographed Todd a few years back when he ran for state assembly and was honored to see him still using my headshots for loads of different media, up until his team recently contacted me again for a refresh. Although the goal was "a new head shot" I wanted to produce things that felt more like environmental portraits as well, a bit more zoomed out and contextual.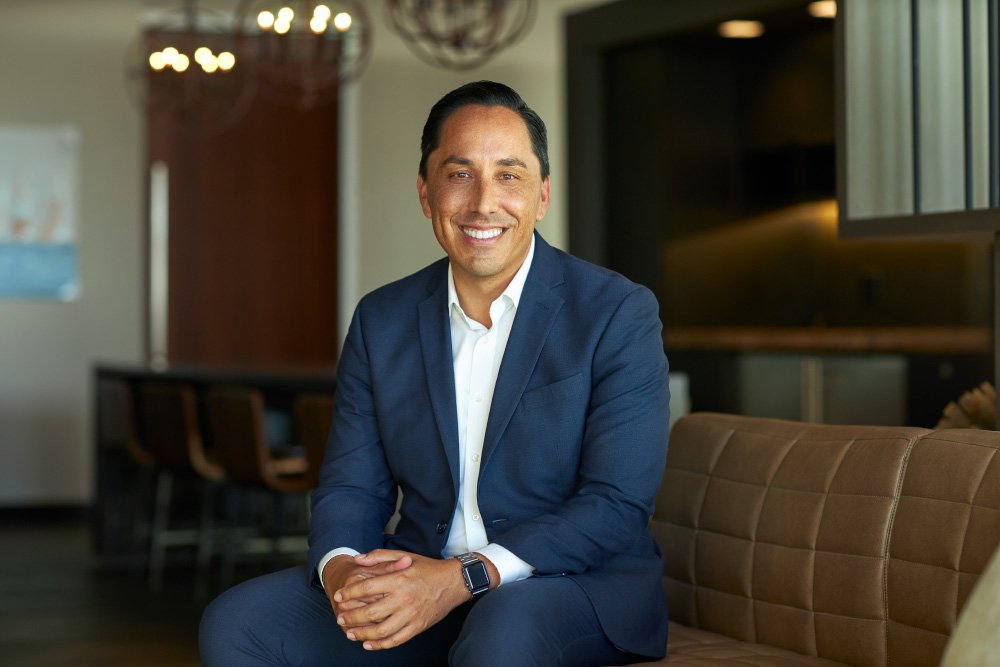 A location was secured near Petco Park where we could get some indoor portraits as well as walk a few blocks to some nice outdoor backgrounds and clean afternoon lighting. Shoot time was scheduled for just 3 hours around golden hour. This would give us time for makeup/equipment prep and wardrobe selection and about two hours to actually shoot and 30 minutes or so for loadout/strike. Overall a nice tight, small production to execute during our current situation, mostly outside.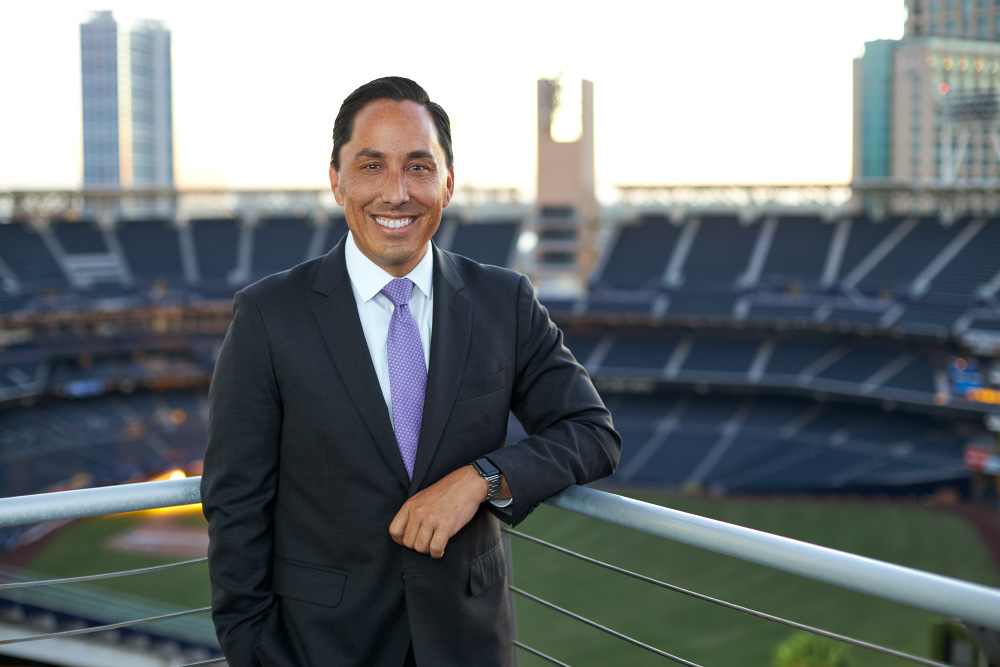 Indoor and balcony shots have to be planned out so lighting can be in place and balanced mostly before our subject steps into the scene. For the outdoor shots, I prefer not to limit myself by choosing exact places and setups. Instead, I like to plan a "lighting and backdrop radius" based on weather and time of day, then go for a walk and shoot what catches our eye as we go.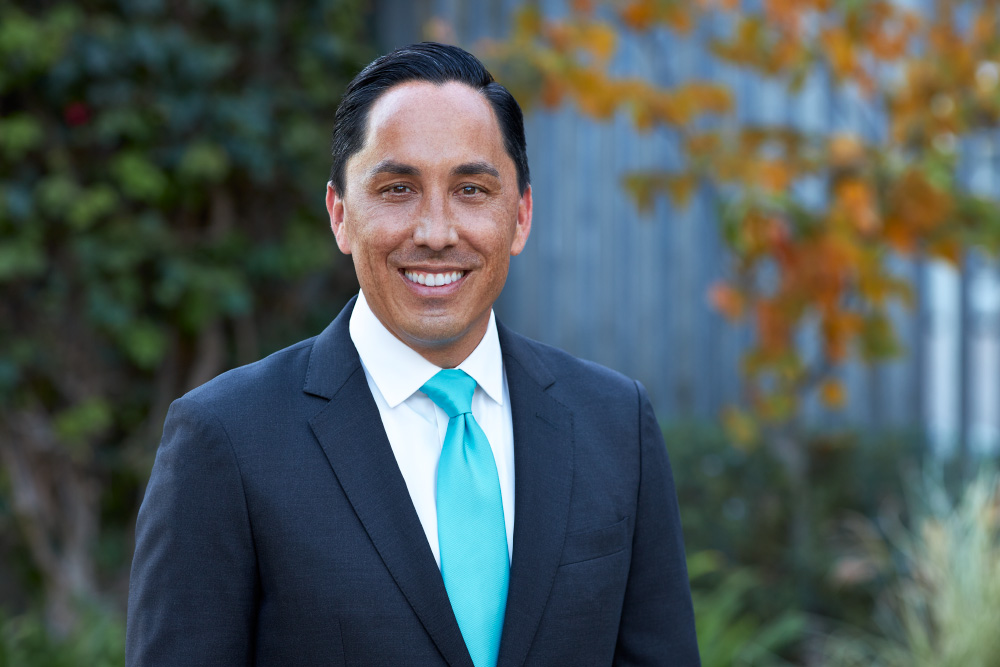 Although I had Katie Kilkenny along for light makeup/grooming as well as photo assistant Wade Steelman , we used simple natural light with no reflectors or supplementary lighting for all outdoor shots.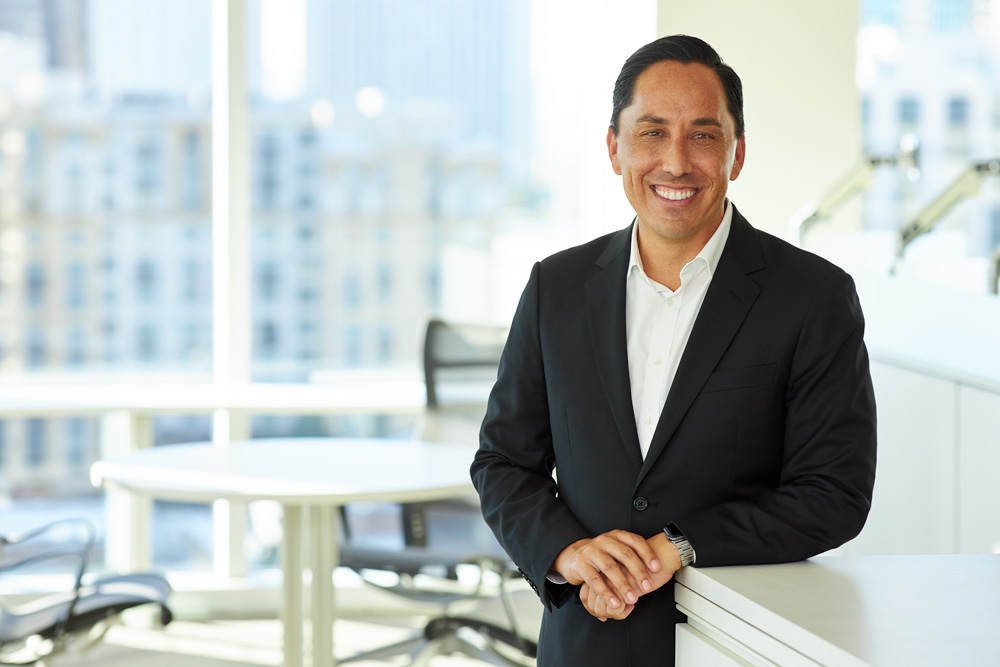 For indoor shots we used a simple combo of bounced speedlight flash and natural light. For the balcony shot over Petco, we decided to go a bit crazier and set up a 4 foot octabox with an AD400 strobe for softer light. Photos from my EOS-R were run through Capture One Pro for color and exposure stuff and then through Adobe Photoshop for more refinement. Retouching was kept very light and natural. As I try to avoid political discussion on the interwebs, (and mostly in real life settings too), we kept our discussion mostly to candy preference. Todd and I are both big advocates for the consumption of purple Nerds.
All photos ©Rob Andrew Photography, Inc., 2020. Unauthorized use prohibited.
$pc = ($post_show_date) ? "" : "noDate"; ?>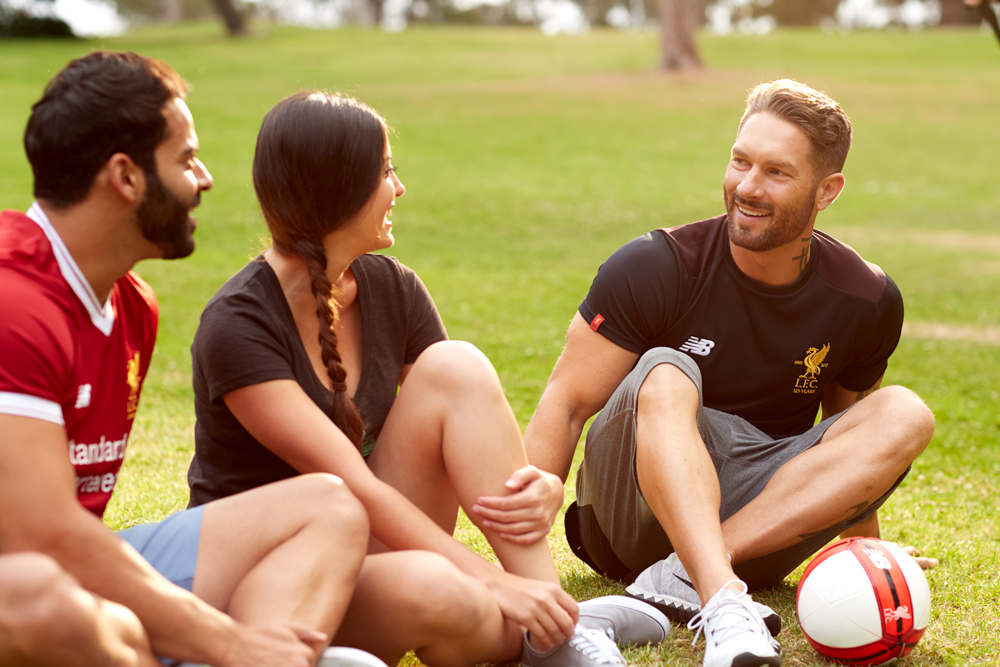 When I learned this simple trick for simulating the look of "golden hour" sunlight with flash, my life as a photographer changed for the better. Suddenly those overcast days were just an extended golden hour, providing the benefit of soft front light with the always-welcome golden back light. I'll give you the simple breakdown so you can start using this to get that sunny look when weather doesn't cooperate.
All of the images were made on an overcast day with no real sun. San Diego is known for good weather but we have a lot more overcast days than you would imagine, especially through May and June, so as a San Diego lifestyle photographer this trick comes in super handy.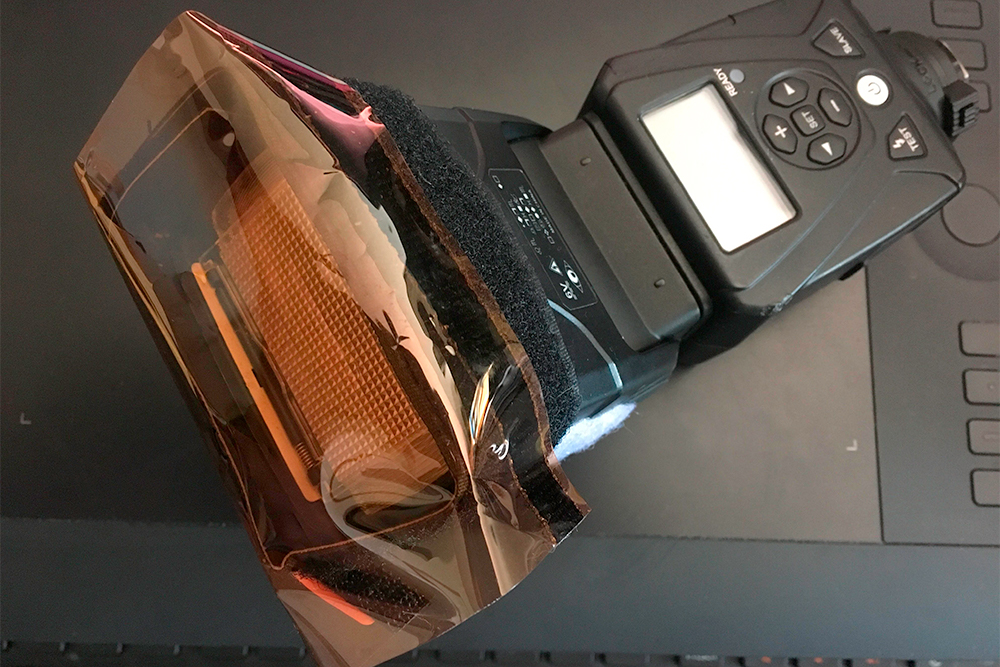 All you need is a CTO (color temperature orange) color gel and a flash. For working on the go, I prefer to use a speedlight and a small gel fitted with velcro (try a Honl Speedstrap and a set of Honl gels, which already have the velcro.) If you're feeling thrifty, just use any brand of gels cut to size and Scotch Tape to attach them to your light. I use a 1/2 CTO because I feel a full CTO would look too orange. You can go with your own preference here, but I recommend buying them in 1/2 or 1/4 CTO and you can always stack them if you want the light to look more orange.
You want an assistant to hold this light for you if possible, that way you can have them move just out of frame for simulated lens flare or farther out of frame for a more high contrast edge lighting.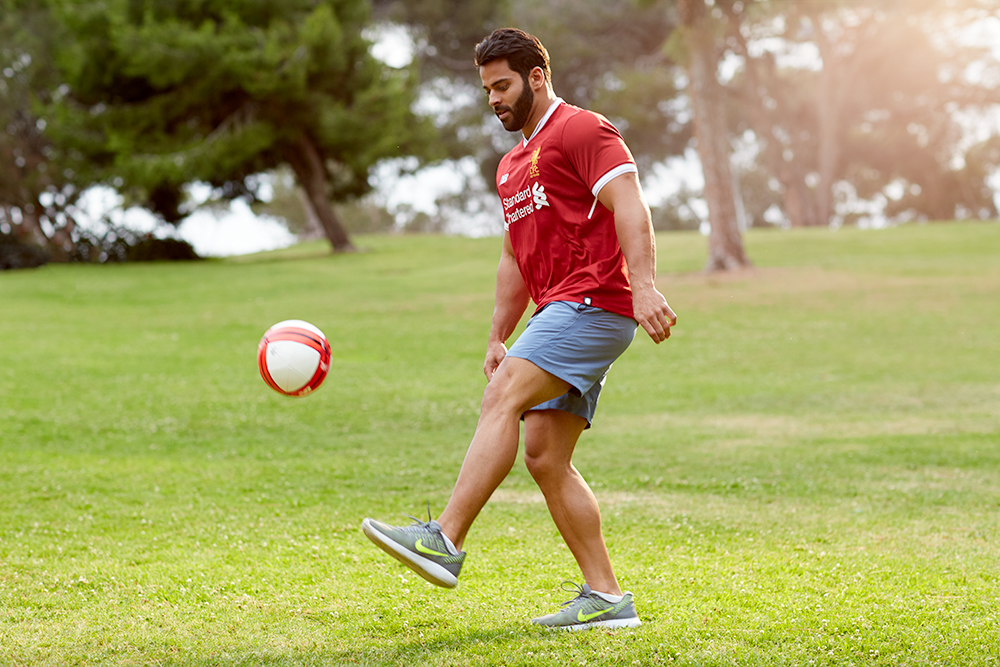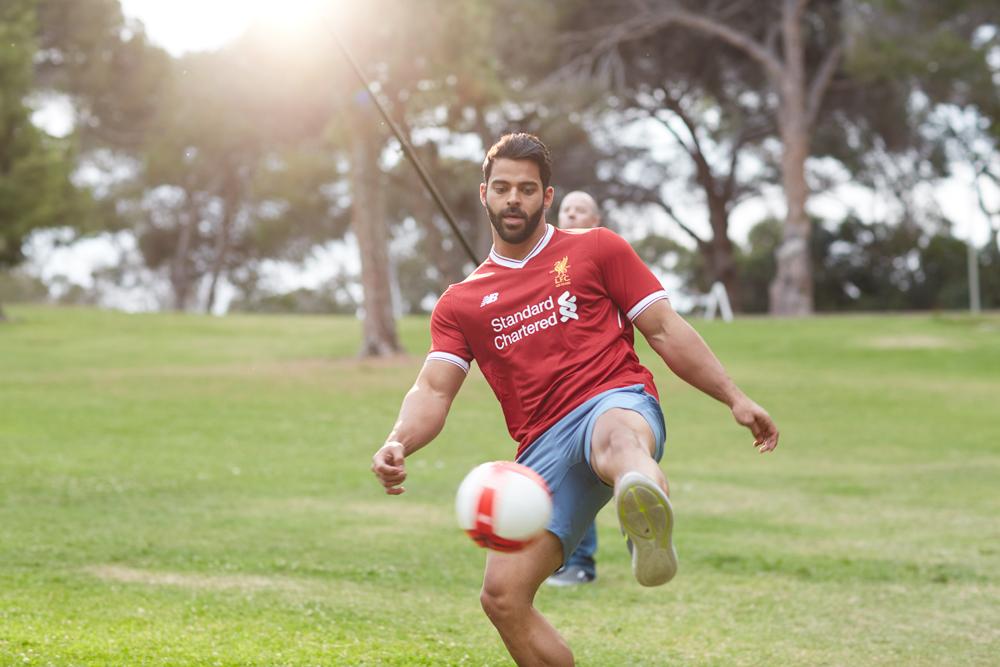 Here is an accidental BTS with my assistant, Dave, creepin' in the background. Nice thing about speedlights is they are lightweight enough to position at all kinds of crazy heights quickly and easily. We used a lighting pole instead of a traditional light stand because the legs of a light stand get in the assistant's way. It's also easier to remove the light stand in post if you happen to catch some of it in your photo.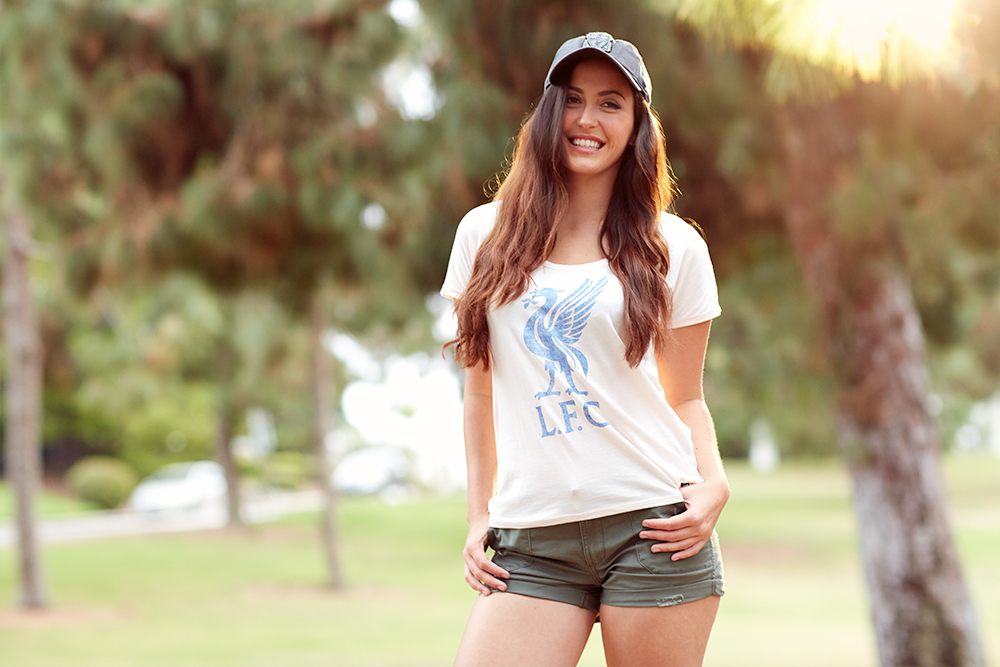 In the above, the light stand was removed in post with a quick shift+click of the spot healing tool in Photoshop.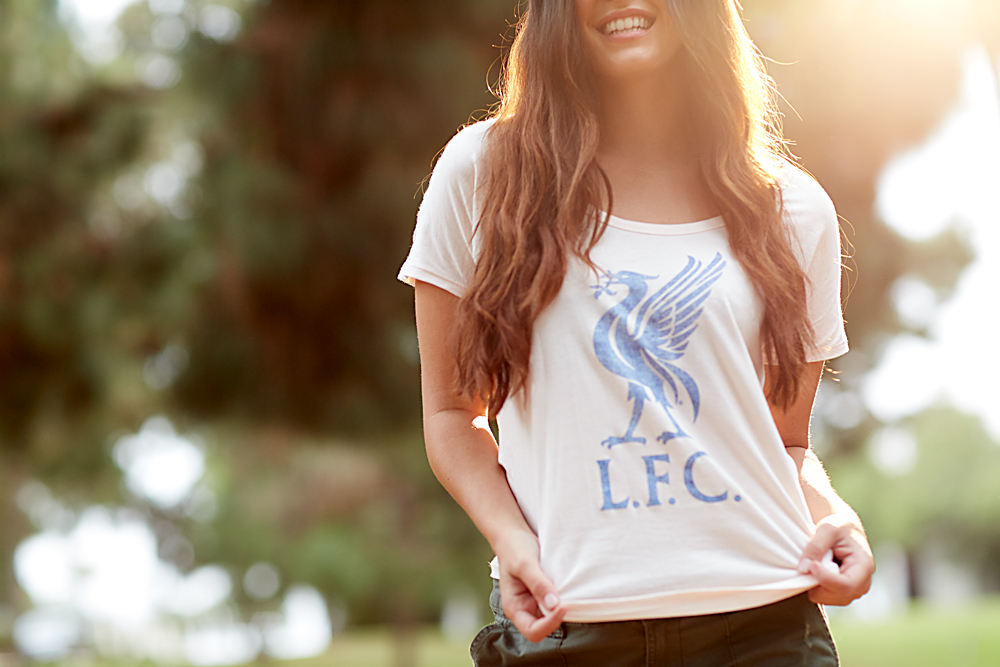 These are pretty much shown "as shot" but there are things you can do in post to make the effect even stronger. Experiment with color overlays, photo filters and color balance layers to warm the background areas in post production.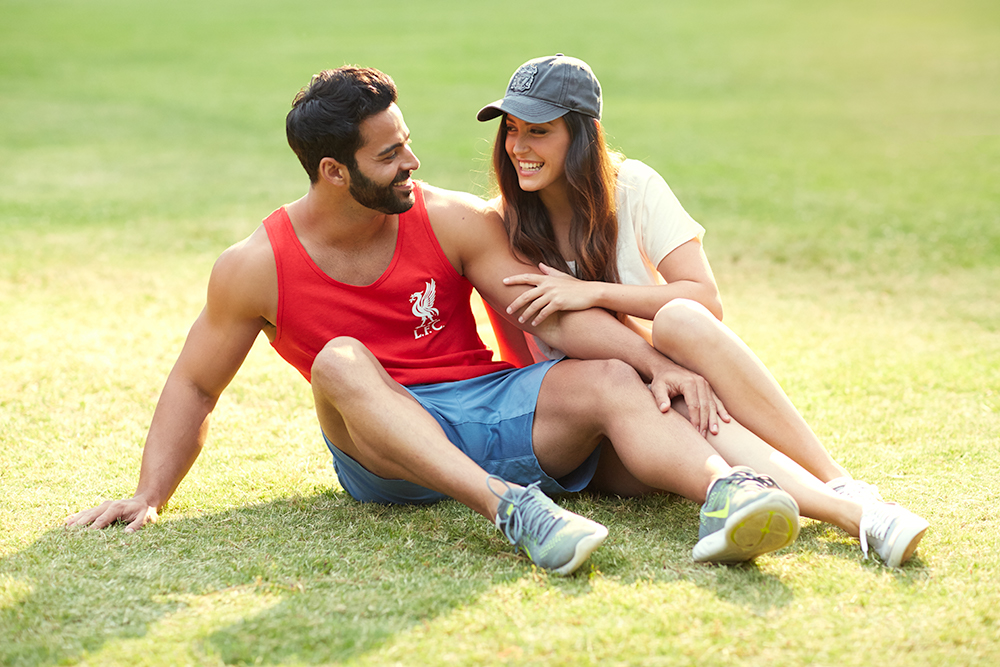 By using a smaller light source from a distance we can get the shadows going toward camera much like a back lit golden hour shot. Experiment a bit with distance and diffusion.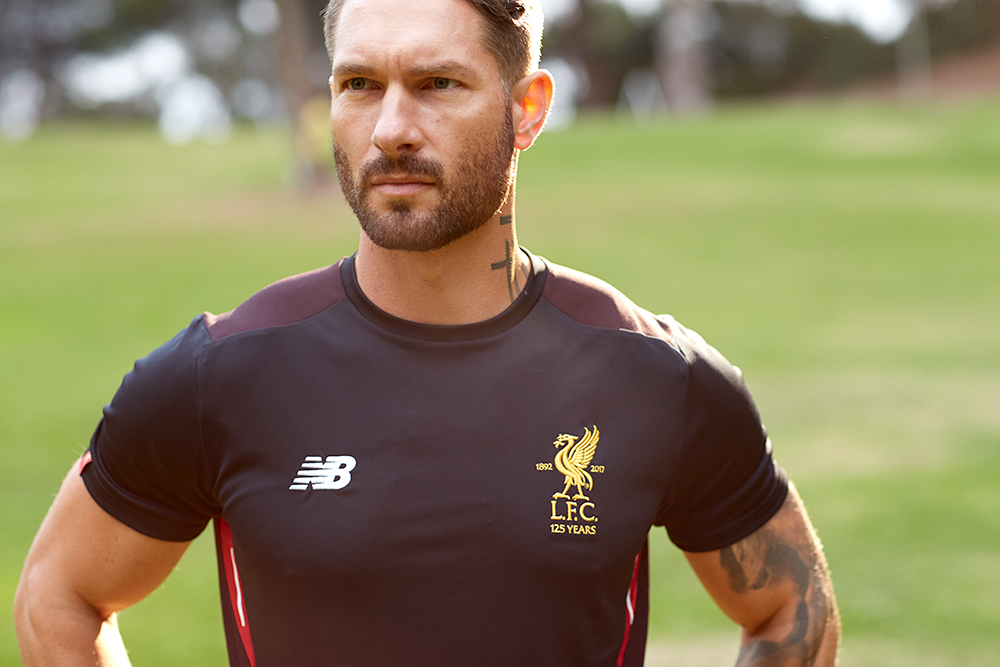 In most of these shots, I expose for the ambient exposure and simply add the flash at relatively low power, and then play with the position. The key is to keep your shutter speed slow enough to sync with flash. If this isn't possible, try adding a two stop ND filter to your lens to achieve a slower shutter.
Models – Weston, Haley, Bijan Hair/MUA – Cindy Rankin
Thanks for reading!
$pc = ($post_show_date) ? "" : "noDate"; ?>
Meet Mary Katherine and her best friend Atti. Over the years I've had the pleasure of doing some work for Paws'itive Teams, a top notch service dog organization here in San Diego. I've been able to photograph their teams at annual events and also get involved with their website development. More recently I've decided to photograph some of their teams as a personal project and hope to do more with them this year. It is pretty amazing watching a highly trained service dog improve the life of its owner!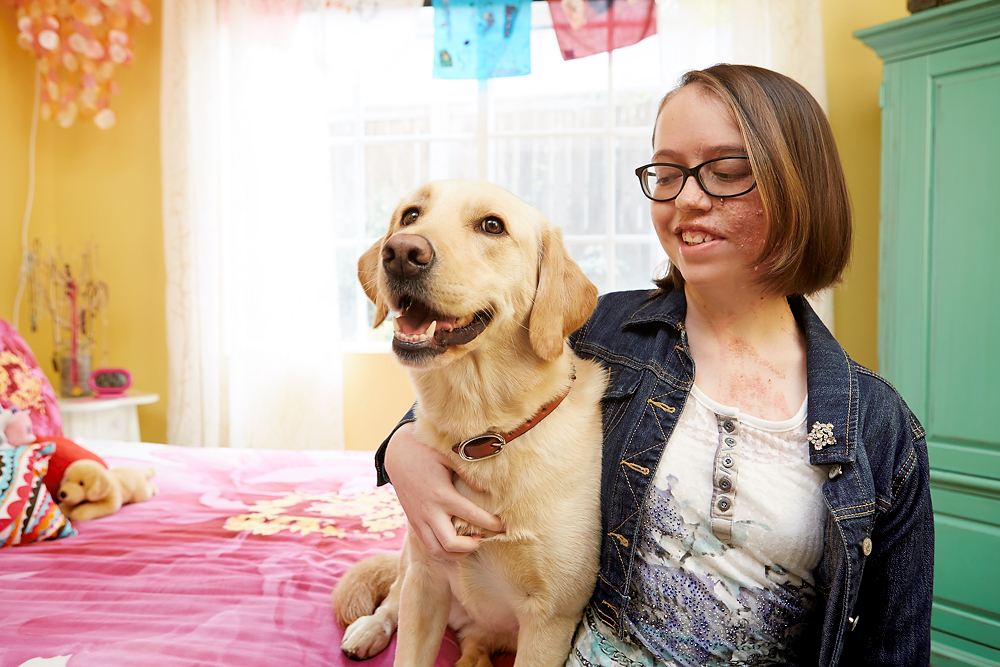 As it turns out, Mary Katherine's mother, Kathy Milburn is a far better writer than me so I will let my images and her words come together to give you some background on the pair:
Mary Katherine was born with a rare condition called sebaceous nevus syndrome that starts out looking like a birthmark and comes with a long list of possible challenges.  While she has had many, the most present day to day issue for her is rickets, or soft bones.

As a result of Rickets, Mary Katherine's mobility is affected and she uses crutches to walk and a wheelchair for long distances.  Her left arm and hand are also involved and are weak.

Imagine your day with legs that don't work so well and hands that are busy with crutches, one of those working at about half capacity.  That's where Atti comes in.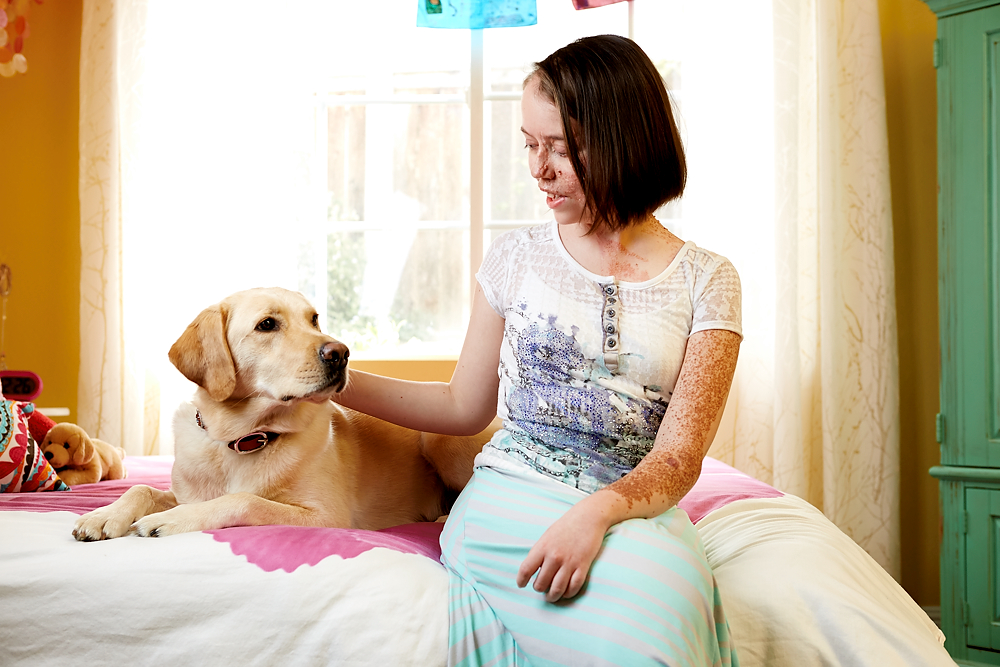 Atti is half golden retriever, half labrador retriever and was trained by Charli King at

Pawsitive Teams

.  She came to us at nearly 3 years old, highly skilled as a mobility assistance dog.  Now 5, she serves as a balance and brace dog as well for Mary Katherine, wearing a harness and providing stability for her.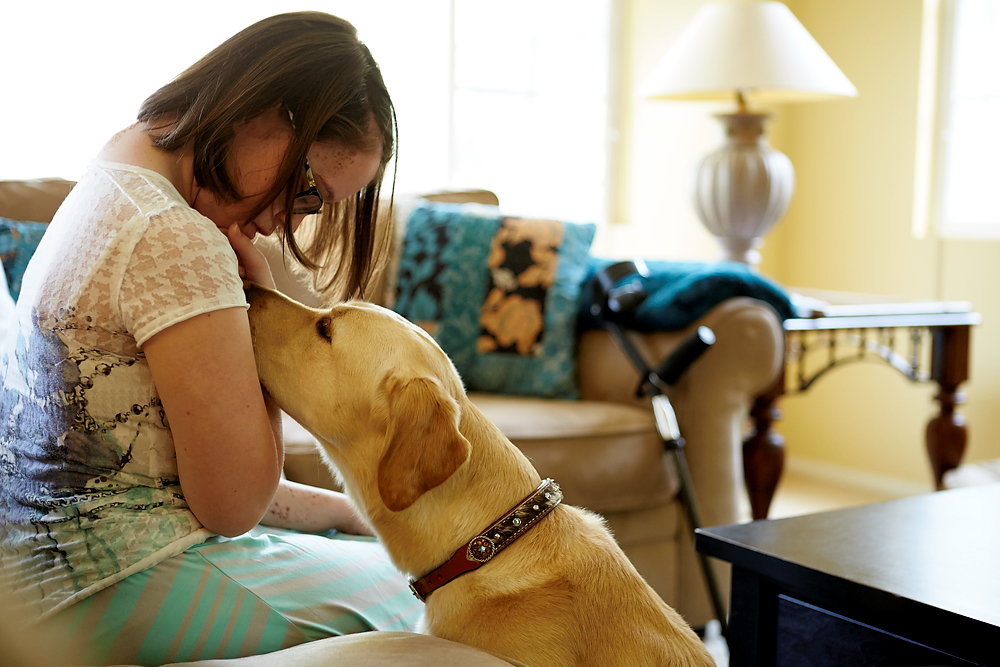 Some of the tasks that Atti performs on a regular basis for her include getting her crutch or stick as we call it, opening doors, picking things up, putting clothes in a laundry basket, and getting me and leading me back to Mary Katherine.  While these are the tasks she assists with, Atti really does so much more.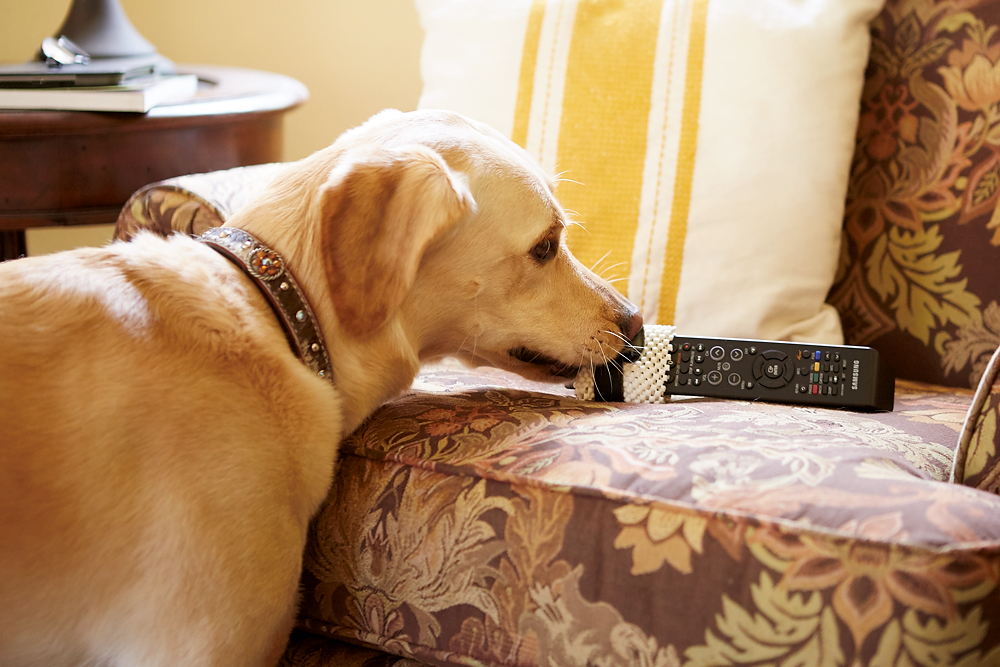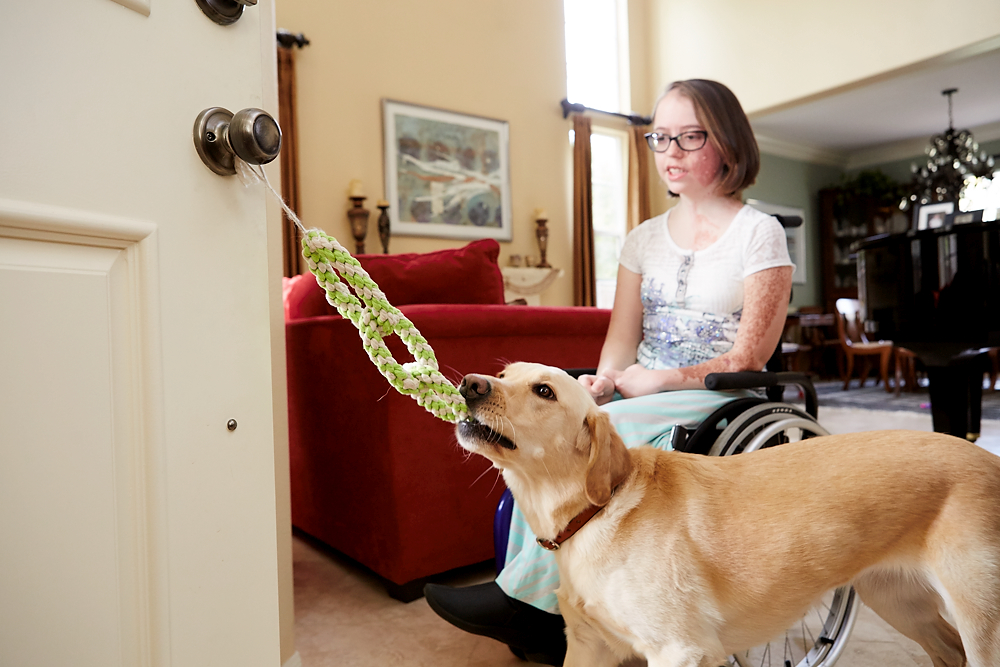 Because of Atti, Mary Katherine now has a whole new circle of friends through Pawsitive Teams.  She has become quite the dog trainer and does demos teaching people about service dogs.  When mobility is limited, some of the typical hobbies are not available.  Dog training certainly is.

Atti is an ice breaker and comforter.  At doctors visits or school, Atti presents opportunities for conversations and new connections.  As Charli taught us, just looking for the smiles Atti brings to people's faces changes the attitude of a whole experience.  Mary Katherine has also had to learn about care for another being, rather than being the one cared for.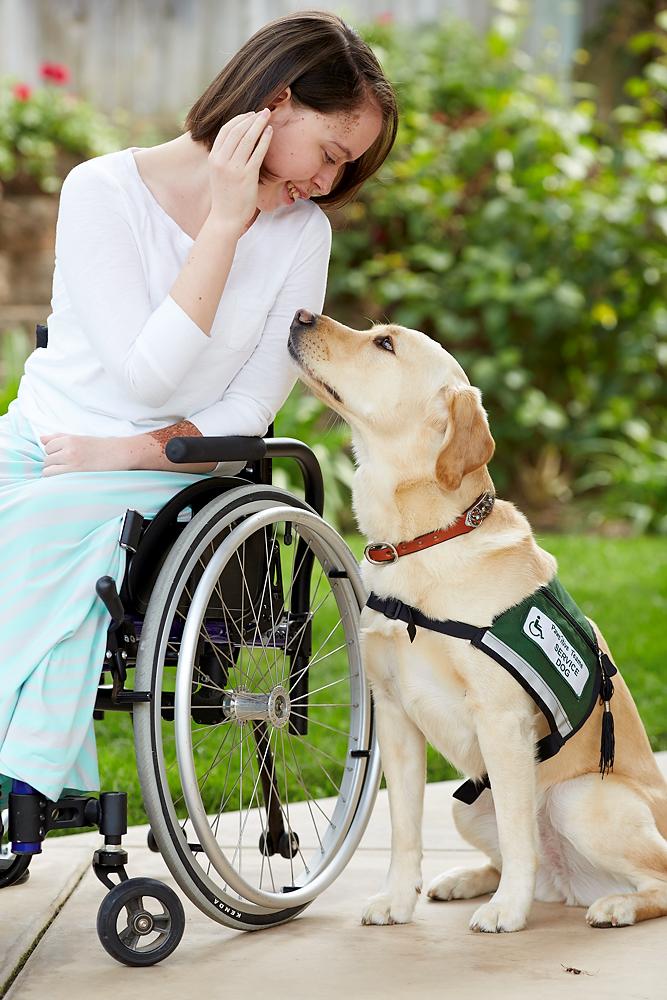 Paws'itive Teams clients include a broad range of people from combat veterans to youth like Mary Katherine and its been truly moving to see them come together and share a common bond at annual events. Once again, photography provides a window into some very interesting places and lives. As Joe McNally says, "It's not a camera, it's a visa."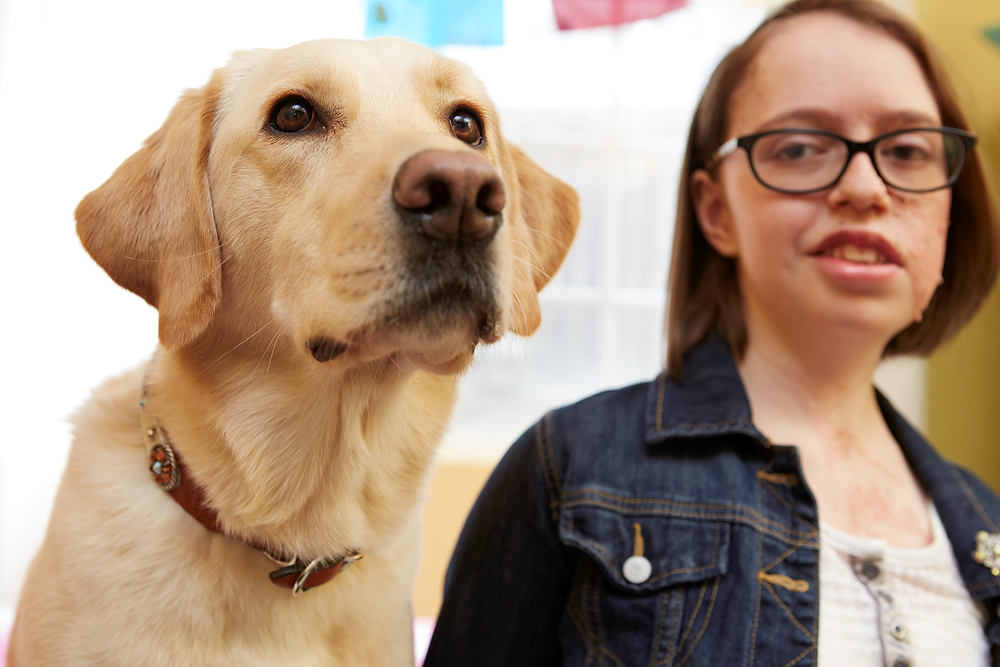 $pc = ($post_show_date) ? "" : "noDate"; ?>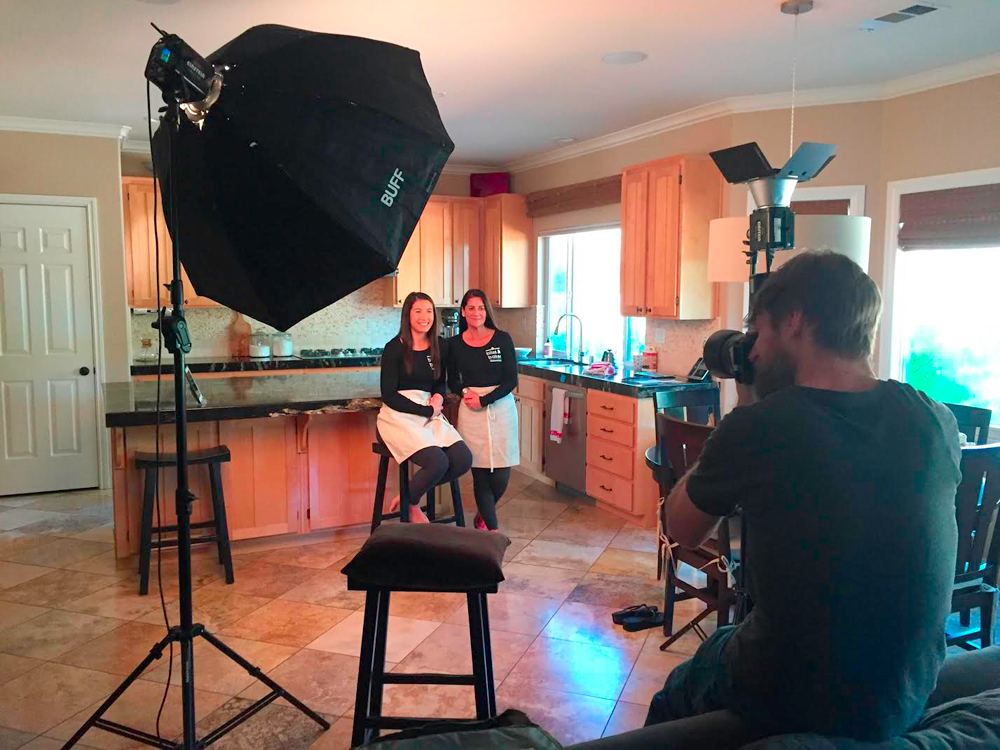 Recently I had an opportunity to shoot a portrait of one of my food photography clients. Bliss and Baker is a mother-daughter team in North County San Diego making some really delicious crispie treats that you can find at local retailers and restaurants around town.
Just looking at the behind the scenes iPhone snap above of our setup, one can instantly recognize the challenge with shooting a portrait in a home kitchen. In most cases you'll be presented with multiple light sources varying in color cast and intensity. The light sources native to the environment may or may not be usable for the story you're trying to tell or even able to be utilized at the desired camera angle. In this case, we opted for a relatively tight crop (still loose enough to tell the story, but tight enough to not have any light sources showing in the frame.)
I wanted to mimic natural light more or less while maintaining an "indoor" mood. Since none of the natural light sources really worked at our desired camera angle (toward the kitchen using it as a backdrop), I opted to set up something akin to the light that would normally be there.
For the main light, I used the PCB Einstein flash with 4 foot octabank attached.  This would give us a nice catch light in the subject's eyes while providing some soft directional shadow.
For the fill light, I wanted a nice blanket of light that would fill the room and provide a bit of hair light to our dark-haired subjects (just like ceiling lights in a kitchen would do). So I went for a ceiling-bounced light with barn doors attached. The barn doors help contain the spill of light so you don't end up with reflected hot spots, lens flare or other lighting weirdness from light spilling everywhere.
Finally, I dragged my shutter just enough so that the natural light from the window could add a bit of fill to the background elements. We shot various shutter speeds for varying degrees of background brightness but this is the portrait the client settled on.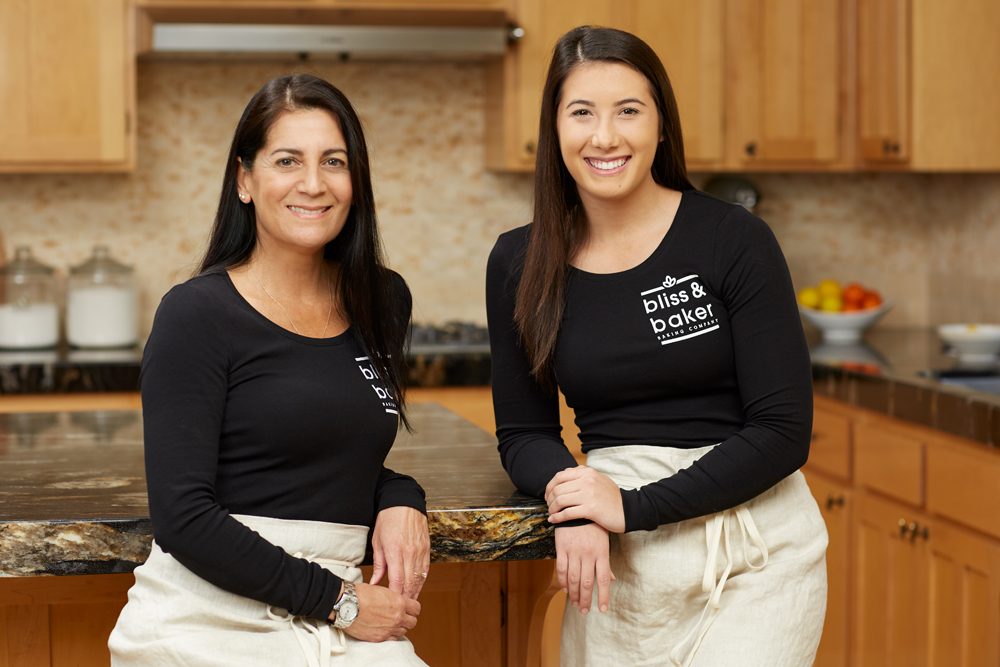 Over the past year or so we've also photographed quite a few food shots for this duo- here's a little sampling, all of these are from our San Diego photography studio –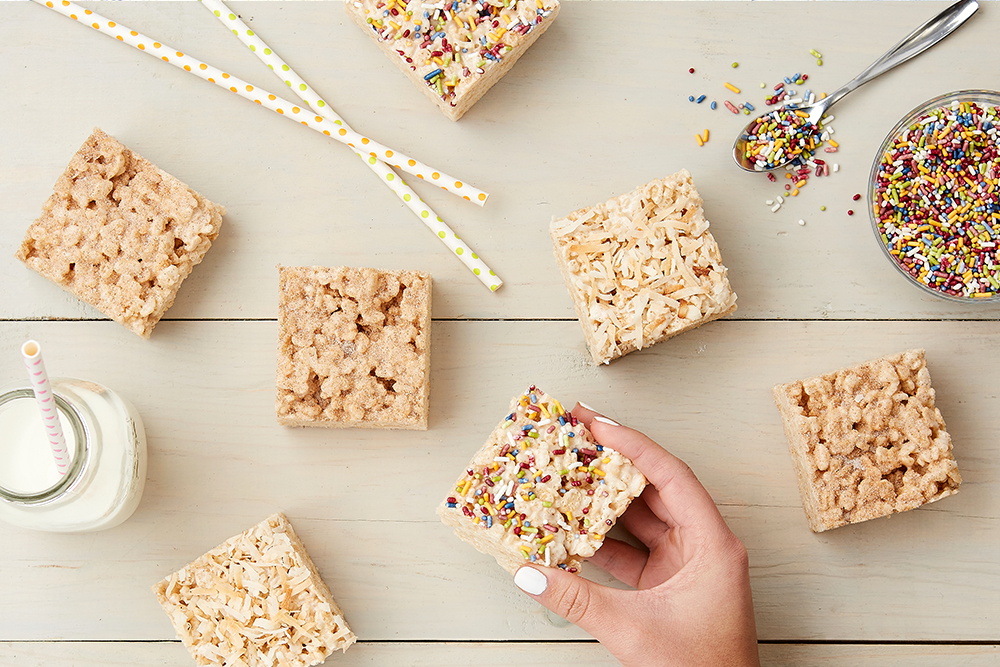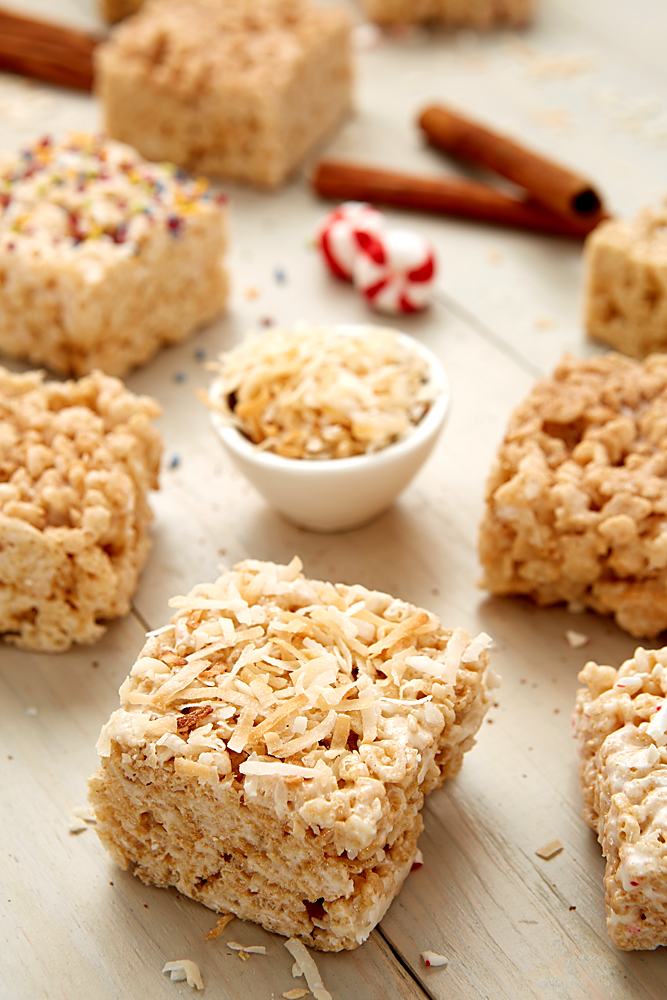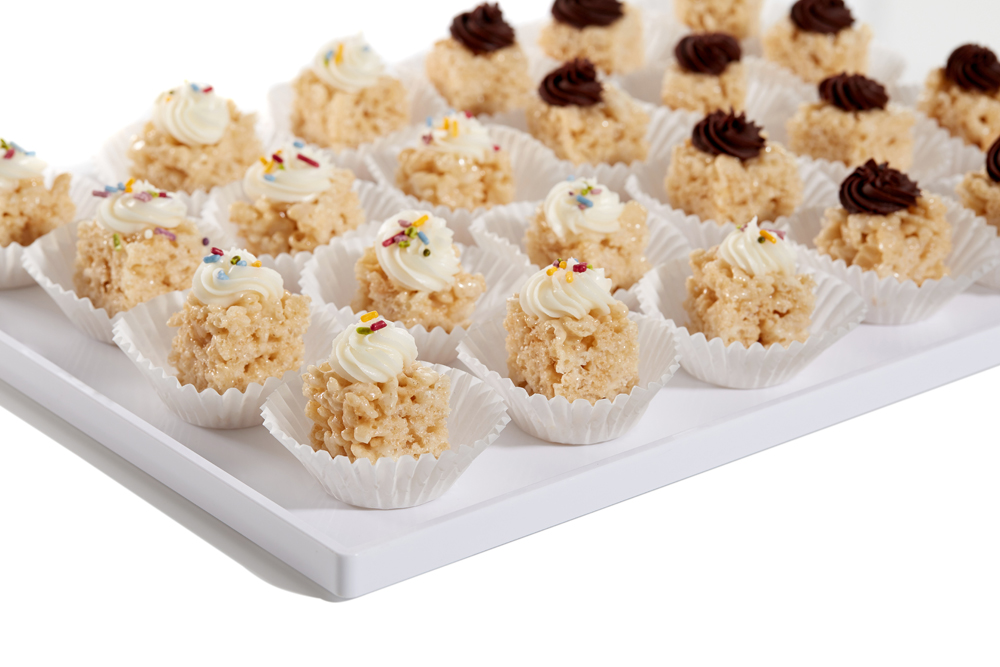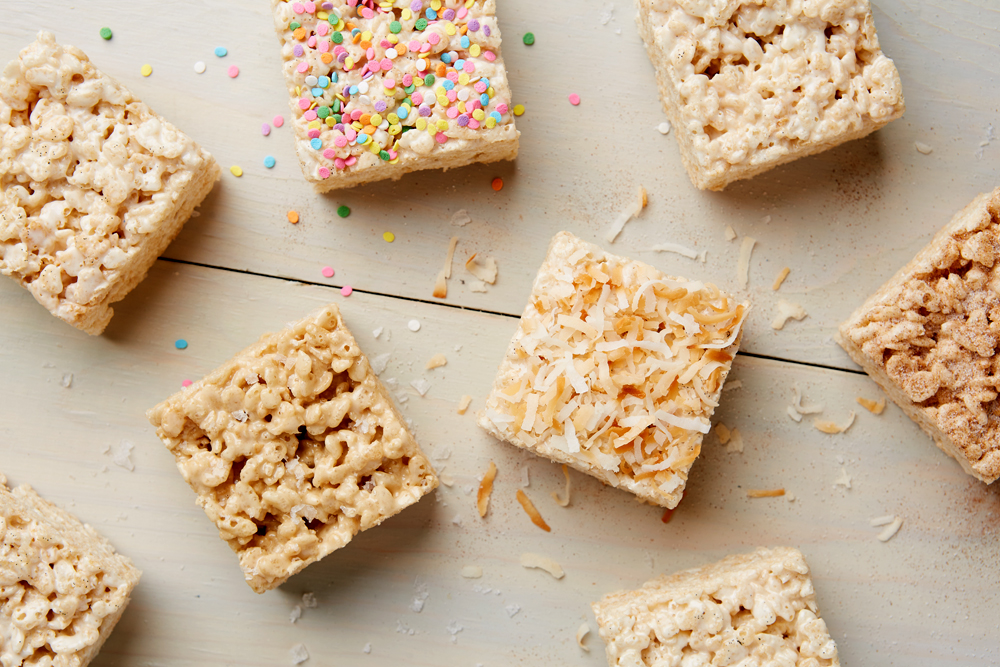 Shout out to Wade Steelman for the photo assisting and BTS photo!
$pc = ($post_show_date) ? "" : "noDate"; ?>
Earlier this summer I had the opportunity to shoot Ballet Folklorico in San Diego for AAA, documenting the people and dance. I was traveling around my hometown like a tourist to various locations to see rehearsals and performances both indoor and out. The shoot resulted in three magazine covers for AAA and I'm stoked with how these turned out! This type of dance is a photographer's paradise, utilizing a lot of color and controlled movement in combination. With this type of photography I had to think less like a lifestyle photographer who can stage scenes and ask people to do things and more like a sports photographer, often "zone focusing", anticipating movements and waiting for something to happen. This would be followed by a burst of shots, some good some bad, and some with just the right elements to satisfy the photo editor's needs.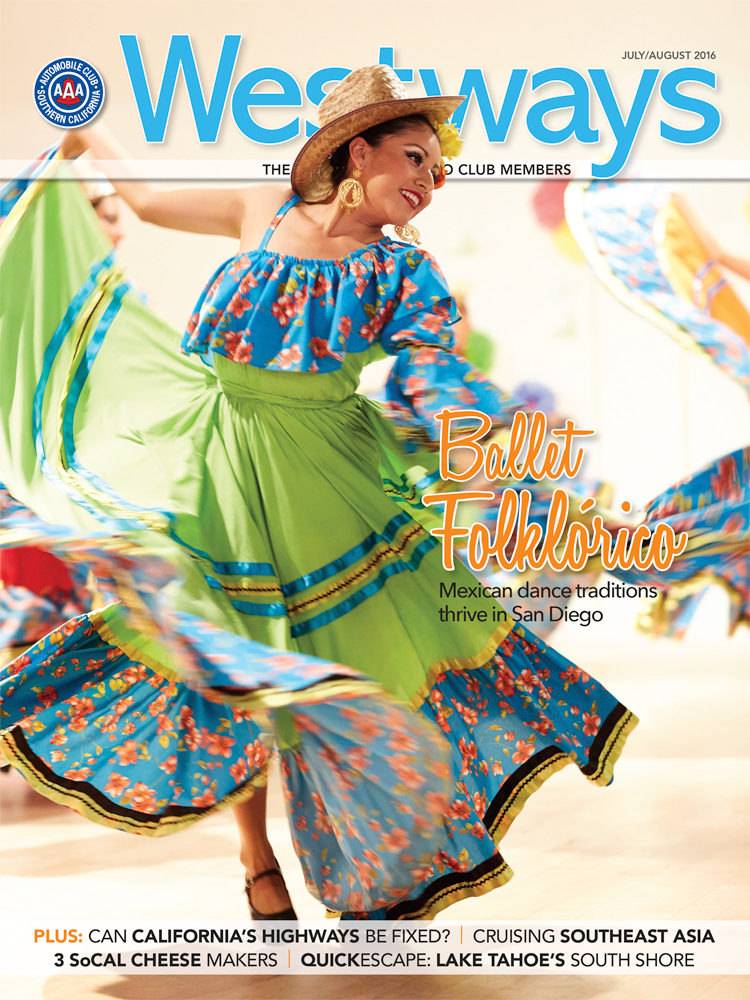 Above: Dancer: Reyna Mendoza Company: Danzarts , captured at 1/160, f/2.2, ISO 3200
I can honestly say this s the first time I've been published at over ISO 1600, especially for a cover image but the choices at a recital are to either  a) use direct flash b) light the whole scene with off camera flash or c) ramp up ISO and make the most of the light that is already there, which is less disruptive to the performers and audience.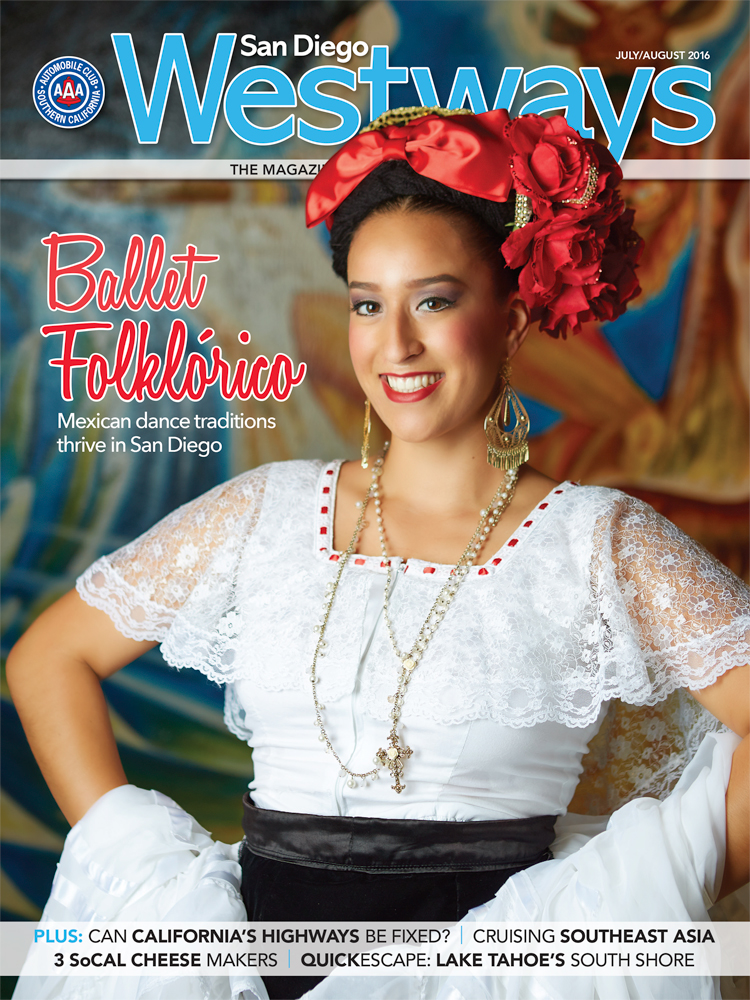 Above: Dancer: Mireya Pinell-Cruz Company: Danzarts ISO 100, 1/125, f/3.2 (Lit with strobe and single 32″ softbox)
I was also tasked with getting a few posed portraits so generally I used a small softbox to keep things contrasty and emphasize the vibrant colors.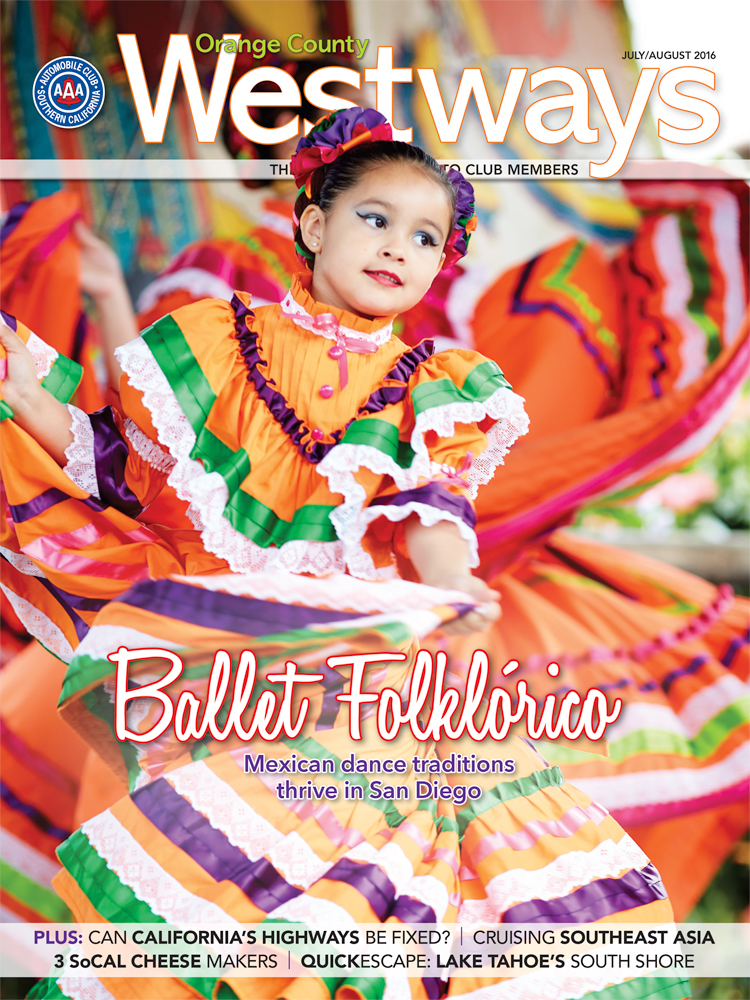 Above: Dancer: Dayanna Solis Company: Folklórico Real de San Diego (Claudia Gomez) ISO 250, f/2.5 1/400
The sweet spot shutter speed for this type of dance seemed to be around 1/125-1/500 for getting a slight motion blur on the clothing while keeping the dancer themselves sharp on the face. Outdoor shots afford the photographer more options of course, but I still had to watch my settings more than on a typical portrait or lifestyle photo shoot.
Here are a few outtakes/inside shots from the shoot…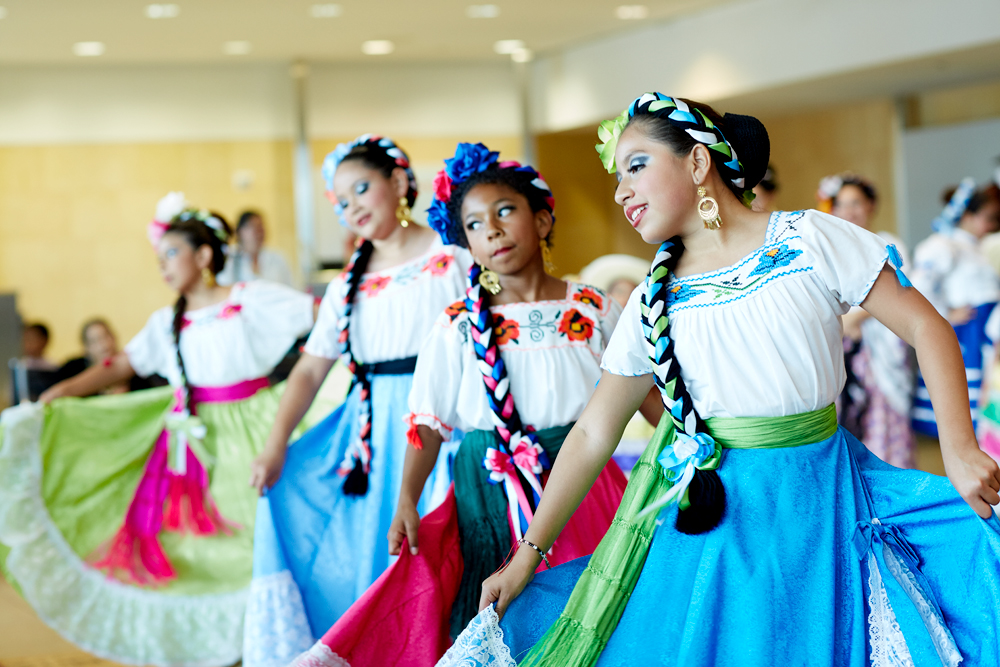 $pc = ($post_show_date) ? "" : "noDate"; ?>
Over the past couple of years, I've had the opportunity to shoot quite a few restaurants in and around San Diego and the Inland Empire. Often, my primary assignment is to capture the food but one of my favorite parts is to grab a portrait of the chef or restaurateur. Sometimes its at the request of the client, but often its for my own creative exercise and portfolio. Chefs are generally personable and passionate but they also tend to be busy, so I generally have about 5 minutes to come up with a decent composition, find some sweet natural light or set up a strobe, and coax a genuine facial expression out of them. I don't care if they smile, I just want the expression to look "real". To me, the whole portrait hinges on the expression, so the lighting and all that "techy" stuff has to be second nature.
Here are a few images from recent assignments around San Diego and the IE- see any chefs you recongnize?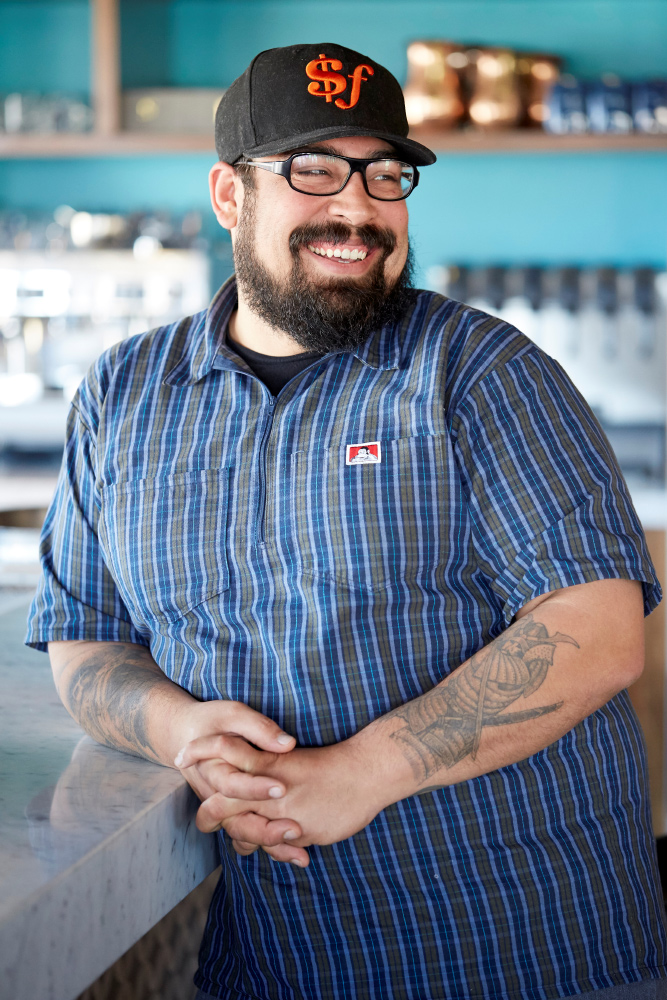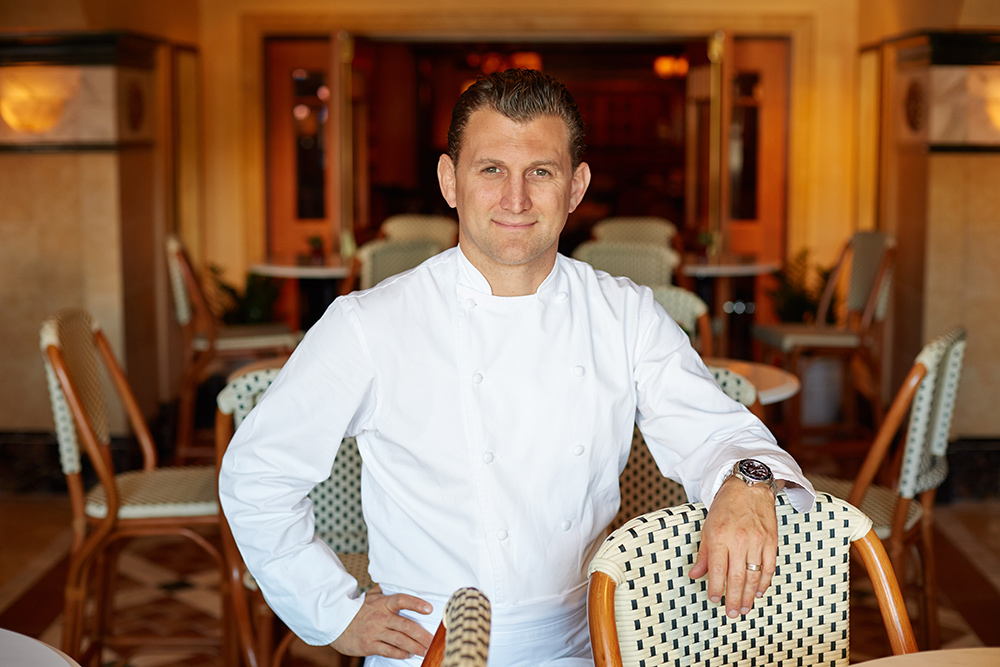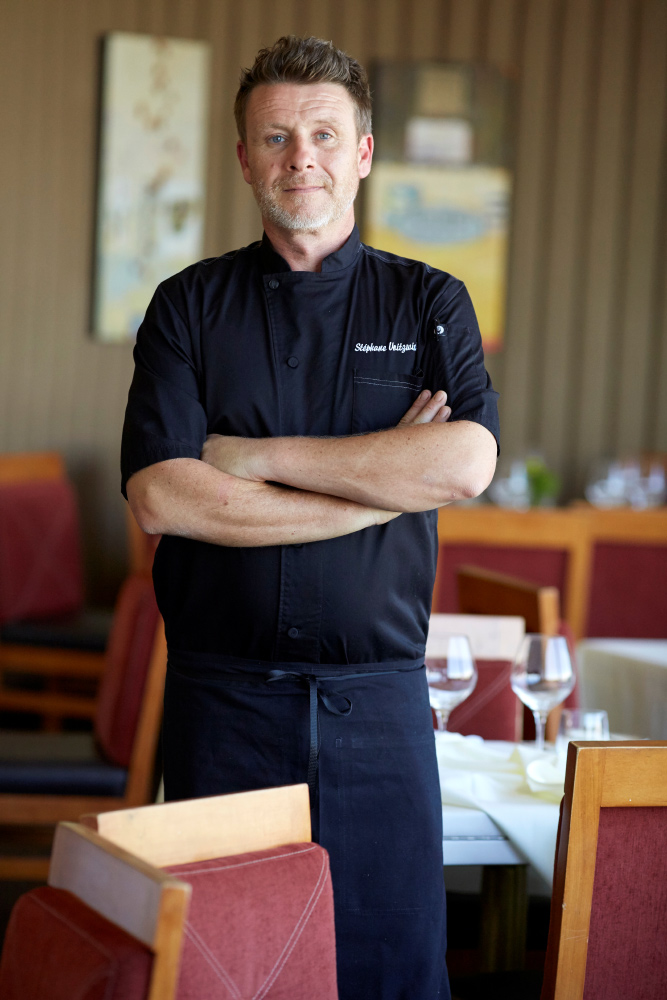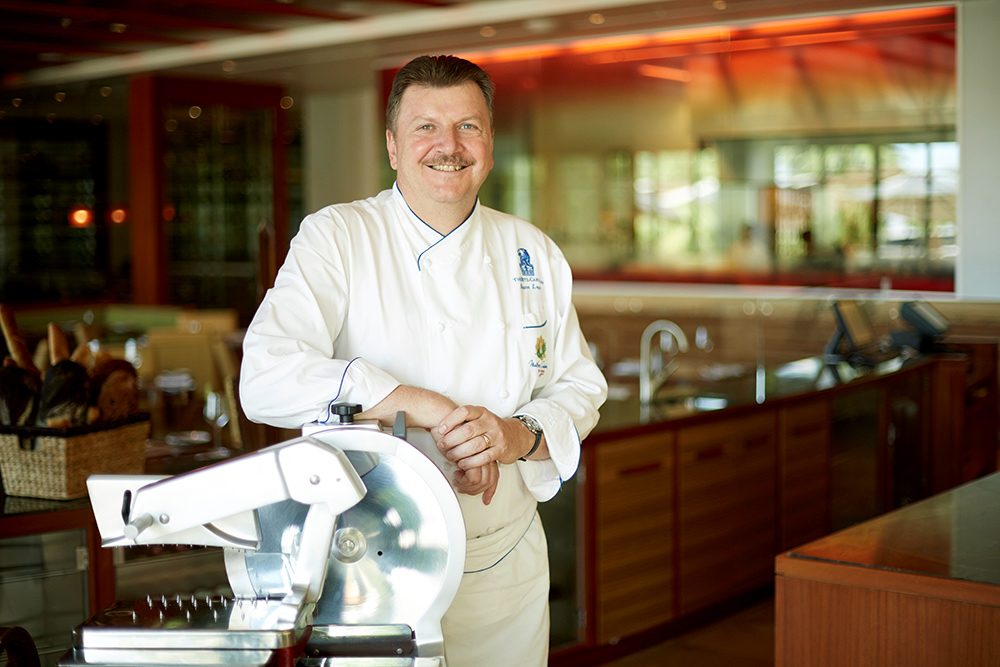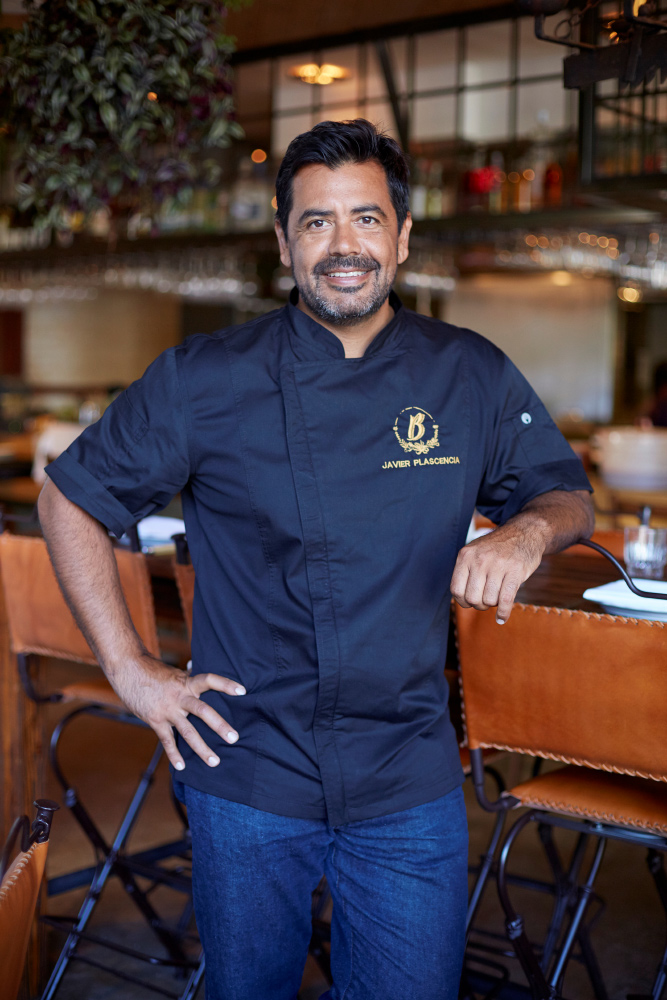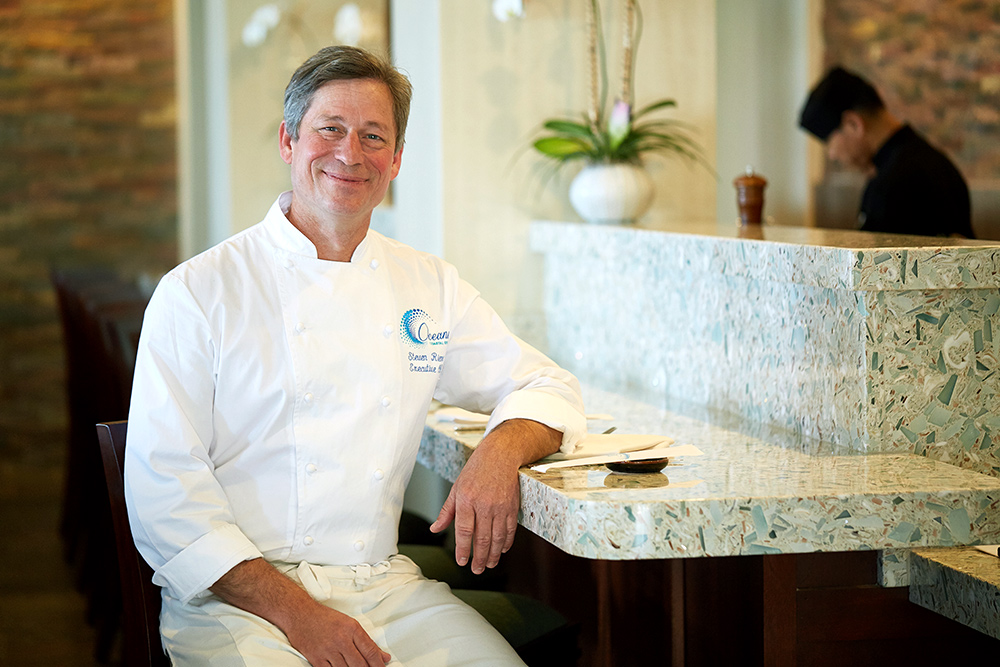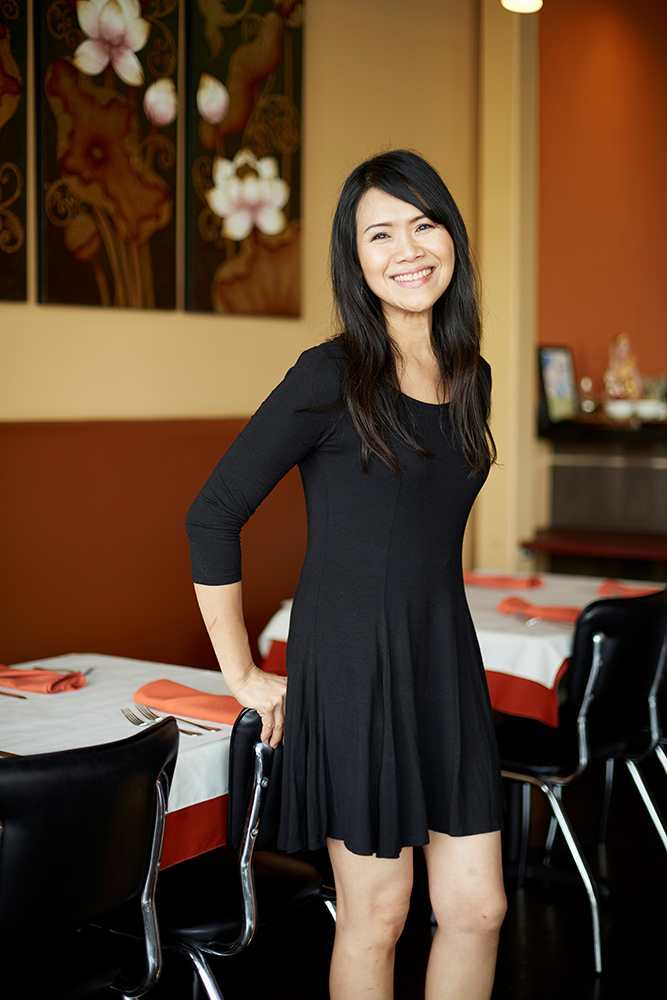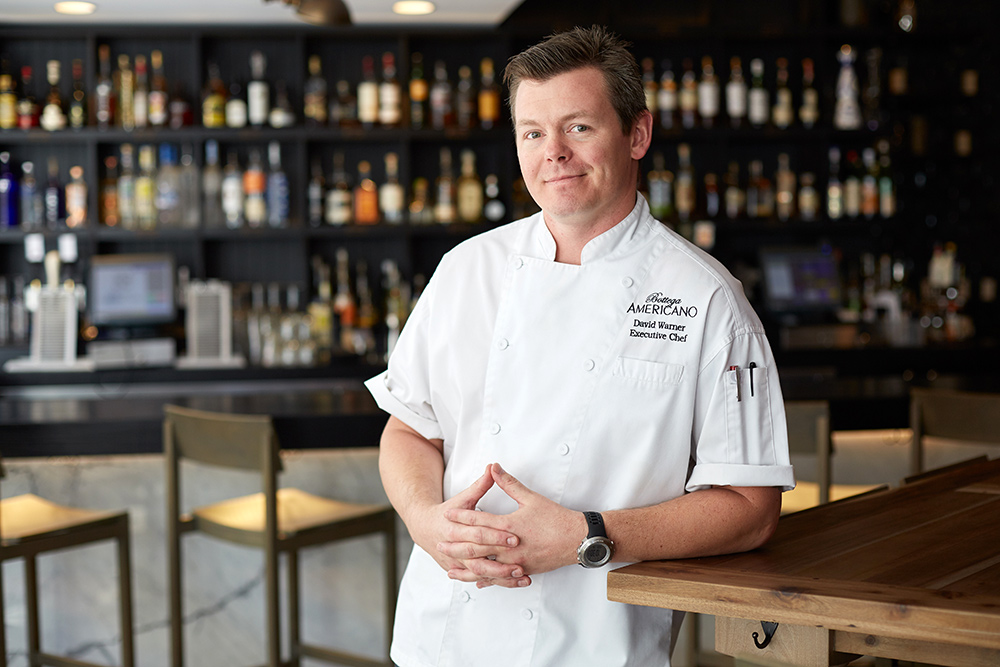 Props top to bottom- Vince Scholfield (Catania Coastal Italian), Shaun Gethin (Bijou French), Stephane Voitzwinkler (Mister A's), Bruno Lopez (State Fare), Javier Plascencia (Bracero Cocina de Raiz), Steven Riemer (Oceana), Joyce Patra (50-Fifty), David Warner (Bottega Americano).
Thanks to all these great chefs for sharing some time with me and preparing great dishes for my camera!
$pc = ($post_show_date) ? "" : "noDate"; ?>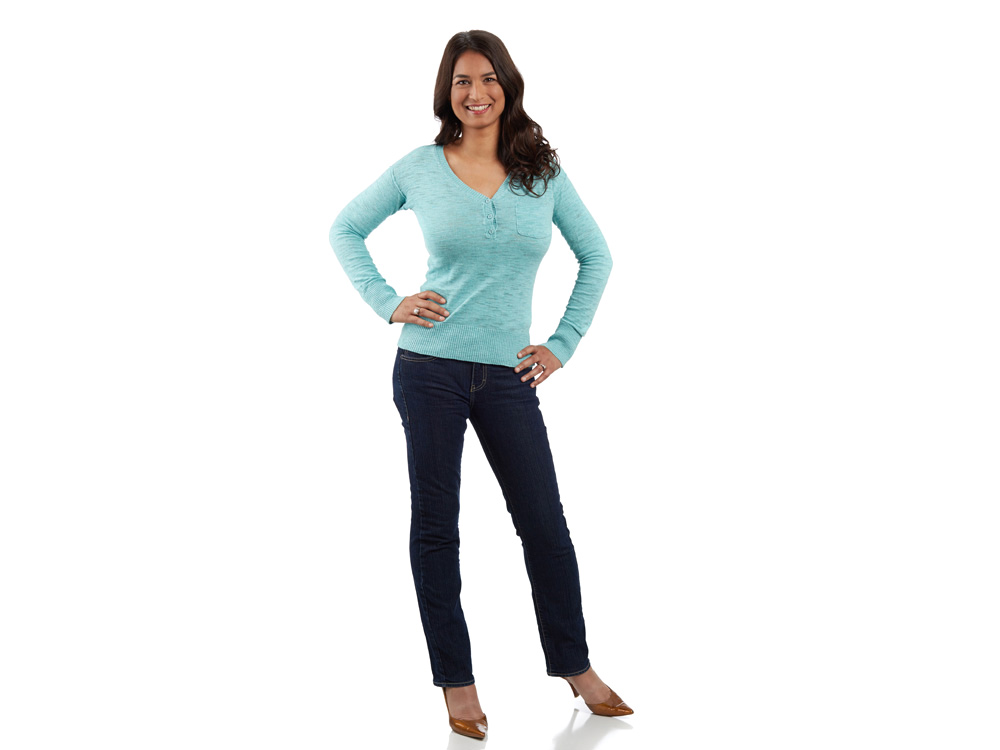 One of the questions I get asked a lot in classes and workshops is how to achieve a pure white background without a lot of Photoshop knockout. Well, the short answer is to simply light your background about one stop brighter than your subject. In this case, my background is  a 9 foot wide roll of white Savage 107X12-1 Seamless Background Paper – Super White.

. For the floor, I've used white tile board from The Home Depot which has two benefits: it is slightly reflective and it keeps people from standing directly on the seamless paper so your paper will last longer. Editors and graphic designers like a clean white background so that the subject could be plopped anywhere on the page without borders or easily extracted and placed on a different background.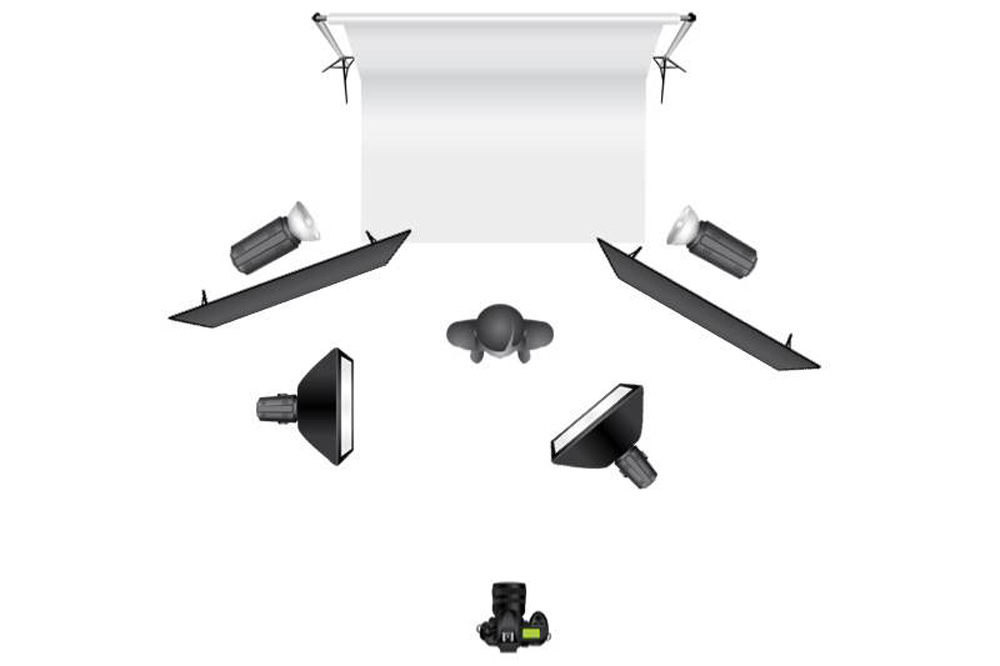 For a full length portrait of one or two people, this is the basic lighting setup. As you can see we have separate lighting for the subject and the background so that we can control the background exposure separately. I like to have at least three or four flashes on hand for this, but it could be done with fewer lights as well. It will be quicker and easier with a handheld light meter. I use my light meter to measure the subject at f/8 for example, and my backdrop at about f/11 or f/13. A few important points:
The background lights are aimed in a cross pattern (the camera right light is aimed at the camera left portion of the backdrop and vice versa) this ensures a more even light distribution.
The background lights are flagged off from the camera, so there's no flare or bounce directly at the lens that will decrease contrast.
The subject is far enough from the background that they don't enter the path of the background lights.
I like to light the subject first until I am satisfied with the light distribution/modeling on them, and then turn on the background lights later. Using softboxes rather than other modifiers on your subject will prevent spill and make the setup easier to understand as you build it up. A telephoto lens (about 85mm or longer) will help narrow your field of vision and keep distracting elements (like the sides of the backdrop) out of your photo. The above was shot at 85mm. Prime lenses tend to work better for this, as there will always be some light bouncing off of the backdrop and coming toward the camera.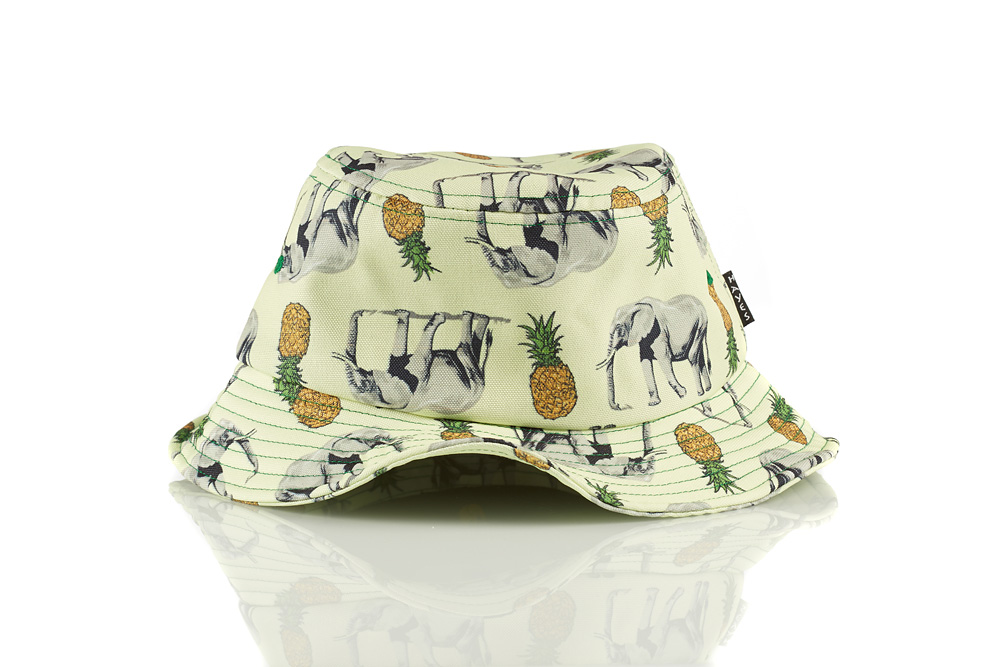 For product images there are many possible configurations , but I find that plexiglass, painted white on the non shooting side, makes a great reflective surface. I set my product on a table with the plexiglass under it and shoot my background setup as seen above. The product table sits about where my portrait subject stands, about 8 feet away from the background. You'll want to hit the top of the backdrop with some light as this will reflect down in the plexiglass and make it appear whiter. Its also helpful to turn all lights in your studio environment off so that you can see just the modeling lights and gauge what will happen when you click the 'ol shutter button.
It is inevitable that some gray will sneak into your photos so I like to finish the photos off in Photoshop with the dodge tool set to "highlights". Just run it gently over any areas that are not quite pure white. You can check your work by opening the info panel and as you run your mouse around the photo, the pure white areas will read "255" on all RGB values. As with all things photographic, practice makes perfect.
Thanks for reading and check out my subject above on Dr. Oz! We had a lot of fun shooting her at the studio here in San Diego and this is one of the outtakes from the session. Makeup and hair are by Stephanie Costa.
$pc = ($post_show_date) ? "" : "noDate"; ?>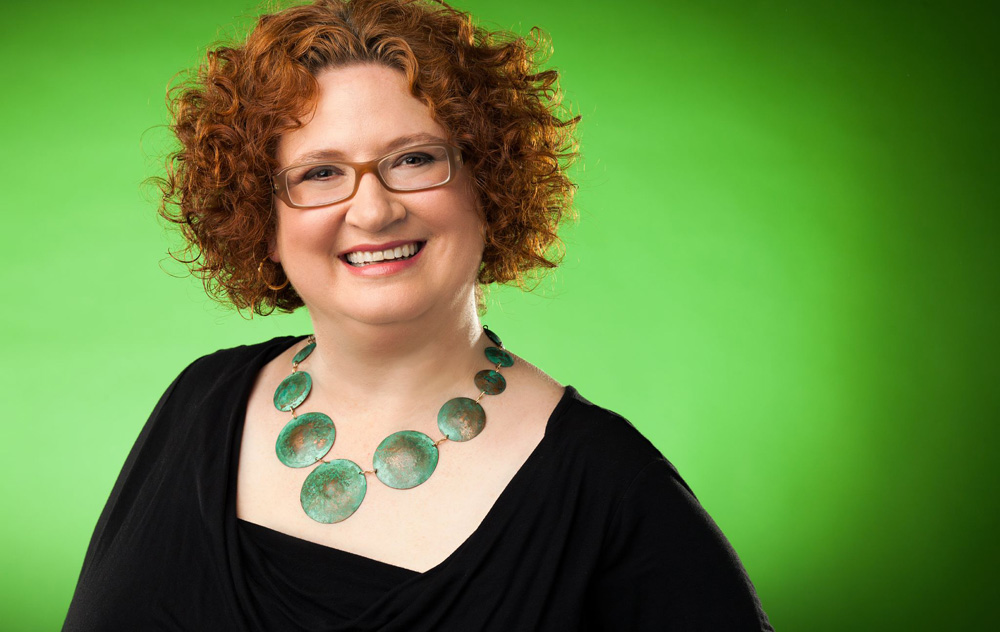 It's no secret that the 'ol Book of Faces can be a great marketing tool for photographers as well as just a generally fun place to show off some family photos. Facebook, however, has a tendency to compress, convert, or otherwise mangle your photos if you don't do some image prep ahead of time to maximize their display quality.  Here are some steps I'd recommend to optimize your images for Facebook display. I recommend using Photoshop but you could certainly mimic these settings in Lightroom or Capture One, for a more direct export.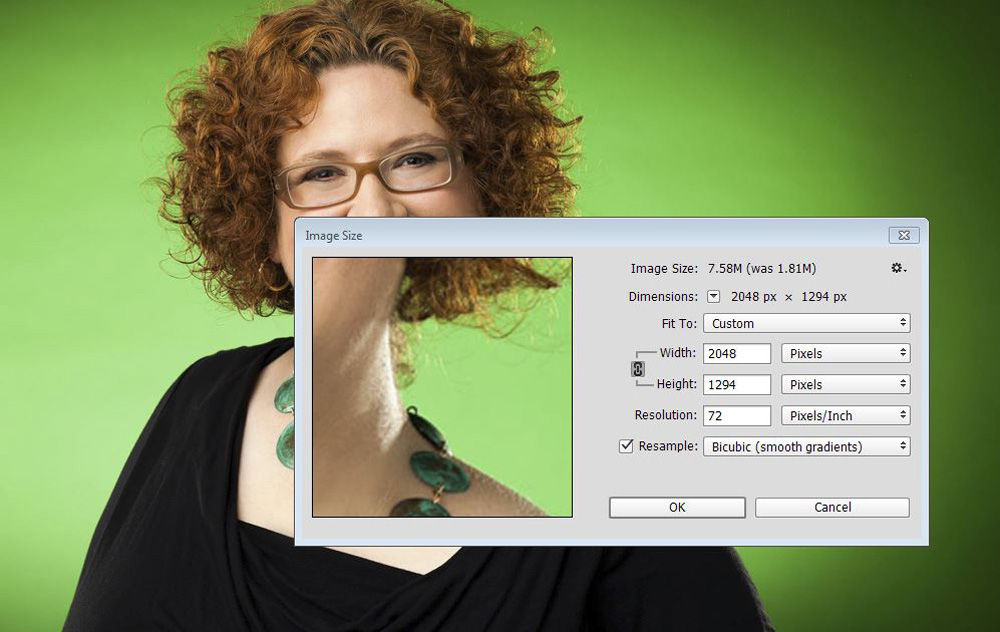 The first thing we want to do is resize the image on our end before upload. (go to image>image size.) This will ensure that we have more control over the resize process and will also shorten the upload time. The current max size is 2048 pixels on the longest edge, so this is what I'd recommend. You can leave the PPI ("resolution") value at 72. PPI is just a tag, and it doesn't affect screen display.
I leave resample at "bicubic"  and I will manually apply some sharpening in the next step. I like to do the sharpening manually, but you may find that a "bicubic sharper" resampling, or one of the other resize options does the trick for you without additional sharpening. Adobe recommends "bicubic sharper" for downsizing an image, but since I like to sharpen manually, I'll stick with the standard bicubic. More info on that setting here.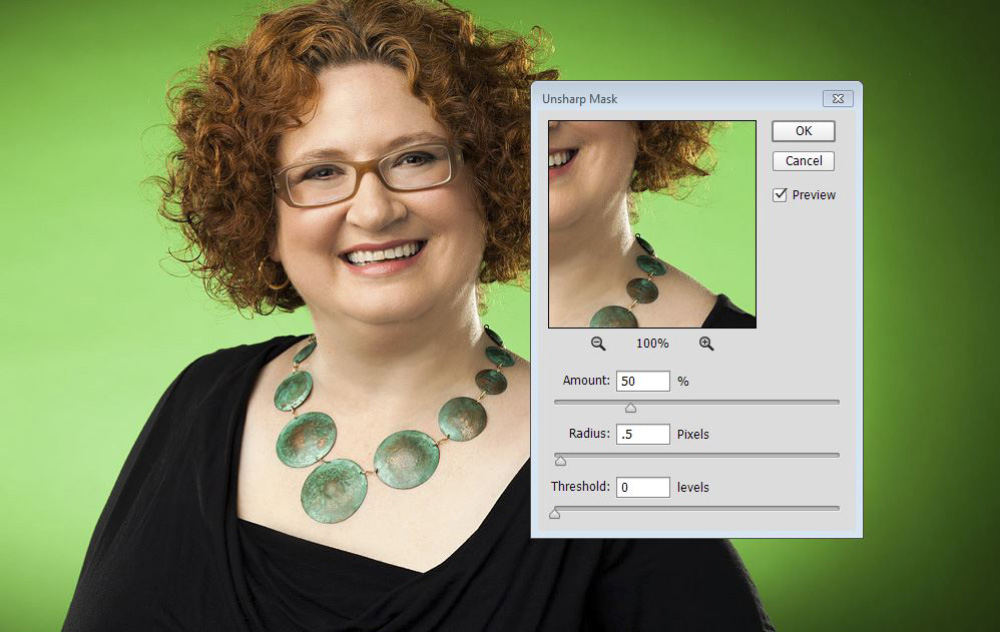 Next I use "unsharp mask" to apply some sharpening. (go to filter>sharpen>unsharp mask). I like to do this manually so I can tinker with the sliders. For this type of image, I find that moderate settings are best but, for food or product photos, I may dial the settings up a bit. This is where your own personal taste comes in.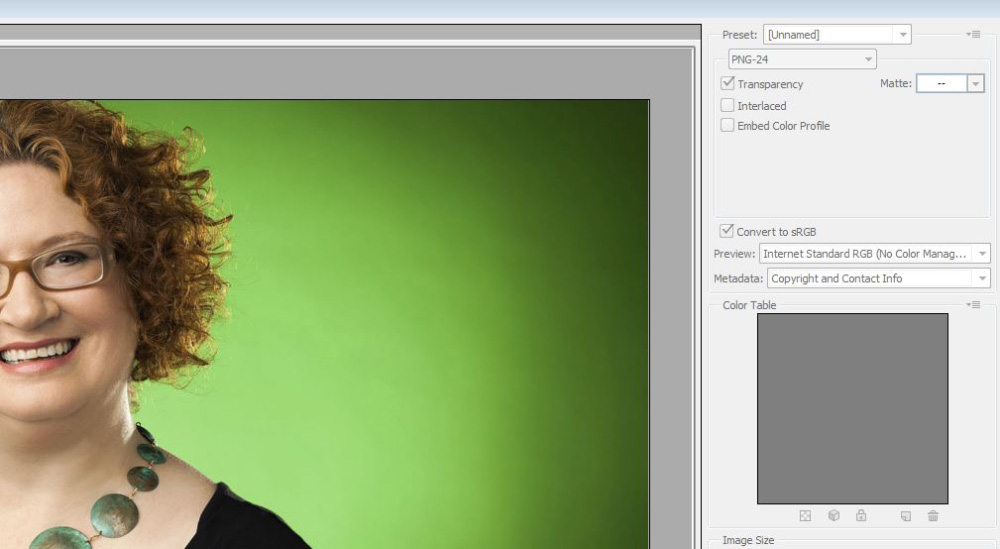 The final step is to save the image. I like to use the legacy "save for web window" –  file>save>save for web (ctrl+alt+shift+s). You can also use file>export. I find that PNG format works best for Facebook (especially for images like this one that have a gradient background), but JPG also works just fine for most images when saved in the highest quality (100). Make sure if you are in something other than sRGB, that "convert to sRGB" is checked. Most browsers don't obey color profiles, so sRGB is pretty much a web standard. I leave my copyright and contact metadata setting on as well. Stripping metadata will make the image smaller and faster to load, but I prefer to keep my copyright info embedded.
You're done!  Keep in mind that this method is for large 2048 pixel images.  Cover photos will need to be exactly 851 pixels wide by 315 pixels high and profile photos will need to be 160 pixels by 160 pixels. Here is a guide to all the various image sizes used on social media.
If you prefer to automate the process for 2048 pixel images, you can download my free Facebook Resize Photoshop Actions below.
Here is the above photo as seen on my Facebook page. If you like this post, please stop by and support the page.