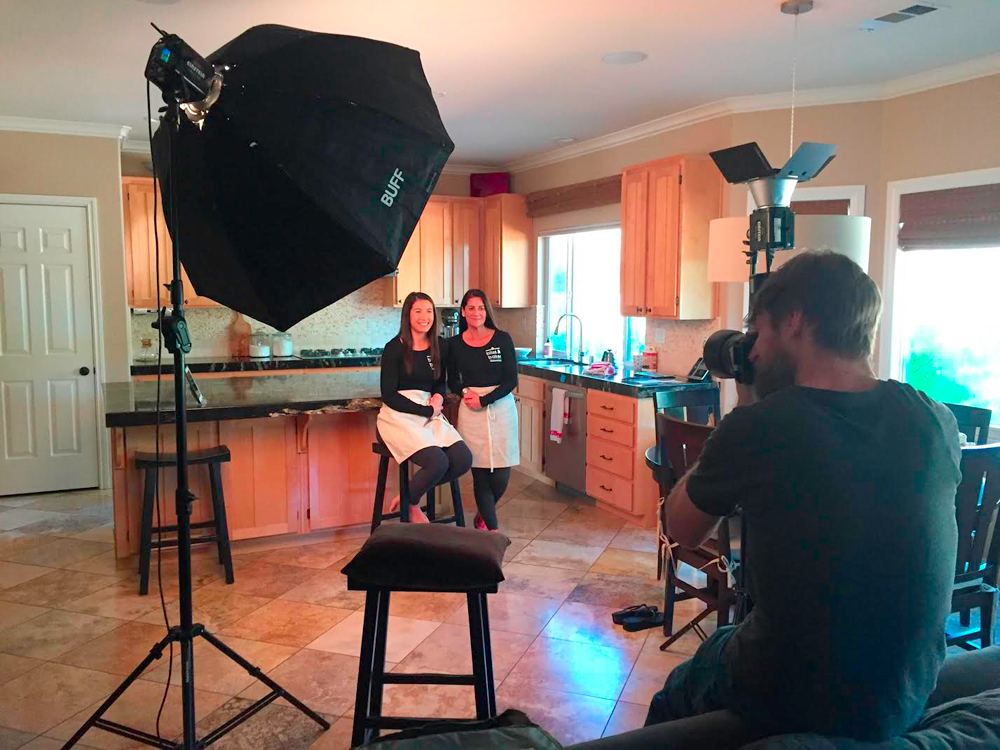 Recently I had an opportunity to shoot a portrait of one of my food photography clients. Bliss and Baker is a mother-daughter team in North County San Diego making some really delicious crispie treats that you can find at local retailers and restaurants around town.
Just looking at the behind the scenes iPhone snap above of our setup, one can instantly recognize the challenge with shooting a portrait in a home kitchen. In most cases you'll be presented with multiple light sources varying in color cast and intensity. The light sources native to the environment may or may not be usable for the story you're trying to tell or even able to be utilized at the desired camera angle. In this case, we opted for a relatively tight crop (still loose enough to tell the story, but tight enough to not have any light sources showing in the frame.)
I wanted to mimic natural light more or less while maintaining an "indoor" mood. Since none of the natural light sources really worked at our desired camera angle (toward the kitchen using it as a backdrop), I opted to set up something akin to the light that would normally be there.
For the main light, I used the PCB Einstein flash with 4 foot octabank attached.  This would give us a nice catch light in the subject's eyes while providing some soft directional shadow.
For the fill light, I wanted a nice blanket of light that would fill the room and provide a bit of hair light to our dark-haired subjects (just like ceiling lights in a kitchen would do). So I went for a ceiling-bounced light with barn doors attached. The barn doors help contain the spill of light so you don't end up with reflected hot spots, lens flare or other lighting weirdness from light spilling everywhere.
Finally, I dragged my shutter just enough so that the natural light from the window could add a bit of fill to the background elements. We shot various shutter speeds for varying degrees of background brightness but this is the portrait the client settled on.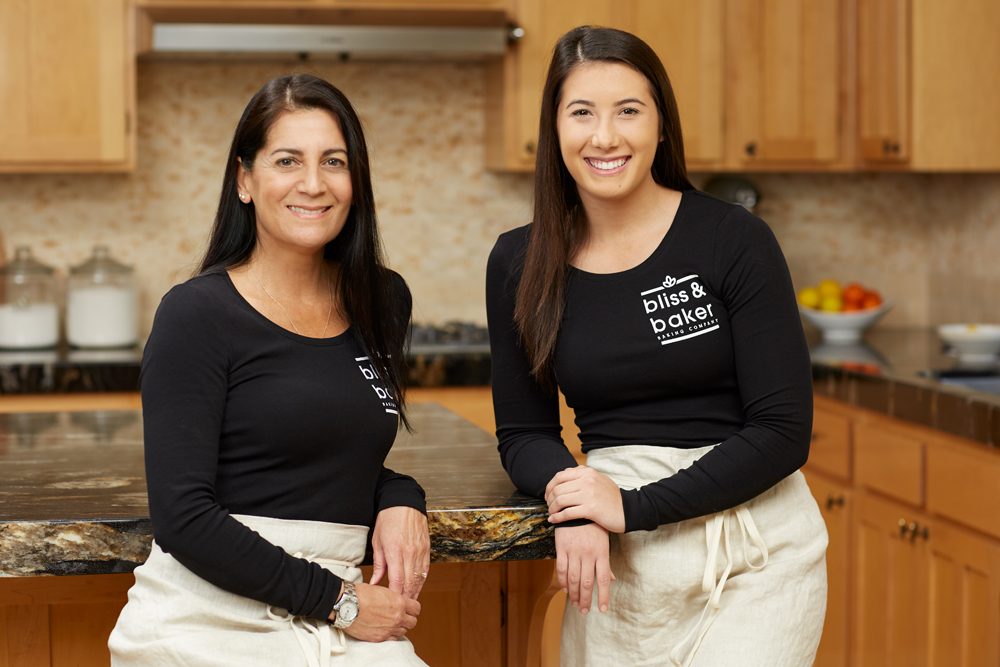 Over the past year or so we've also photographed quite a few food shots for this duo- here's a little sampling, all of these are from our San Diego photography studio –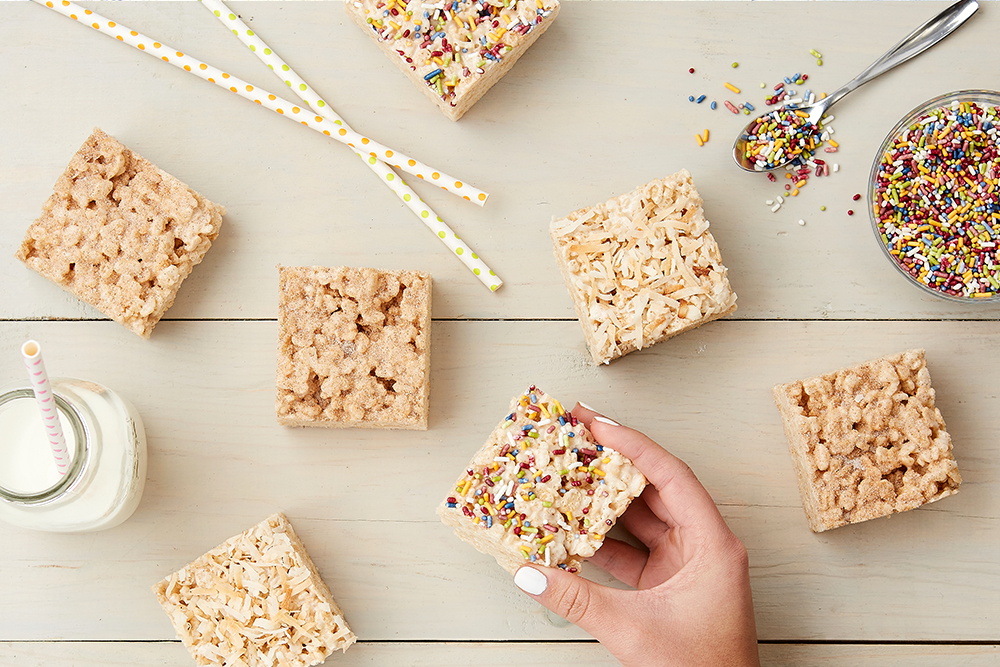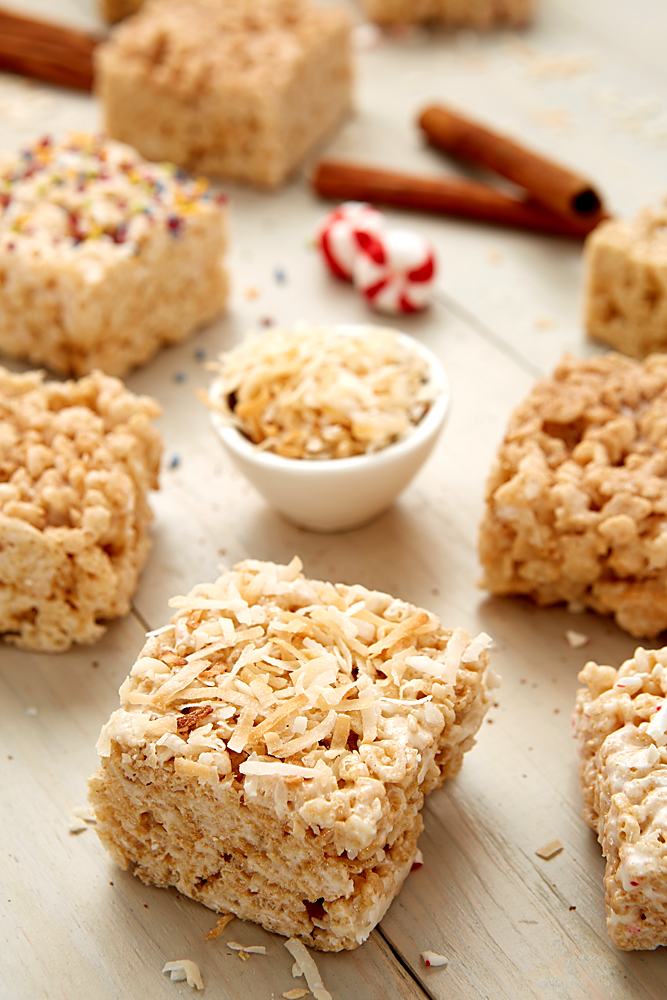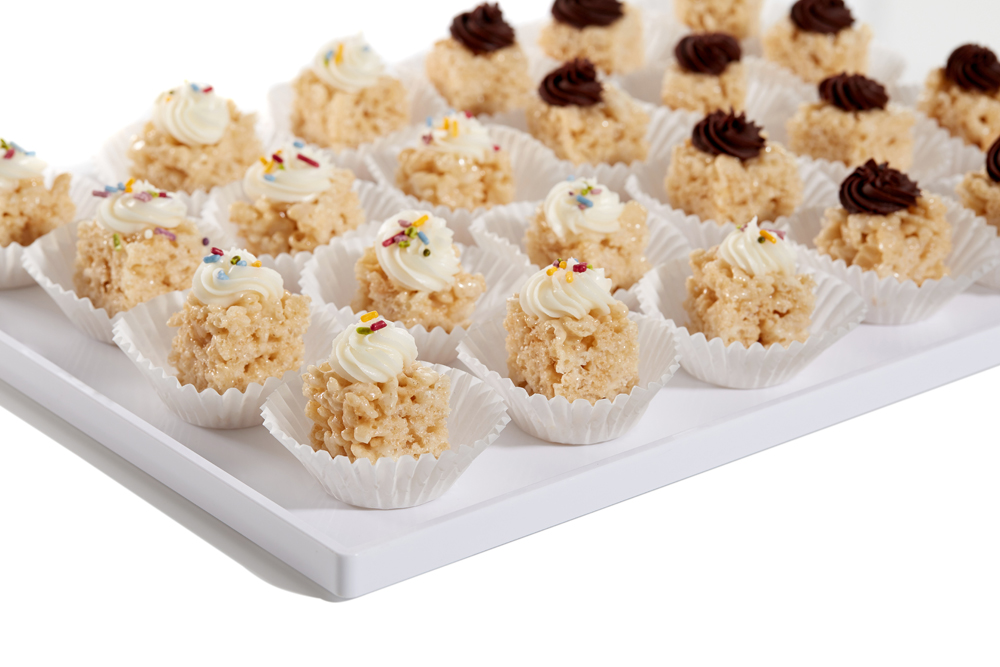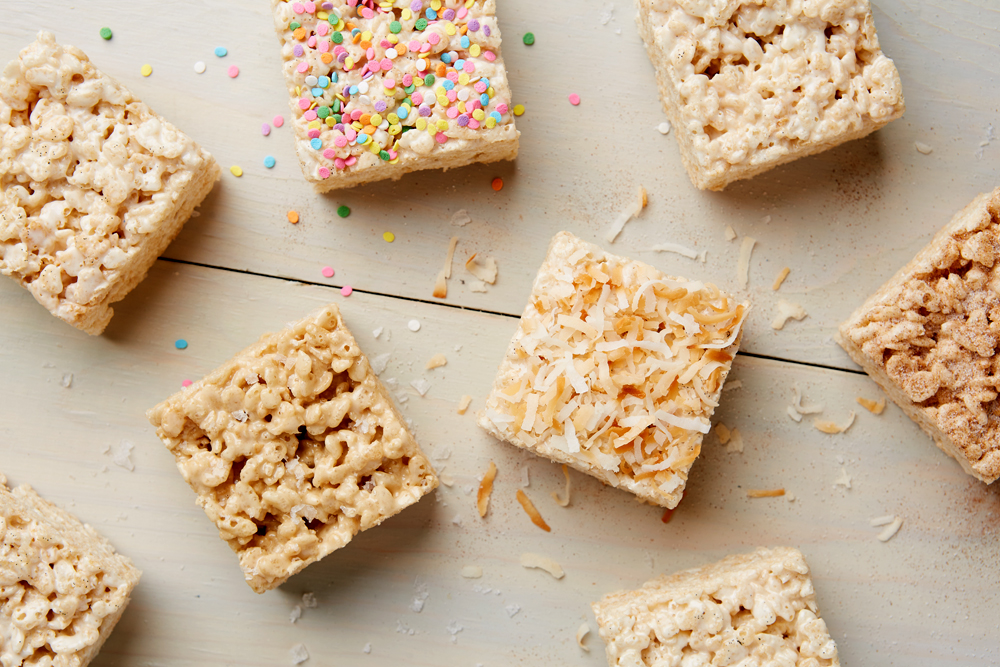 Shout out to Wade Steelman for the photo assisting and BTS photo!
Product photography, and especially beverage photography involving glass, is a true melding of technical geekery and artistic decision making. Although the challenges of photographing glassware and liquid can be at times frustrating, the rewards are high. It's the feeling of building an image, as if building a piece of furniture. You look at examples, lay out a design, start to assemble the parts, and then you invariably will stray from that design in actual practice which produces something unique. I used to hate tinkering for several hours on one shot, but now I can truly say I enjoy it. Using some tips from my friends at Photigy, as well as their Facebook support group, I set out to make this photo of Iron Fist Brewing Co.'s "The Gauntlet" IPA.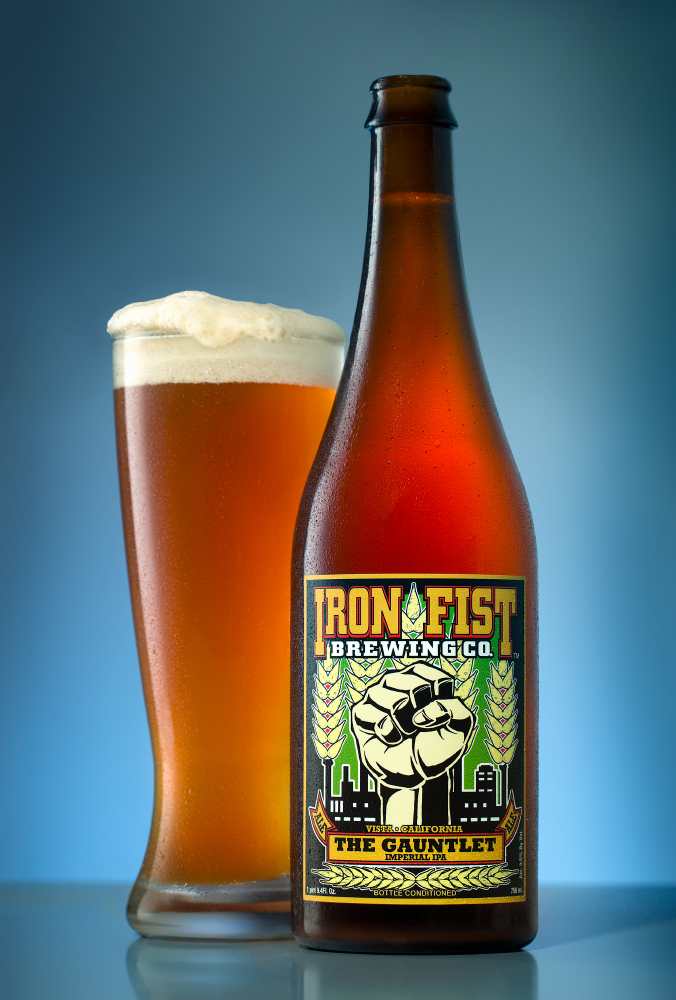 This is the setup.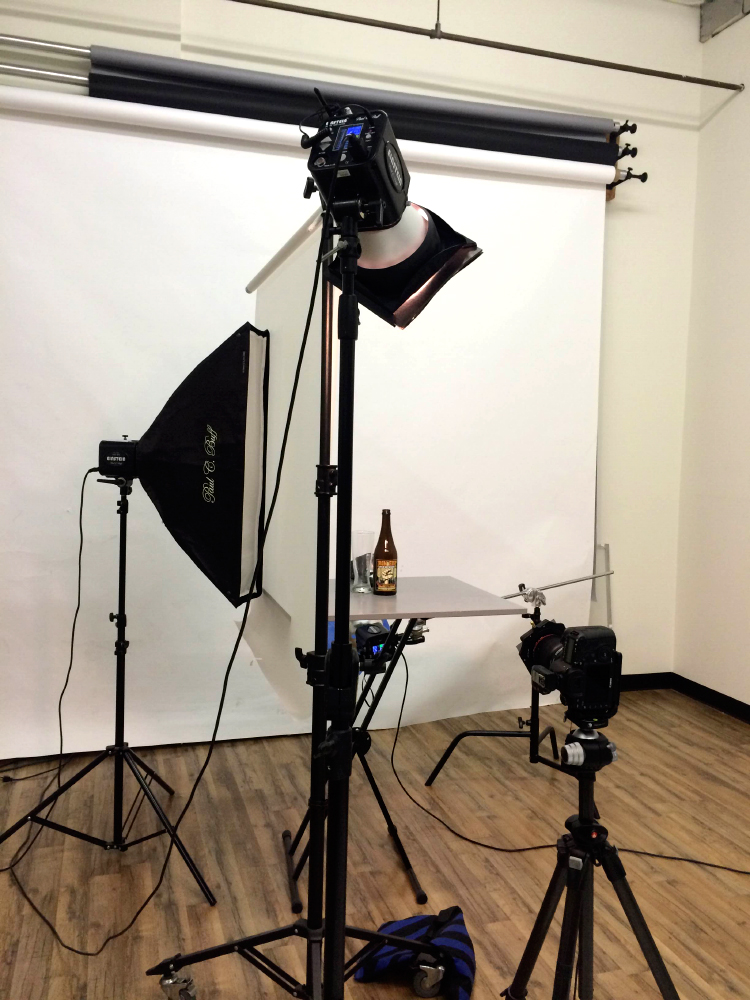 Lighting
The shooting surface is an orphaned part from Ikea. A gray surface was the closest thing I had to metal to represent "Iron", but the gray looked a little flat to me so I ended up shifting the color toward blue in post production.
The camera was secured on a tripod so that I could keep everything static for comping together multiple shots in the end, if needed. I used a 5d Mark III, with a Lee circular polarizing filter, and 100mm f/2.8L macro lens.
There are four lights being used. The main light is fitted with a small reflector, as well as a layer of diffusion material, followed by a polarizing gel. The camera was also fitted with a circular polarizing filter. This way we can set the camera's polarizer for the scene and rotate the polarizer on the light until the reflection of our main light disappears. It didn't disappear completely, so there were still some light reflections to clone out in the end. However, they were much smaller and darker than they would have been without the polarizing gel.
The second light is a strip box at camera left, shot through a diffusion screen of Rosco #3026 diffusion material. Angling the softbox so that it just touches the diffuser will create a highlight on the glass that has a defined edge on one side and tapers off more smoothly on the other. The trick is spacing the glass and bottle just right so that the highlight is not interrupted. If there are small inconsistencies in the highlight they can be addressed in post.
The third light is aimed at the background, and has a blue gel taped to it to make the white background paper appear light blue.
The fourth light is a speed light (Lumopro LP180) laid on the table behind the bottle and glass. This creates the glow through the glass so that you can see the liquid. This one was re-positioned many, many times by hand until the desired result was reached.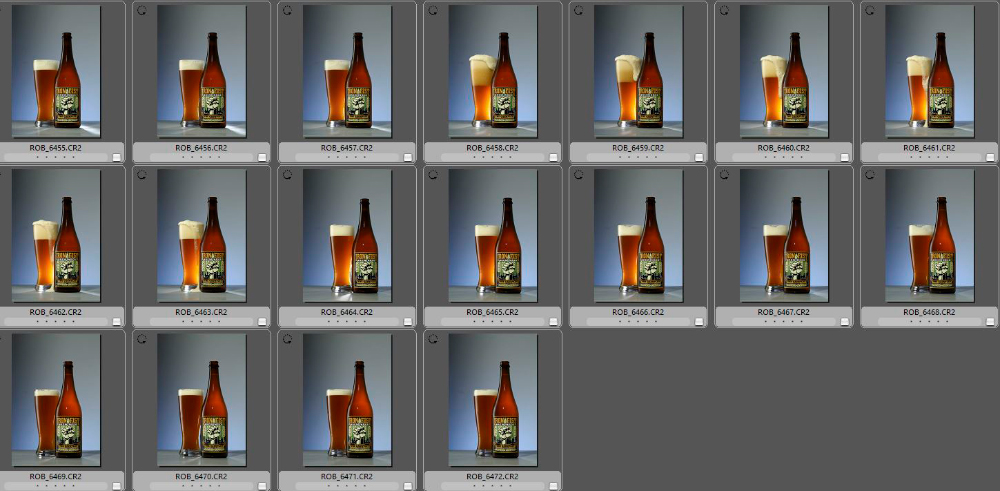 Post Production/Retouching
The trickiest element in this shot was the foam.  When  first opened, the beer was alive with carbonation, but once it settled is was hard to revive. I deployed the Rob Grimm Chopstick Jedi Move, but I really only got one good resurgence of foam, and clicked as many captures during it's rise and fall as possible. I ended up comping in a modified version of one of the foam spillovers to give the image some tension.
I also comped in an image where the table looked glossy, but did not have the shadows from the backlight, in order to keep the shadows looking natural.
Lastly, I retouched the small highlights off the bottom and off the bottle to make things look cleaner, added some vignetting and color adjustments to the backdrop and foam, and did some global contrast and sharpness adjustments.
Next time, I'll definitely have more bottles of the beer on hand and a pump to get it in an out of the glass without moving the set around.
I spent a few hours shooting and editing for one final image, but now that I have a workable setup and routine I can prepare and execute much, much faster on future beer shoots. If you're interested in learning beer photography, the key is practice, practice, practice! I always suggest practicing when you have free time and you're not working on the clock. This way you have complete creative freedom and time to experiment with your lights without the pressure of a deadline.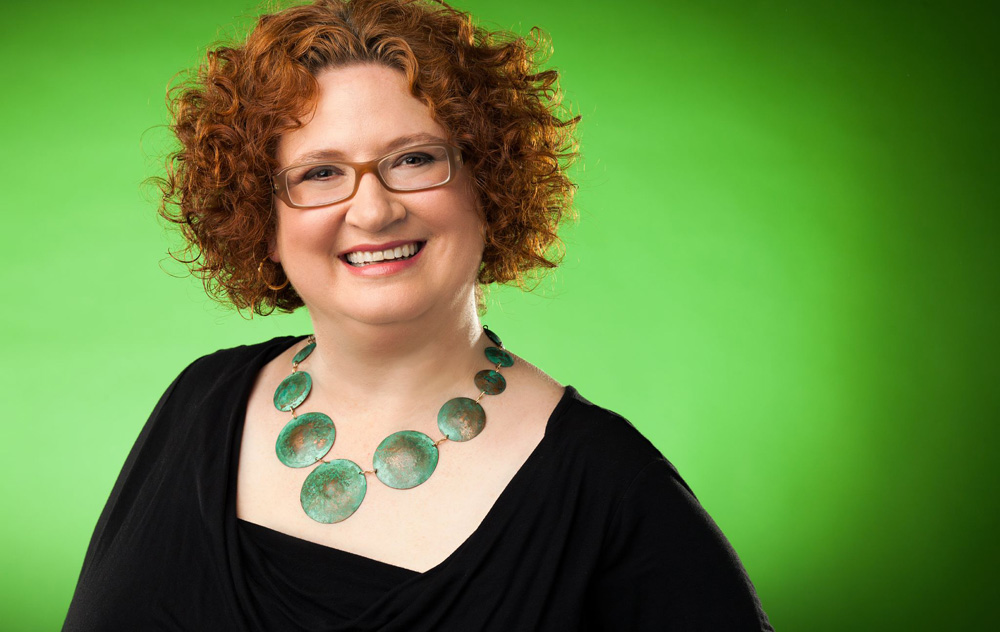 It's no secret that the 'ol Book of Faces can be a great marketing tool for photographers as well as just a generally fun place to show off some family photos. Facebook, however, has a tendency to compress, convert, or otherwise mangle your photos if you don't do some image prep ahead of time to maximize their display quality.  Here are some steps I'd recommend to optimize your images for Facebook display. I recommend using Photoshop but you could certainly mimic these settings in Lightroom or Capture One, for a more direct export.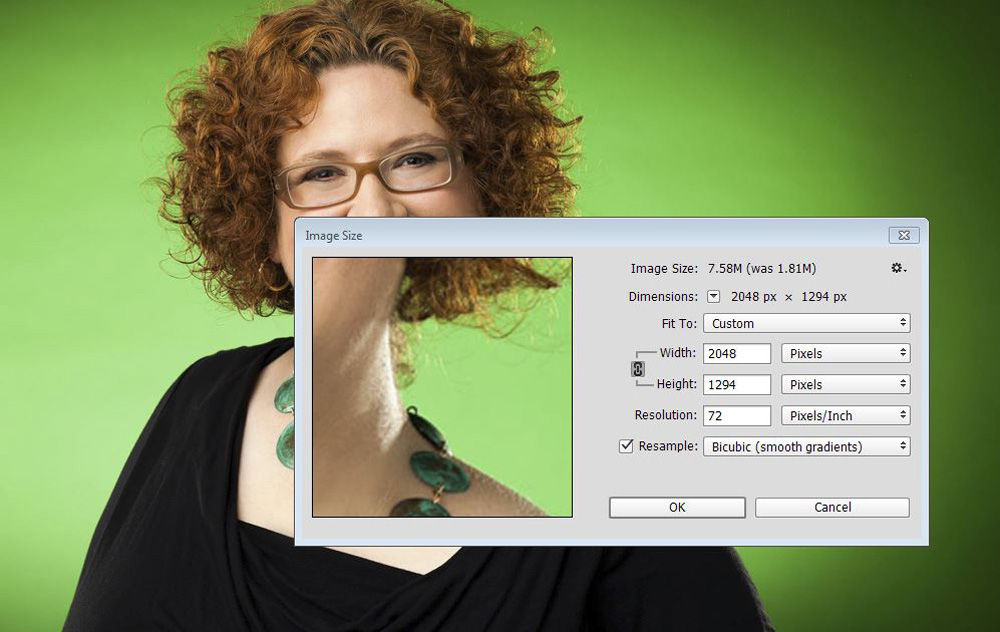 The first thing we want to do is resize the image on our end before upload. (go to image>image size.) This will ensure that we have more control over the resize process and will also shorten the upload time. The current max size is 2048 pixels on the longest edge, so this is what I'd recommend. You can leave the PPI ("resolution") value at 72. PPI is just a tag, and it doesn't affect screen display.
I leave resample at "bicubic"  and I will manually apply some sharpening in the next step. I like to do the sharpening manually, but you may find that a "bicubic sharper" resampling, or one of the other resize options does the trick for you without additional sharpening. Adobe recommends "bicubic sharper" for downsizing an image, but since I like to sharpen manually, I'll stick with the standard bicubic. More info on that setting here.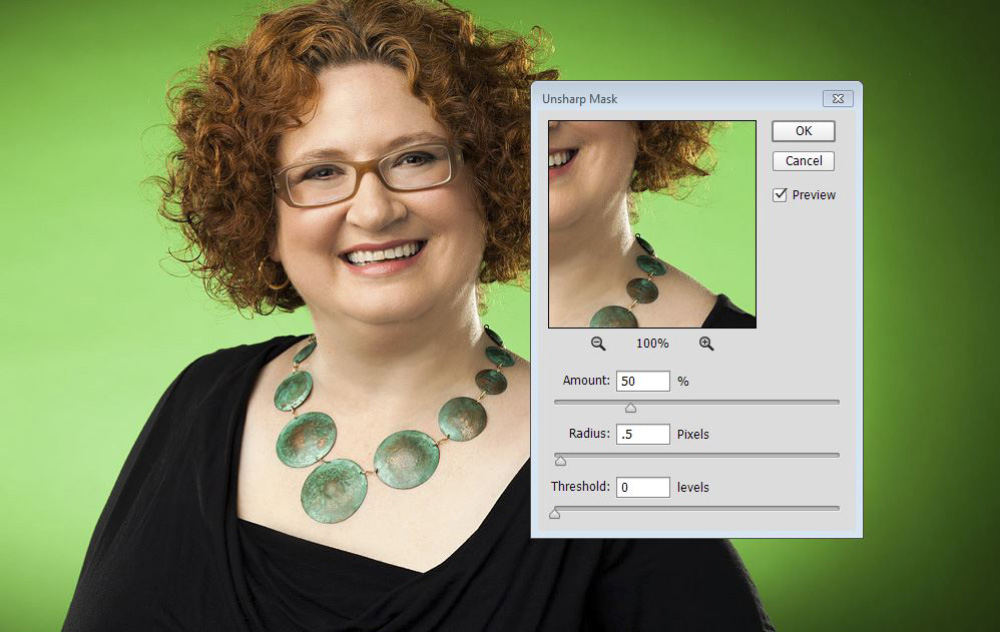 Next I use "unsharp mask" to apply some sharpening. (go to filter>sharpen>unsharp mask). I like to do this manually so I can tinker with the sliders. For this type of image, I find that moderate settings are best but, for food or product photos, I may dial the settings up a bit. This is where your own personal taste comes in.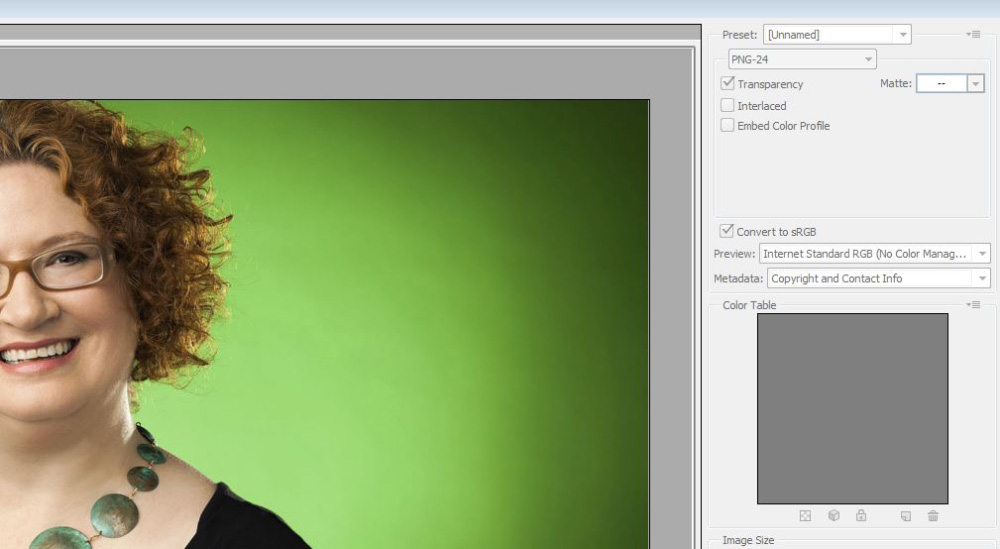 The final step is to save the image. I like to use the legacy "save for web window" –  file>save>save for web (ctrl+alt+shift+s). You can also use file>export. I find that PNG format works best for Facebook (especially for images like this one that have a gradient background), but JPG also works just fine for most images when saved in the highest quality (100). Make sure if you are in something other than sRGB, that "convert to sRGB" is checked. Most browsers don't obey color profiles, so sRGB is pretty much a web standard. I leave my copyright and contact metadata setting on as well. Stripping metadata will make the image smaller and faster to load, but I prefer to keep my copyright info embedded.
You're done!  Keep in mind that this method is for large 2048 pixel images.  Cover photos will need to be exactly 851 pixels wide by 315 pixels high and profile photos will need to be 160 pixels by 160 pixels. Here is a guide to all the various image sizes used on social media.
If you prefer to automate the process for 2048 pixel images, you can download my free Facebook Resize Photoshop Actions below.
Here is the above photo as seen on my Facebook page. If you like this post, please stop by and support the page.