$pc = ($post_show_date) ? "" : "noDate"; ?>
Ok, ok, this post should probably have been titled, "6 things I repeatedly F'd up over the past ten year period and sometimes still do, and regret" but that is a little wordy for our purposes. So read up and start learning from my past mistakes!
Not Having a Contract
Probably the top answer to any photography business dilemma is "put it in the contract next time." A contract for all jobs large and small can prevent almost all conflicts and misunderstandings. I prefer to use Blinkbid to combine my contract and estimate into one document which I can easily email and request a digital signature on.
If a certain item is REALLY really important to you, don't bury it too far down in the fine print. For example, if you never ever give out RAW files under any circumstance, and you are willing to die on that hill, make sure that verbiage is in a prominent place near the top where the client can read it. People tend to glaze over contracts.
Suggested items to include: deadline, deliverables, fees, possible additional fees, usage/copyright, deposit and refund policy, reshoot policy, client approval work policy, payment schedule, late payment fee, early payment discount, overtime rate.
Agreeing to Bad Contracts/ Not Negotiating
Despite what people will tell you, there's no such thing as a "standard contract." A contract is an agreement between two parties. So you want to make sure its agreeable to you. Just because the terms may be "standard" to the hiring entity, doesn't necessarily mean they're wise for you to agree to.
Don't be afraid to negotiate copyright terms, fees, and liability. Ask for revisions until both parties are satisfied. If the terms absolutely suck, don't be afraid to turn the work away, you may miss out on a few dollars, but you'll be doing our industry and yourself a solid over the long haul.
If the terms are bad but would perhaps be acceptable if the fee were higher, don't be afraid to ask for a higher fee!
Not Following Up
Follow all leads. Check the voicemail, return the email. Set up an auto reply if you think you'll be out of touch or slow to reply. Small leads I thought would be a horrible fit for me over the years have sometimes turned into big jobs or big referrals. If they called or emailed, they are already interested! Don't waste that intial contact.
Not Giving Enough Referrals
The best way to get more referrals is to simply give more referrals. Be sure to follow up on any jobs you cannot handle with a list of local photographers who can. The prospect will appreciate your help and the other photographers are likely to return the favor down the road.
Buying too Much Stuff
As all photographers know, CreAmY BokEh is the most important thing in our lives and also our main driver of profit. If we just had MoRe CrEamIEr BokeH and even faster autofocus, we'd book 16.2 times more clients, be more recognized in our industry and have 2.5M followers on Instagram.
I was not being serious there in case you're sarcasm sensor is off. Here's some reasons not to buy gear- I'm here to talk you off the ledge. In fact, come back here anytime you're about to buy gear and read this again.
Gear doesn't make your work any better and in fact, it really shouldn't.
Buying gear frequently and/or changing systems every few years is not environmentally friendly. More stuff ordered means more trucks hauling stuff to you, means more packaging, means more junk ultimately in landfills, more fuel burned etc, etc. Reuse it. It's still good.
Gear depreciates like a MOTHER. We like to rationalize purchases with stuff like "a good lens is always a good lens." Good lenses do have a long service life, but there will be a "MARK II" version of that lens in a year or two or the new mirrorless mount version, a stabilized version, etc etc. Lenses are tech and tech improves all the time, making old tech more worthless on the resale market.
When to buy new gear: My new criteria for new gear
1. Does it make my life significantly easier/more efficient?
2. Is it something I already have a regular need for, or could I simply rent it for an occasional need?
3. Can I buy it for cash?

As a product photographer, a quality macro lens, a great camera stand and a great laptop are necessary, but for the occasional use items like a long telephoto for sports, I've learned to be honest with myself and rent for the day.

If its going to speed up my workflow more than 10% and allow me to earn more income in a much shorter time or use less cuss words throughout the day (my camera stand, for example) then it may be worth investing.

Side note- if you must buy some gear, please shop local and pay cash.
Not Investing in Continuing Education
Buy tutorials instead of gear! Not only is it more environmentally friendly, you'll be supporting your fellow photographers and improving your skillset instead of supporting big business.
$pc = ($post_show_date) ? "" : "noDate"; ?>
$pc = ($post_show_date) ? "" : "noDate"; ?>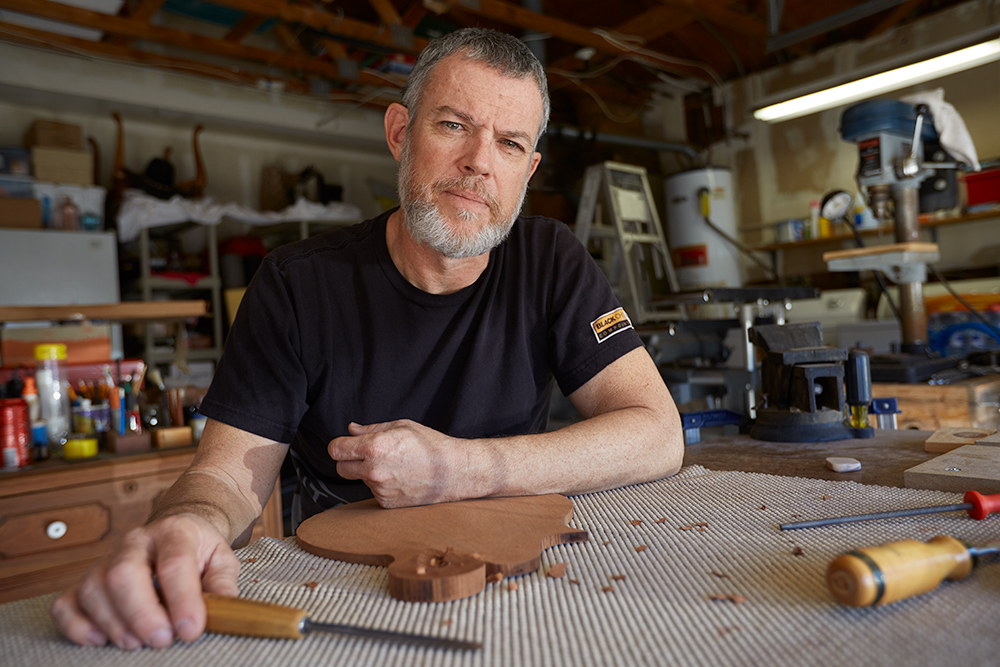 Making things with your hands is remarkably addictive. The tangible, tactile and often useful finished item is naturally highly rewarding but many have also posited that the "unfinished" nature of more technical handmade projects keeps one's subconscious mind actively pursuing the project, creating constant stimulation and a nagging desire to get out to the workshop. There's also the "legacy" aspect (at the risk of sounding morbid), the underlying desire to extend one's existence far into the future by leaving a body of work behind.
I caught up with my buddy Mikki Suvia of Lambs Mandolins to start a new personal project, photographing people who make things with their hands. No rules, minimal retouching and just going with the flow. I'll ask a few questions of the people I photograph and the questions are based on my own hobby of building custom kitchen knives, something that's consumed a good amount of my time and taught me a lot of hard lessons in craftsmanship.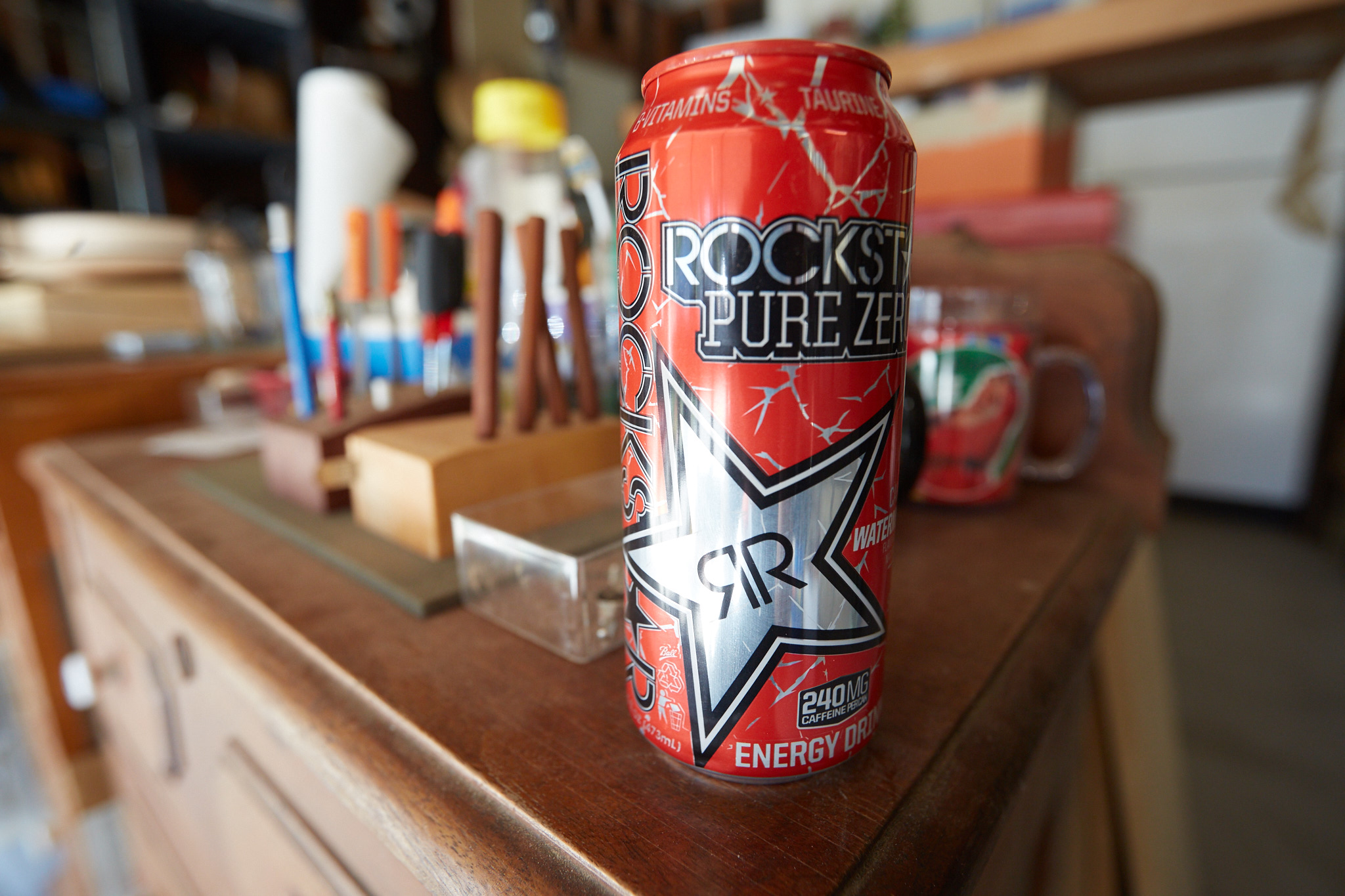 Hours of being bent over a workbench and breathing dust makes caffeine critical.
Rob: Favorite energy drink?
Mikki: Rockstar, Watermelon, ALWAYS!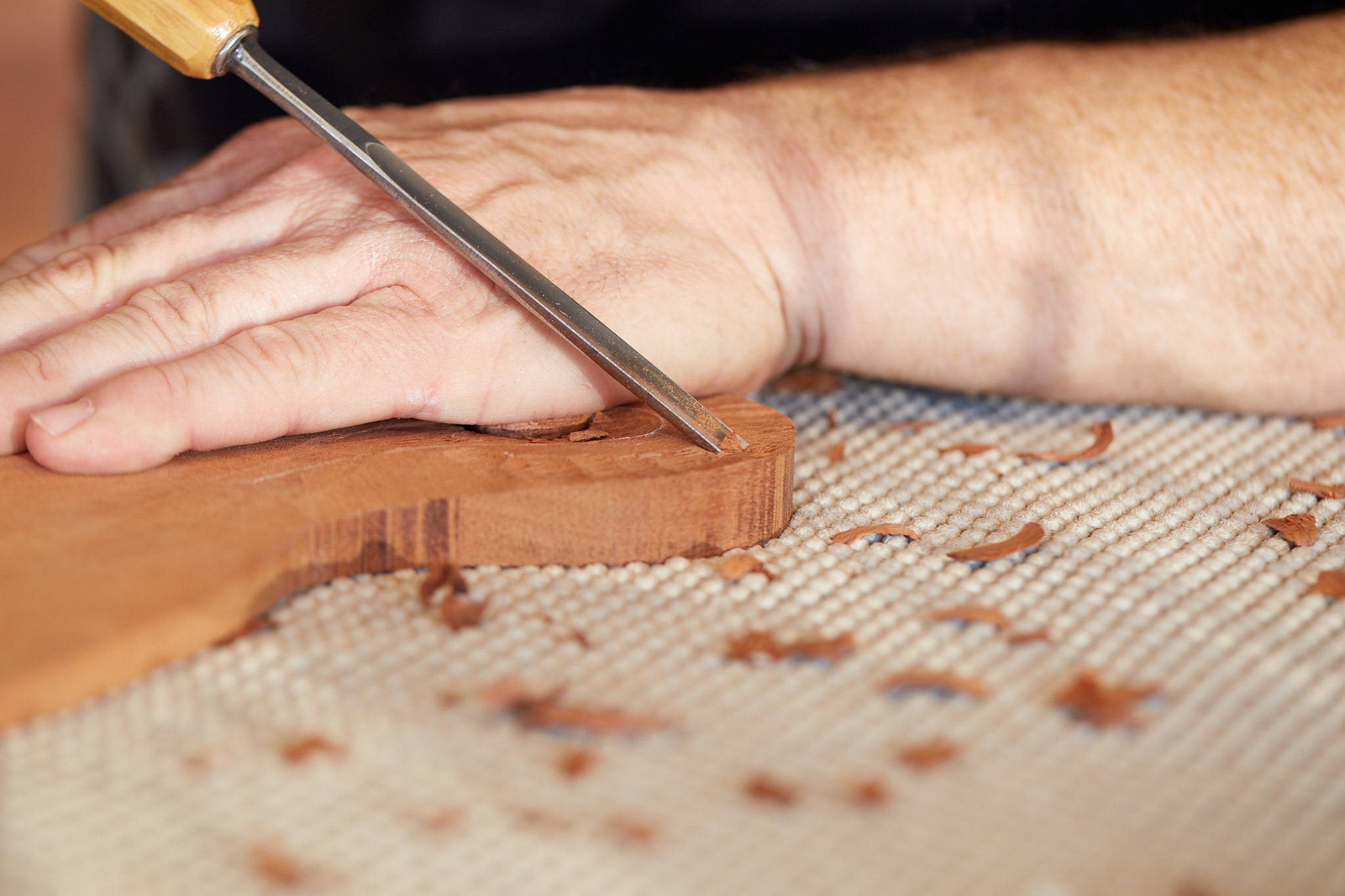 Rob: Favorite part of the build?
Mikki: Believe it or not, making sure that the inside of the Rib Set is perfect, and Carving the Scrolls.
Mikki noted that improvisatory, artistic nature of this part of the chiseling process was the reasoning- must be why we get along.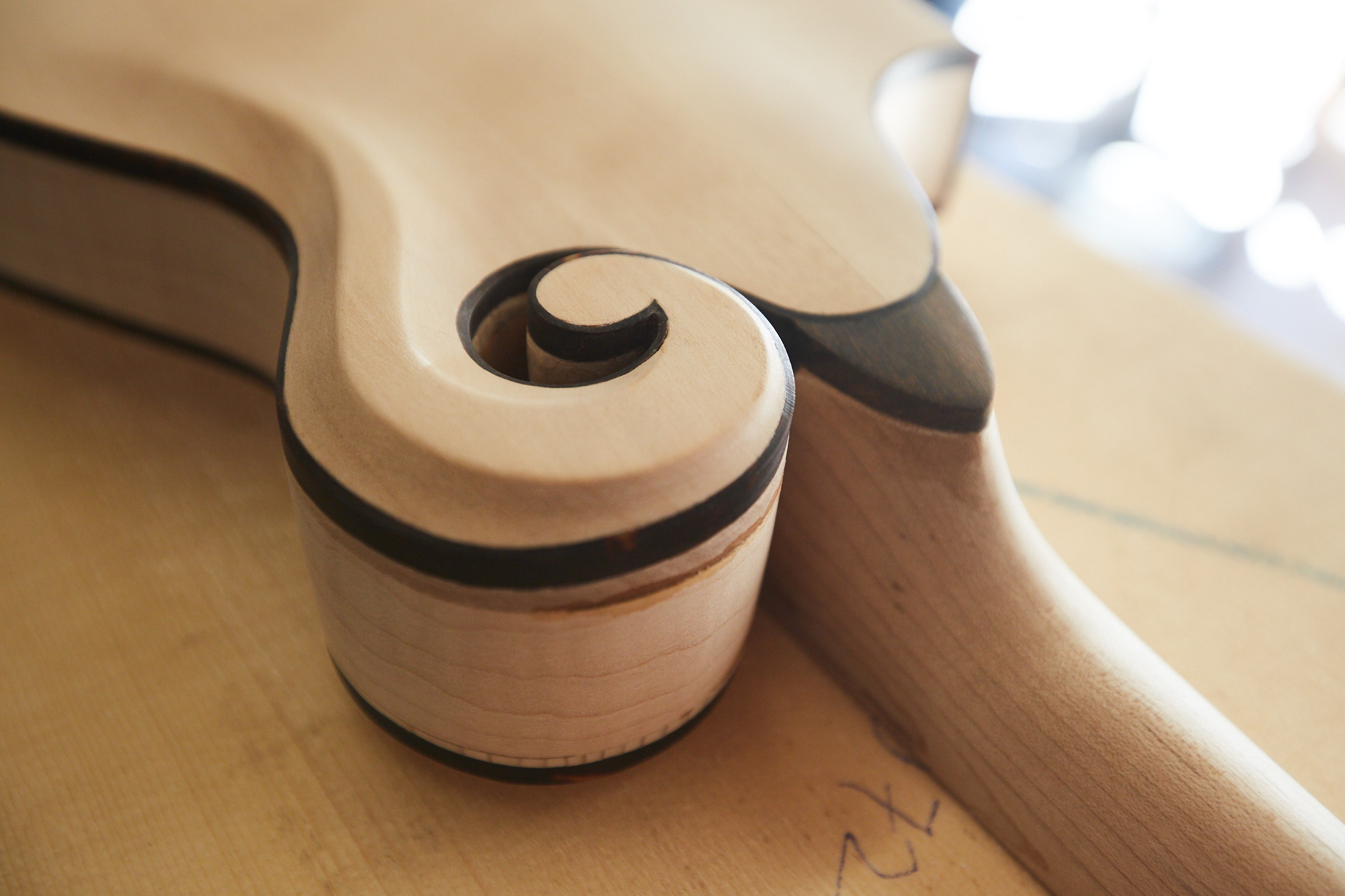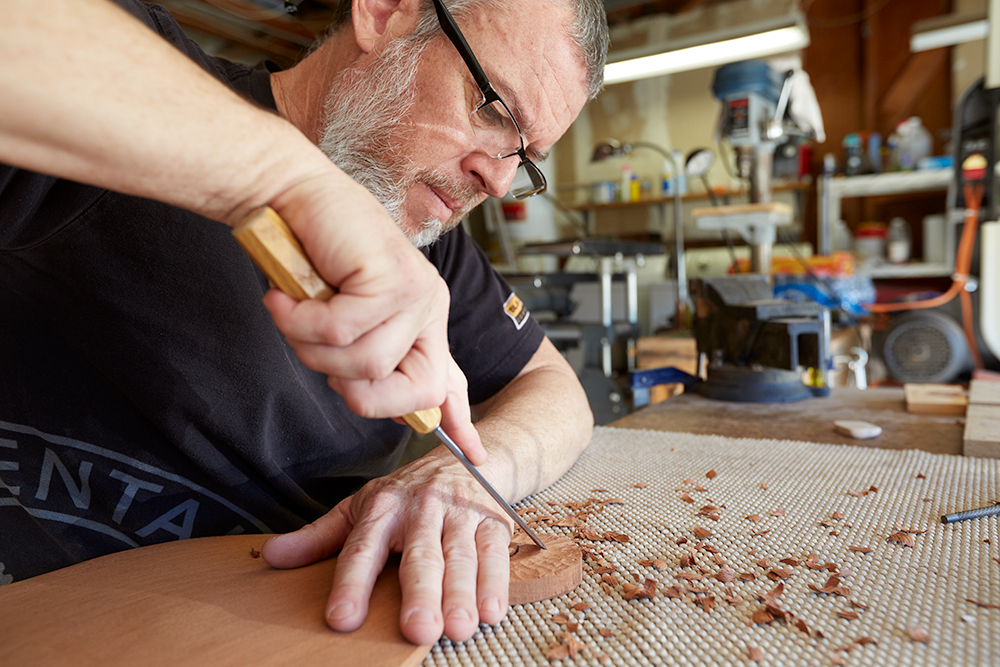 Rob: What percentage do you do by hand vs. machines?
Mikki: 75% hand, 25% machine. I prefer to build using traditional "old era" methods, and simply love the "hand built" aspect.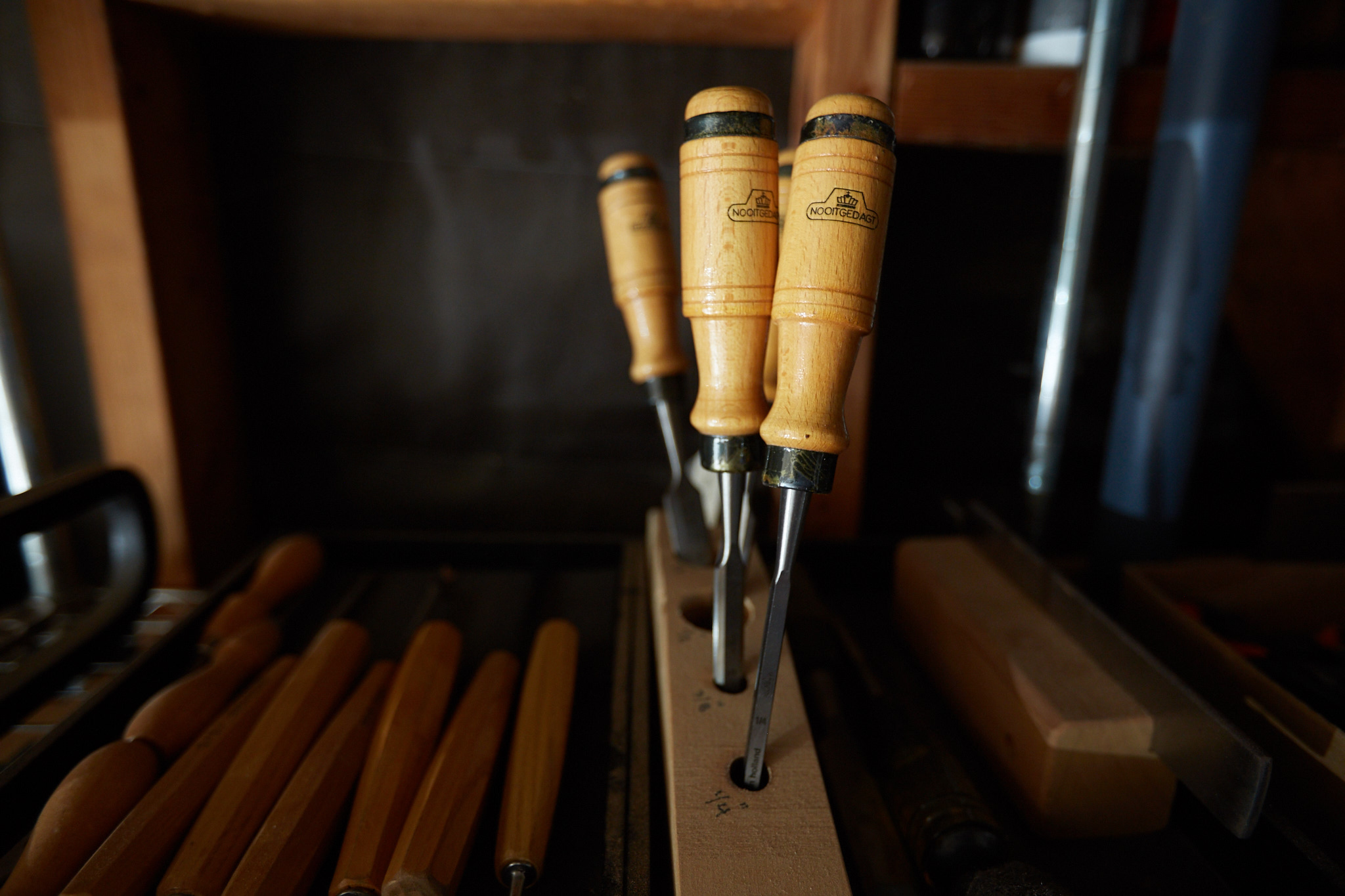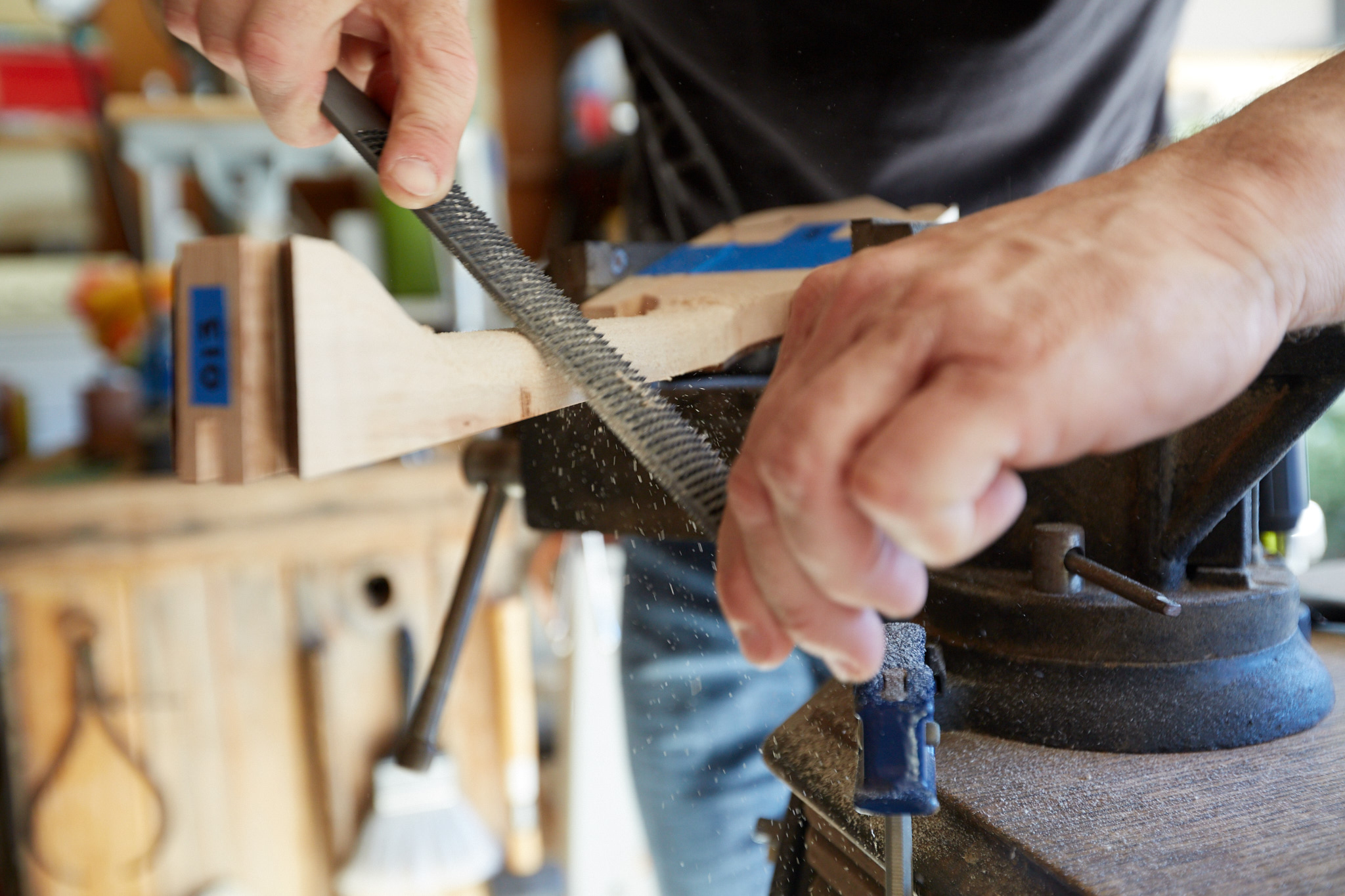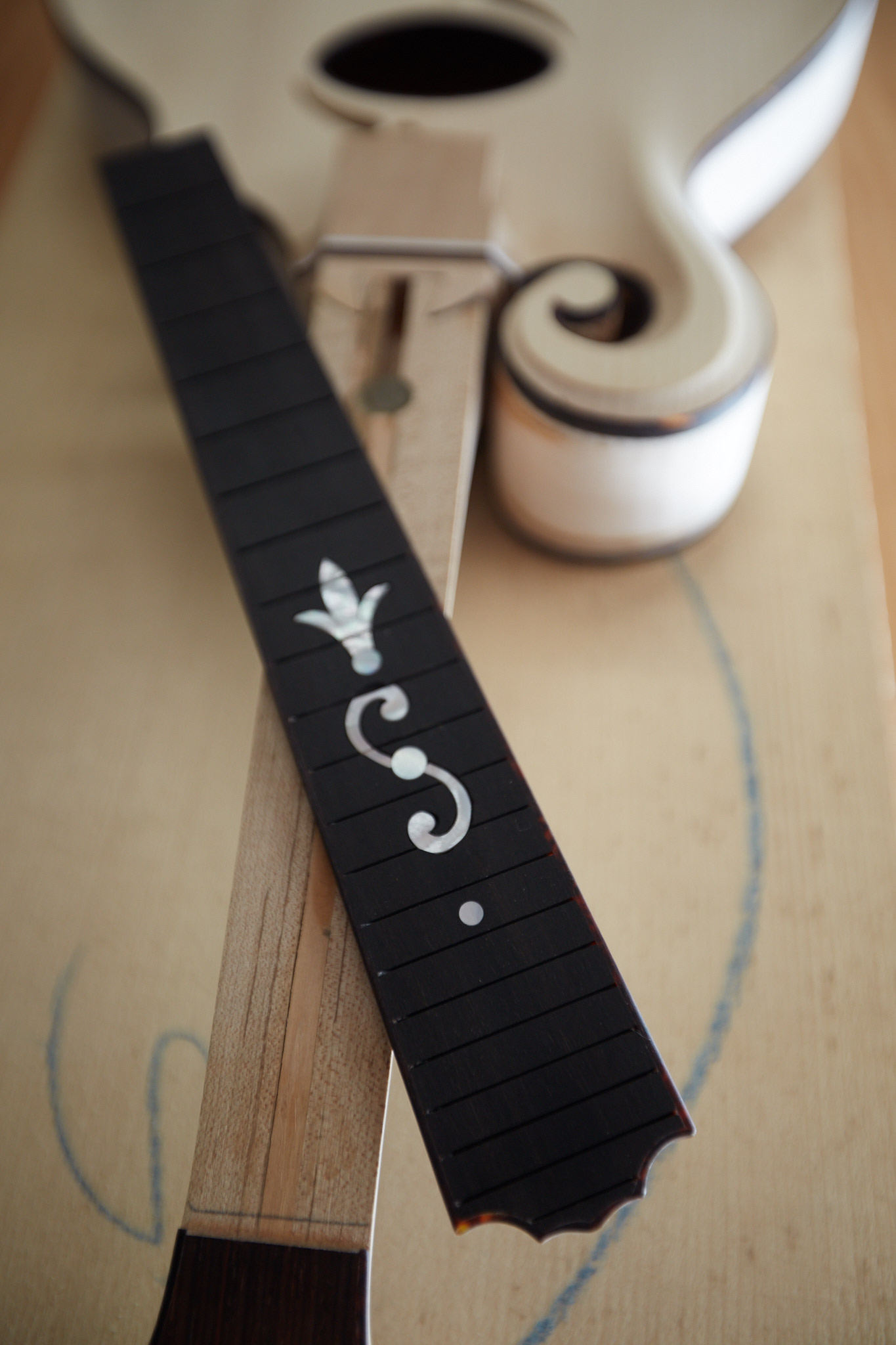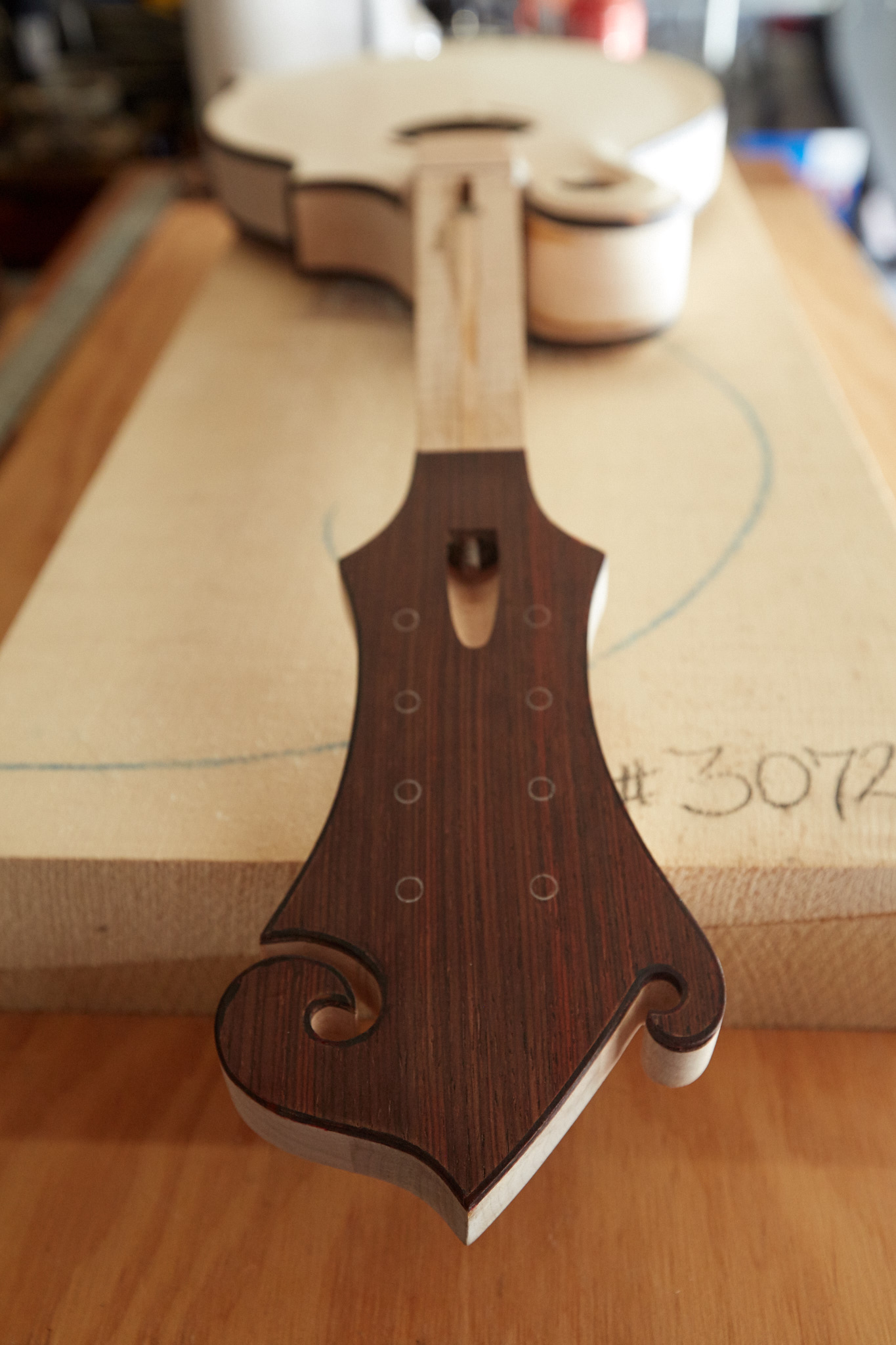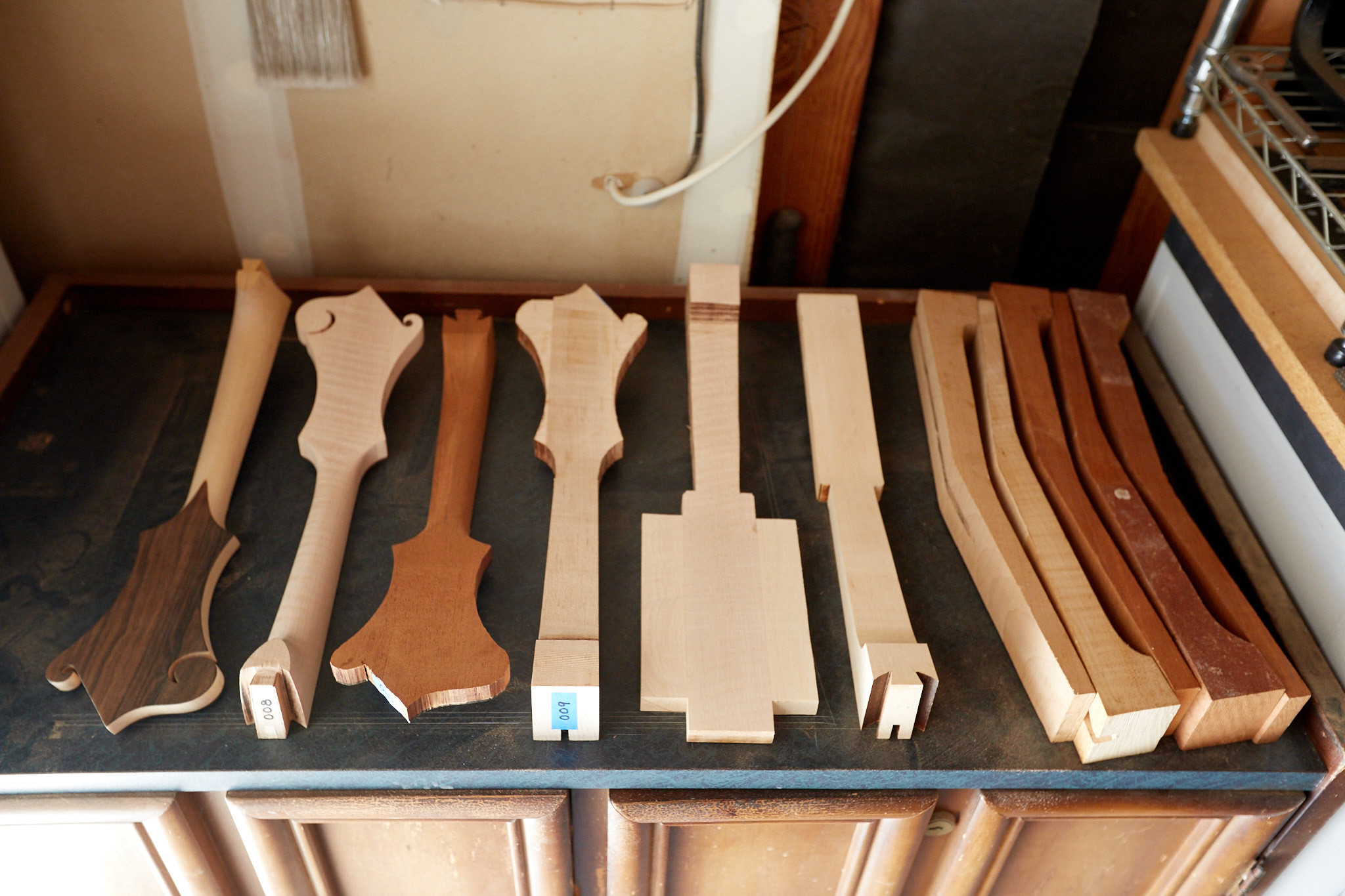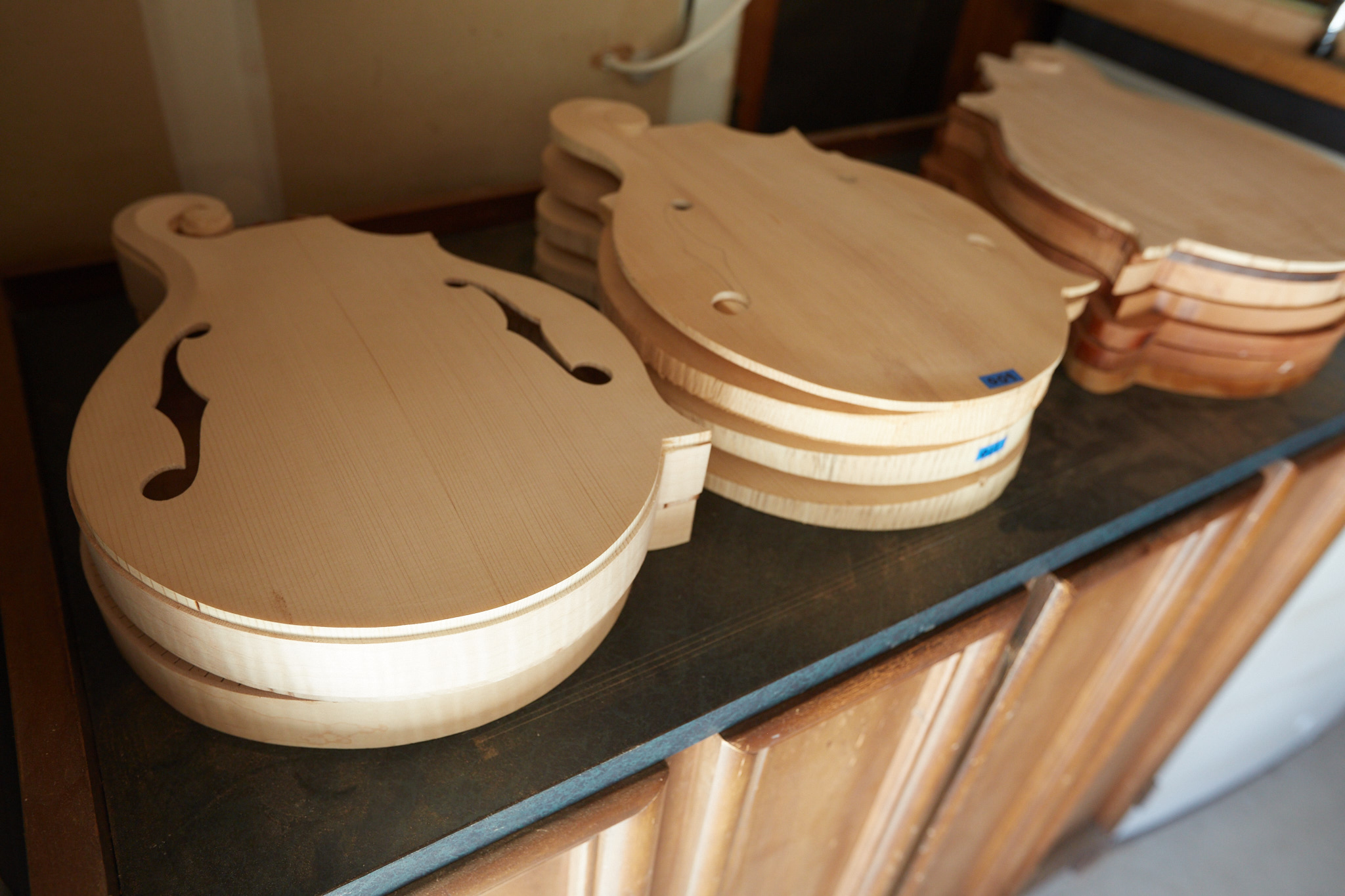 Unfortunately, getting a little frustrated and destroying things is sometimes a necessary evil. In making knives, the knife can often simply become a smaller knife (save!). With musical instruments, this is definitely not the case.
Rob: Most expensive piece you've ever destroyed?
Mikki: A fully built instrument that was basically ready for finish. Many hours of time lost and some very expensive Figured Maple down the drain.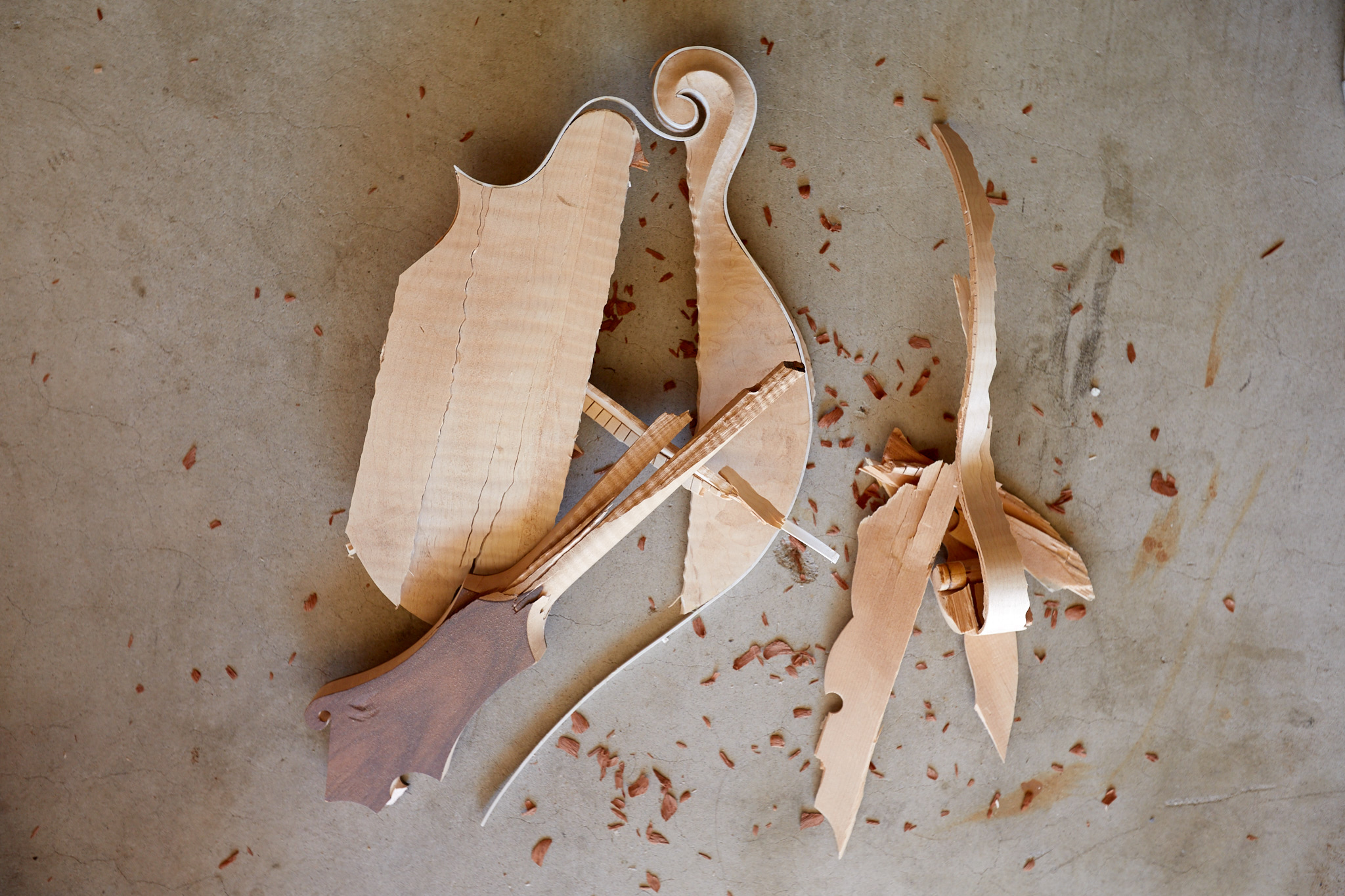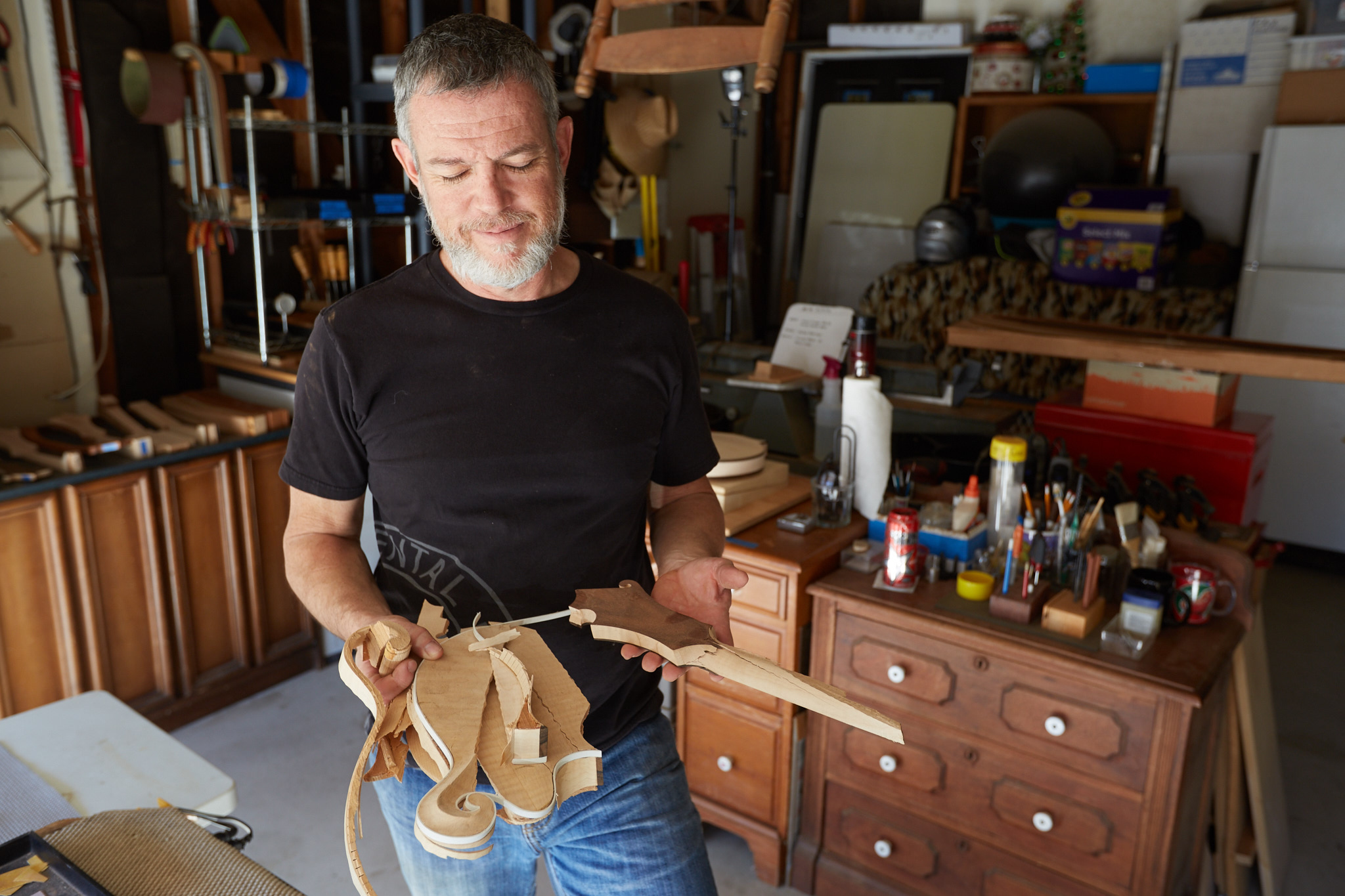 If you're a maker of things and would be interested in having a portrait made (and perhaps a few working shots), don't hesitate to reach out to be part of my project!
$pc = ($post_show_date) ? "" : "noDate"; ?>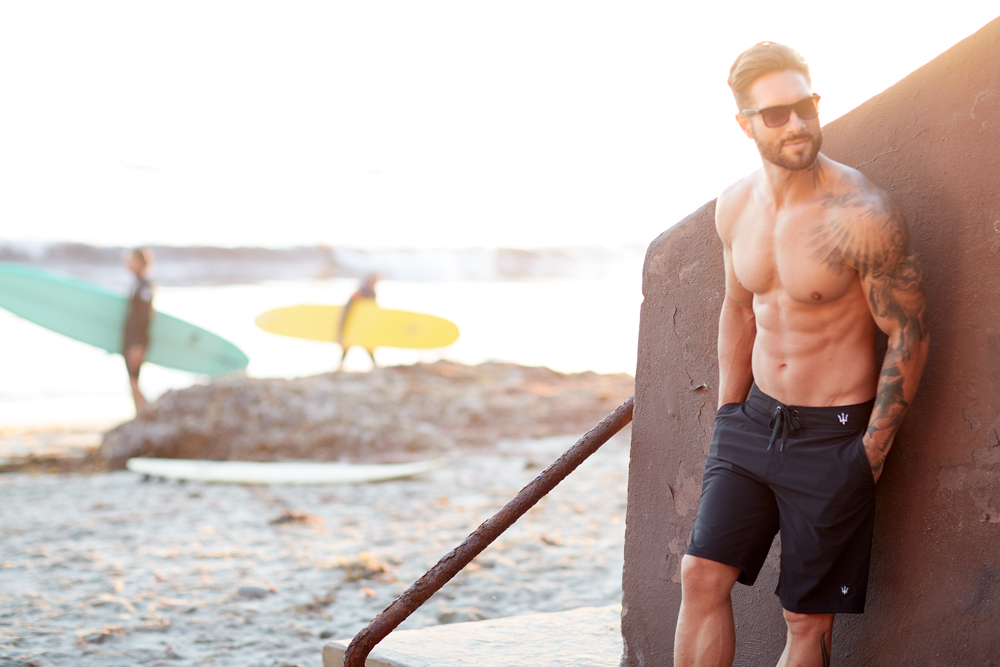 With social media outlets representing a big chunk of brands advertising these days, there's a need for nimble, quick lifestyle photography on mid sized budgets. My friends at Wonderful Machine have even coined a new genre for their listings called "brand narrative." Photographers in this category are known to produce a series of lifestyle images to tell the story of a brand rather than the one or two "hero" shots of a more traditional ad campaign.
Capturing a large amount of usable images in a short time frame while keeping the setup mobile and simple is more and more, what mid sized brands are asking us to do.
Sometimes a scene just comes together if your eyes are open- in the shot above meant to sell board shorts, two surfers walked into our out-of-focus background with complimentary colored longboards to help drive the message home. Bonus!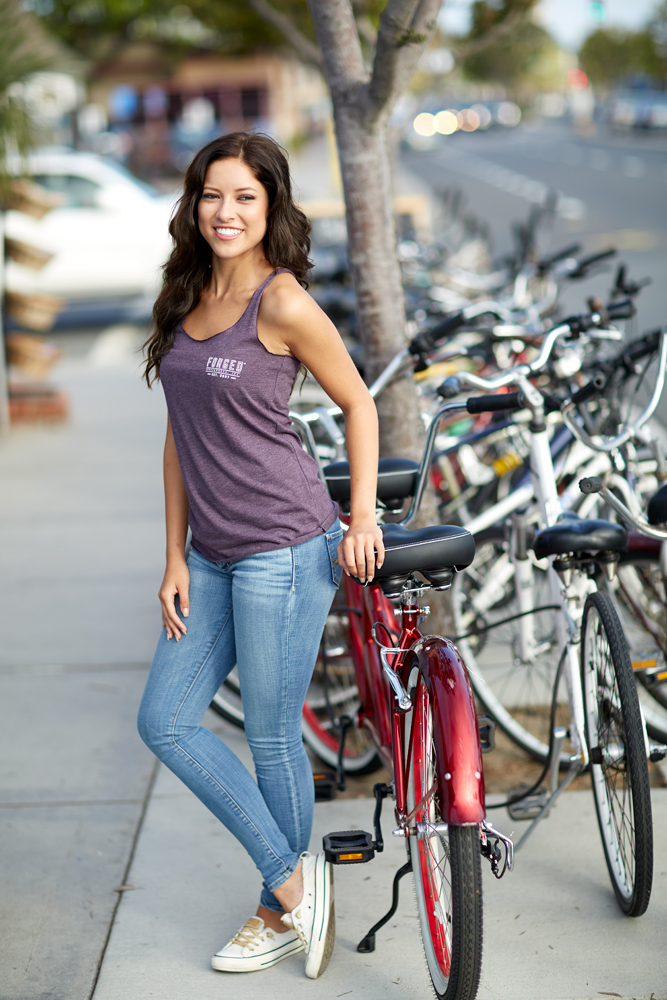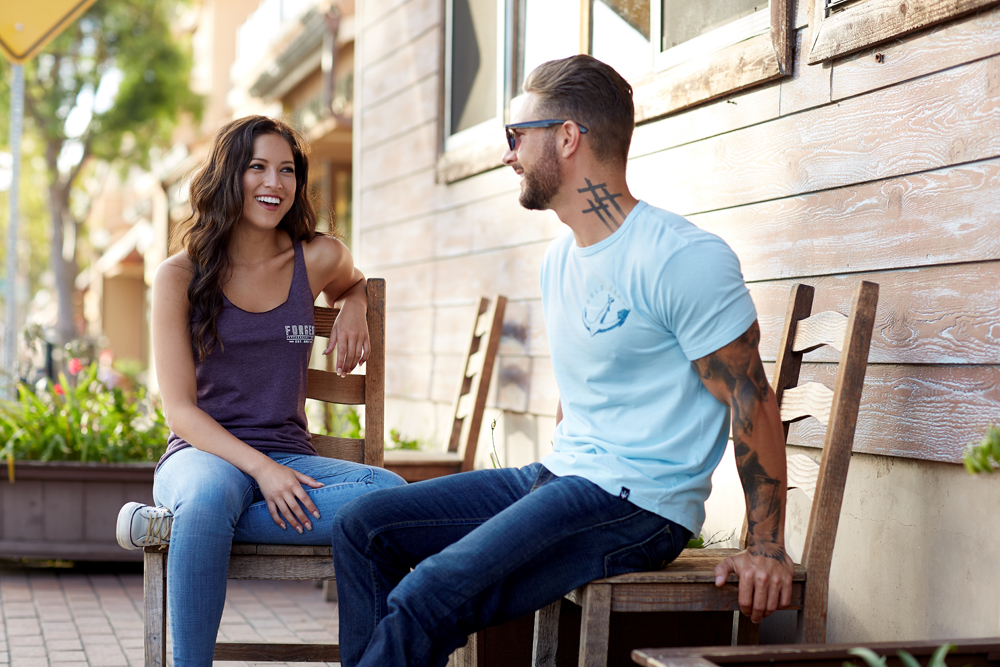 For this shoot for Forged Clothing, we met early to have the models styled (pre-shoot) by Jen Bueno and I headed to Carlsbad Village with lightweight gear- camera bag, a few primes and a reflector. For larger productions we may have kept a wardrobe stylist or MUA on set all day with us or added a photo assistant or two. All of these things contribute to the refinement of the outcome, however, I have to admit that working with just my camera, client and models can be a very "free form" way of working that has a different kind of creative appeal. It is location scouting, shooting and styling on the fly that results in an easy going dynamic which can yield some really fun images.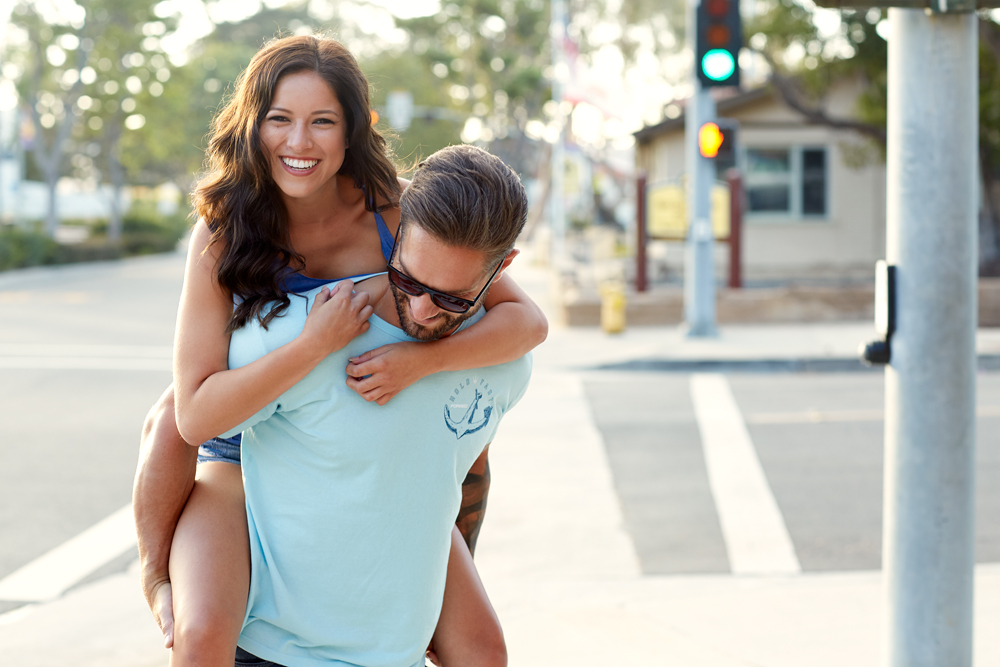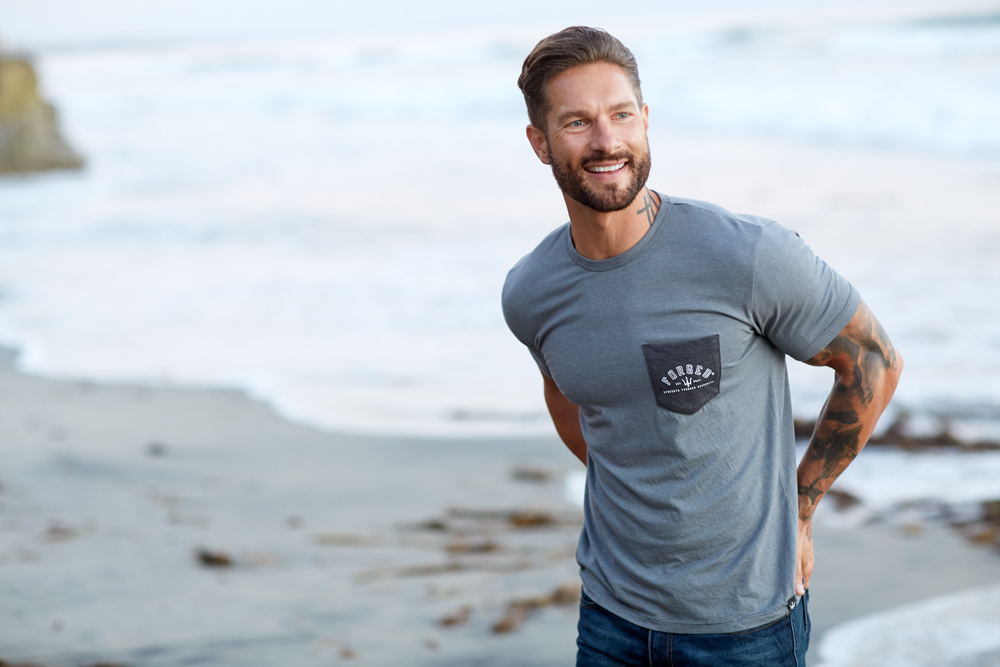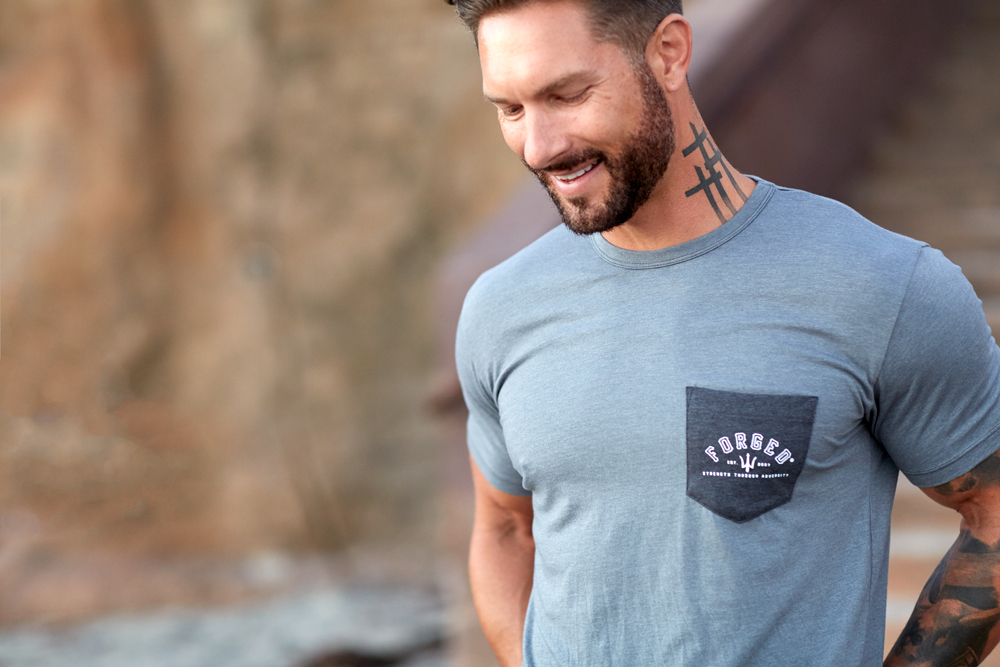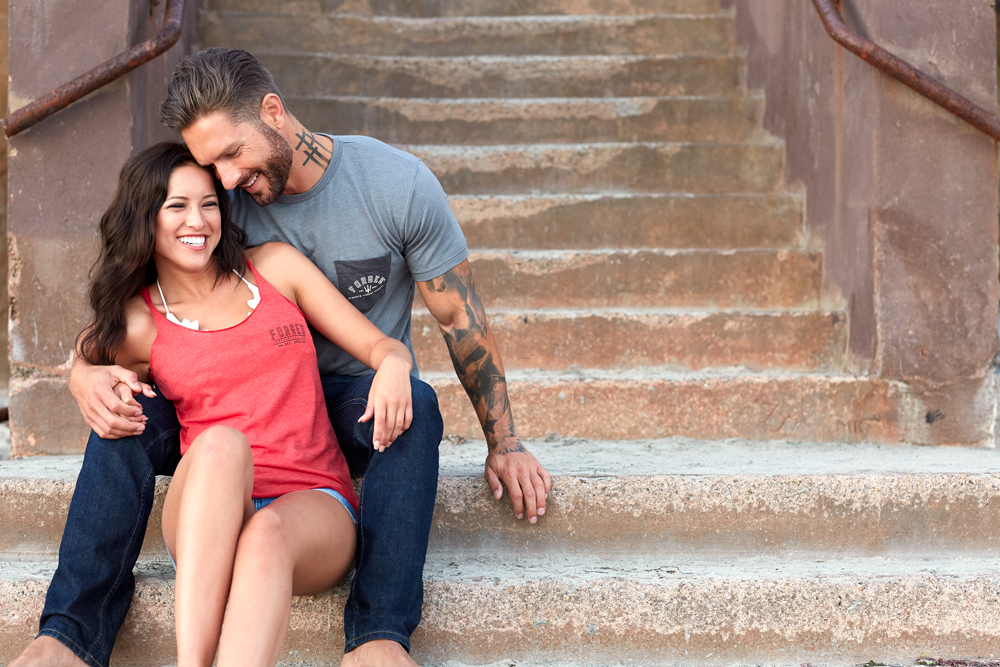 Model credits – Clementyne Vega and Weston Boucher.
$pc = ($post_show_date) ? "" : "noDate"; ?>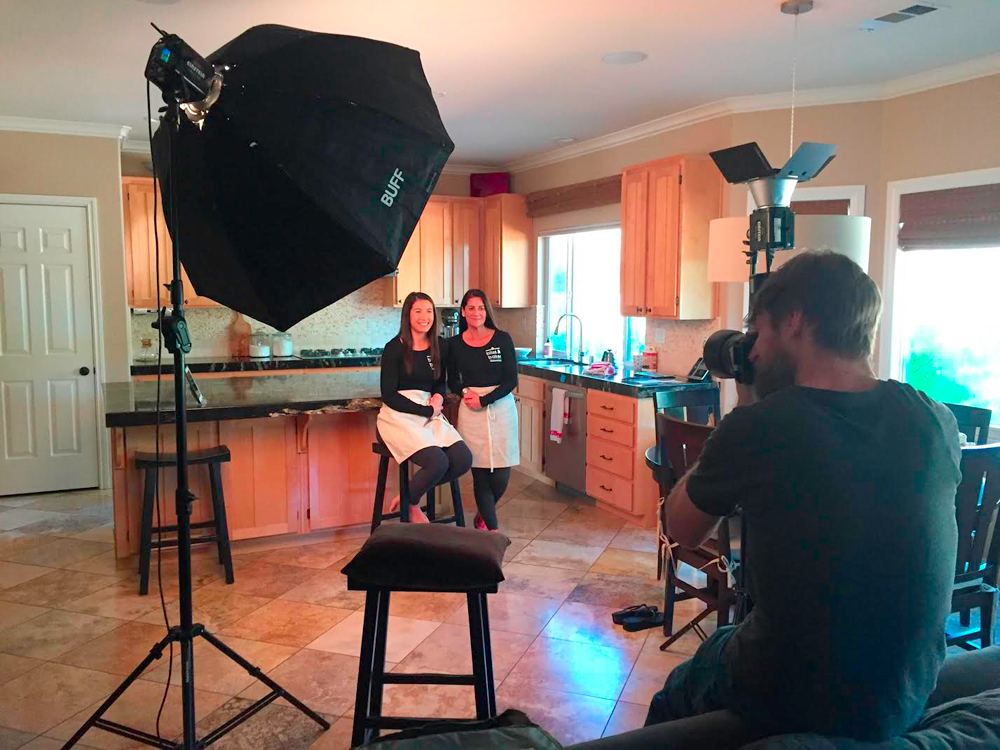 Recently I had an opportunity to shoot a portrait of one of my food photography clients. Bliss and Baker is a mother-daughter team in North County San Diego making some really delicious crispie treats that you can find at local retailers and restaurants around town.
Just looking at the behind the scenes iPhone snap above of our setup, one can instantly recognize the challenge with shooting a portrait in a home kitchen. In most cases you'll be presented with multiple light sources varying in color cast and intensity. The light sources native to the environment may or may not be usable for the story you're trying to tell or even able to be utilized at the desired camera angle. In this case, we opted for a relatively tight crop (still loose enough to tell the story, but tight enough to not have any light sources showing in the frame.)
I wanted to mimic natural light more or less while maintaining an "indoor" mood. Since none of the natural light sources really worked at our desired camera angle (toward the kitchen using it as a backdrop), I opted to set up something akin to the light that would normally be there.
For the main light, I used the PCB Einstein flash with 4 foot octabank attached.  This would give us a nice catch light in the subject's eyes while providing some soft directional shadow.
For the fill light, I wanted a nice blanket of light that would fill the room and provide a bit of hair light to our dark-haired subjects (just like ceiling lights in a kitchen would do). So I went for a ceiling-bounced light with barn doors attached. The barn doors help contain the spill of light so you don't end up with reflected hot spots, lens flare or other lighting weirdness from light spilling everywhere.
Finally, I dragged my shutter just enough so that the natural light from the window could add a bit of fill to the background elements. We shot various shutter speeds for varying degrees of background brightness but this is the portrait the client settled on.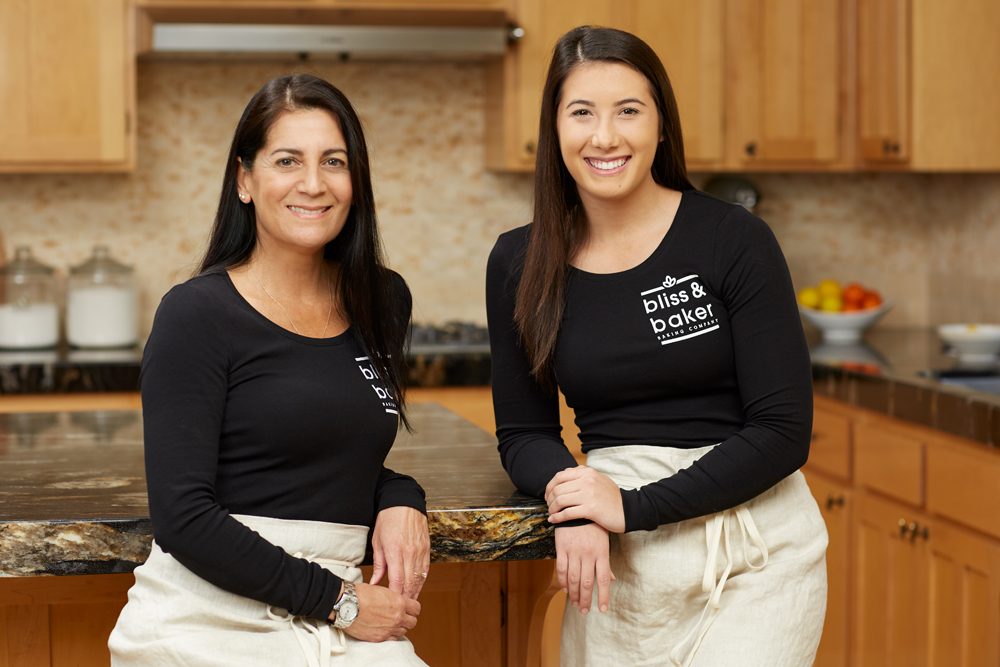 Over the past year or so we've also photographed quite a few food shots for this duo- here's a little sampling, all of these are from our San Diego photography studio –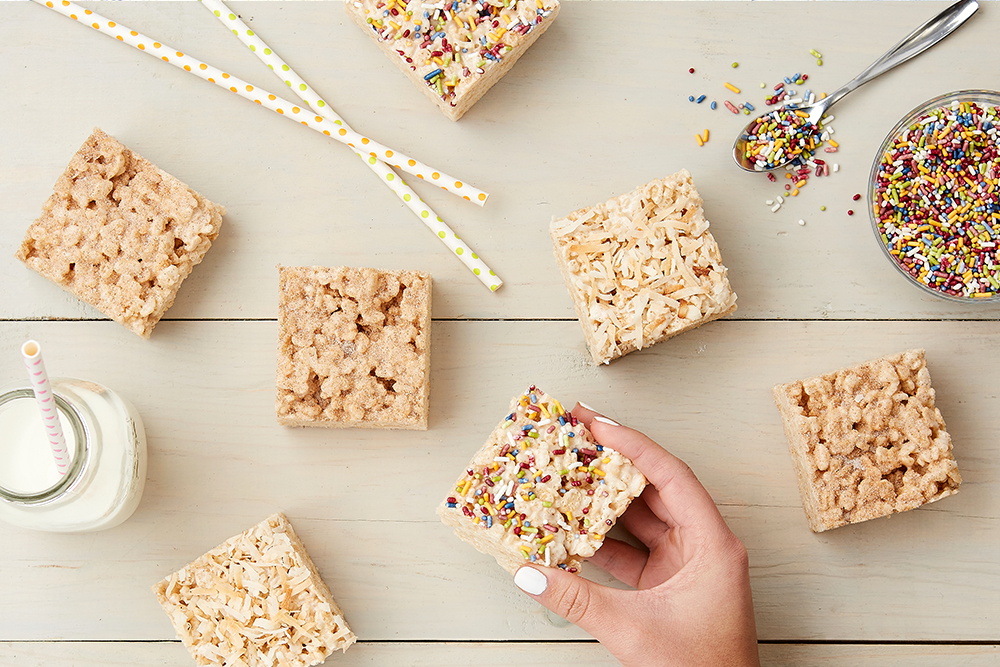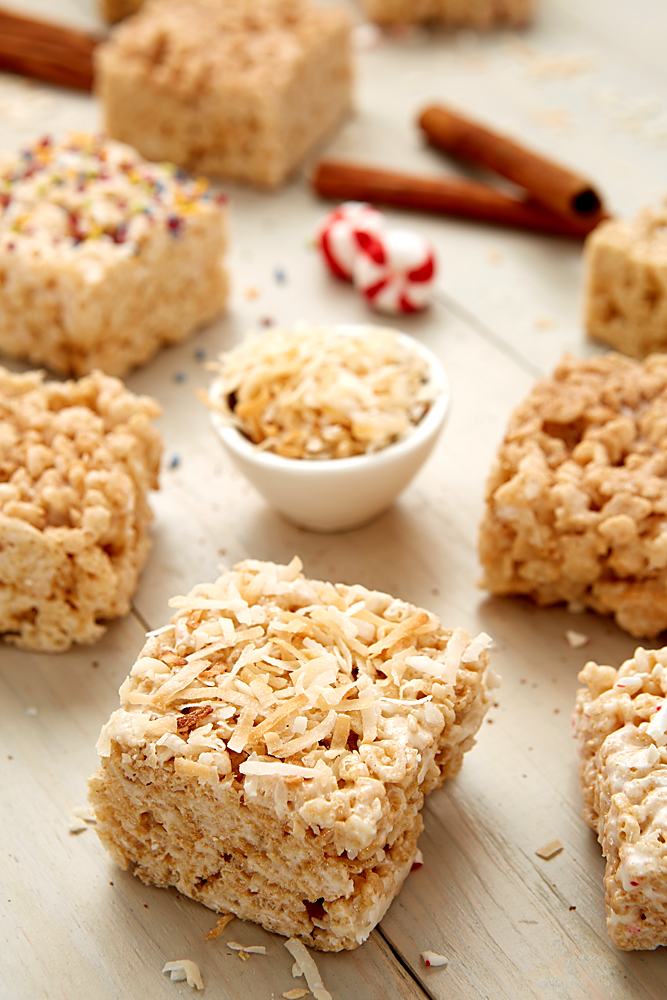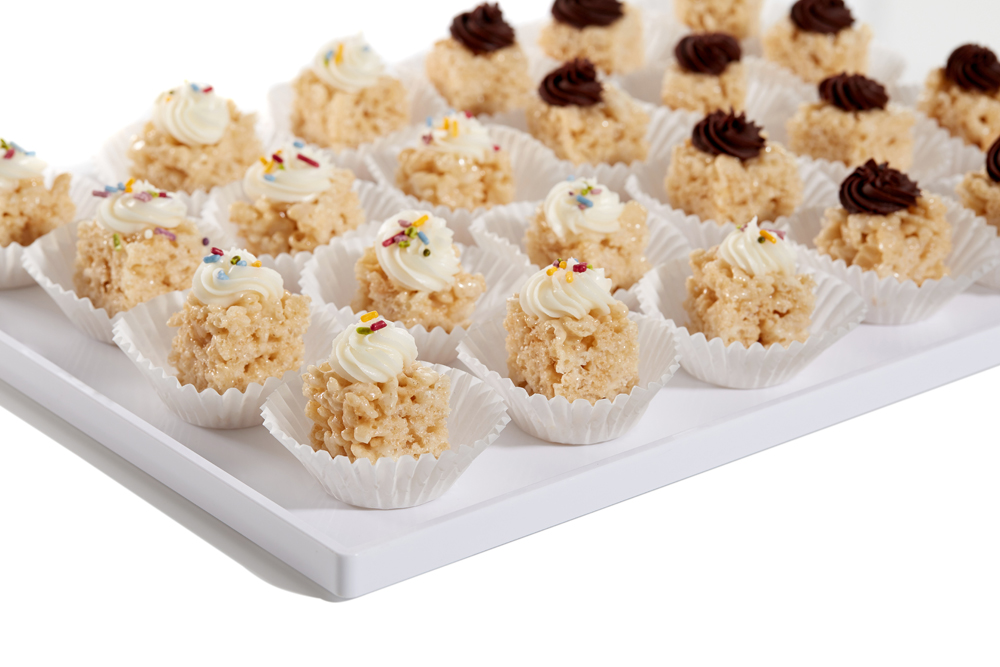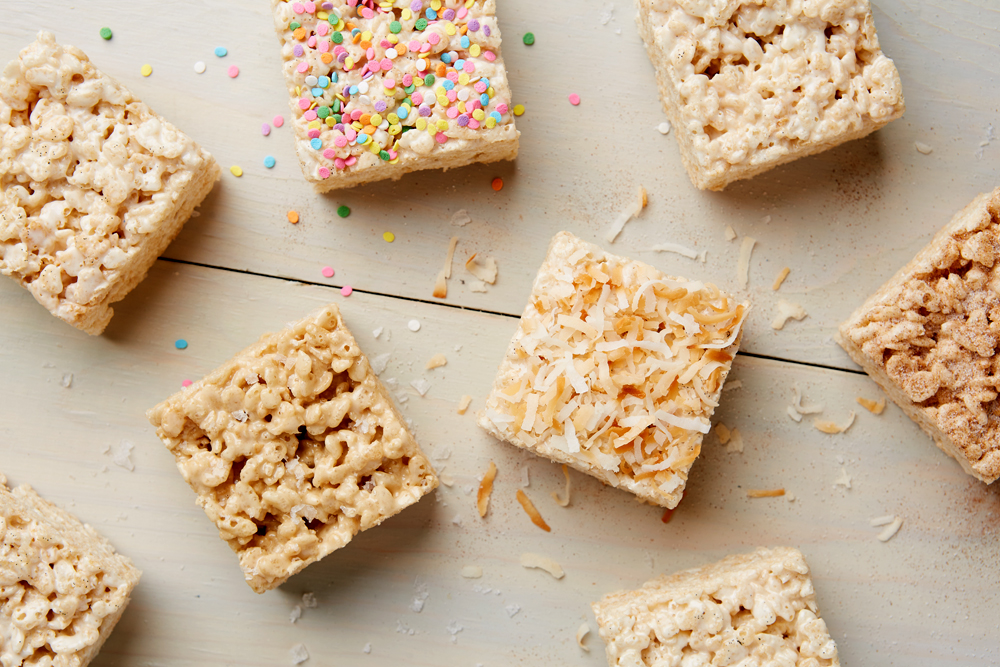 Shout out to Wade Steelman for the photo assisting and BTS photo!